Presence
: An Exploration of Profound Change
Peter Senge, C. Otto Scharmer, Joseph Jaworski, and Betty Sue Flowers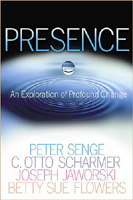 Format:
Paperback, 304pp.
ISBN:
9780385516303
Publisher:
Currency
Pub. Date:
January 15, 2008
Average Customer Review:

For Bulk Orders Call: 626-441-2024

Description and Reviews
From
The Publisher:
Peter Senge. C. Otto Scharmer. Joseph Jaworski. Betty Sue Flowers. This remarkable group of leaders met in a Cambridge, Massachusetts, living room for a year to discuss the nature of transformational change—how it is brought about, and how it changes people. This book is the result of their wide-ranging conversations, and introduces the idea of "presence"—a concept from nature, that the whole is entirely present in any of its parts–to business. In making this transition, they ask themselves, and the reader, "What question lies at the heart of my work?" and "How can I set aside my narrow viewpoint and understand the larger whole?" Each author shares deeply personal stories about ways in which they made themselves present in the world, and in doing so, became part of the larger whole.
Drawing on a diverse supporting cast of 150 scientists, social leaders, and entrepreneurs including Rupert Sheldrake, Buckminster Fuller, Lao Tzu, and Carl Jung,
Presence
explains how profound collective change occurs. This astonishing and completely original work will richly reward readers with an understanding of what it means to be an authentic agent of change.

Reviews
"A remarkable book, Presence is a journey from the present to an unknown future, a journey of exploration rather than dogma, and a journey toward a vision of humanity at its highest. Like a good documentary film, Presence is a book with 'emotional truth,' a wonderful combination of intellectual and visceral experience."
—Robert Fritz, author of The Path of Least Resistance
"At this turbulent juncture in human history, a whole new set of social innovations promises to shift humanity away from its destructive path towards a brighter planetary civilization. Presencing and its U process is one of the most profound. It provides all who want to change the world not only with profound hope, but with a systematic and effective way to birth a sustainable planetary society."
—Nicanor Perlas, recipient of the 2003 Alternative Nobel Prize and the U.N. Environmental Program Global 500 Award
"If you believe, as I do, that an organization is ultimately a human community, then nothing is more important than how we sense our future and act to create it together. This is something all creative business leaders know yet have found almost impossible to talk about—until Presence."
—Rich Teerlink, CEO (retired), Harley-Davidson
"Presence is a timely and altogether important book. Drawing on a leading-edge understanding of human learning and awareness, it offers a simple but effective getaway to our capacity to become change agents of the future—in business, work, play, and relationships. Finding our presence is finding the key to creative change and to our own future."
—Ken Wilber, author of A Theory of Everything: An Integral Vision for Business, Politics, Science, and Spirituality
"Presence is remarkable in at least three ways. First, the authors' work has extraordinary emotional, as well as intellectual impact; it continued to affect me long after my initial reading. Second, I found that the insights I gleaned from the work depended on what was happening around me. I suspect I will take away different messages each time I read it. Third, the authors somehow opened me to unexpected messages and opportunities in my own life. My reading of Presence coincided with many seemingly chance encounters that in very real and specific ways have been essential to my own work, helping me find new ways to connect with colleagues, customers, and the larger community."
—Darcy Winslow, General Manager, Global Women's Footwear, Apparel, Equipment, Nike, Inc.

About the Authors
Peter Senge
is a senior lecturer at MIT. His books, including The Fifth Discipline, have sold over 1.5 million copies.
C. Otto Scharmer
is a lecturer at the MIT Sloan School of Management and the author of
Theory U: Leading from the Emerging Future
.
Joseph Jaworski
is the chairman of Generon Consulting and author of
Synchronicity: The Inner Path of Leadership
.
Betty Sue Flowers
is director of the Lyndon Baines Johnson Library and Museum and a professor of English specializing in myth.

Find Items On Similar Subjects

Presence
: Human Purpose and the Field of the Future • Paperback

Theory U
: Leading from the Future as It Emerges