The Forgotten Half of Change
: Achieving Greater Creativity through Changes in Perception
Luc de Brabandere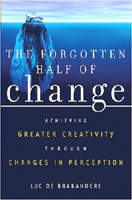 Format:
Hardcover, 192pp.
ISBN:
9781419502750
Publisher:
Dearborn Trade
Pub. Date:
May 1, 2005
Average Customer Review:


For Bulk Orders Call: 626-441-2024

Description and Reviews
From
The Publisher:
Unlock and Embrace a New Mindset about Business Creativity
The 20th century saw the United States dominate the world of innovation, but at the dawn of the 21st century it's become pretty clear that the pace of change in a global economy demands not only innovation, but creativity. We must become as good at changing our perceptions as we have become at changing reality.
Inspiring creativity is one of the most pressing needs for American corporations, particularly those in markets that are forcing them not only to improve but transform themselves. Yet true creativity can be had only if you are willing to break the rules that have locked you in a set way of thinking, not just doing. This unique book will help managers think about how they think. This understanding will help them inspire creativity and sense when it is time to focus on the second half of change—changing perception.
The Forgotten Half of Change
differs from other books the same way perception differs from reality. It is at once humorous and humanistic, making fun of our weaknesses yet sympathizing with our challenge to be both active and thoughtful. It entertains and challenges its readers at the same time with an array of examples drawn from philosophy, mathematics, technology, and linguistics. Ultimately, this book may help us regain our ability to astonish ourselves and others.
It's not enough to change for change's sake, says de Brabandere. While most organizations focus on physical change--incremental changes seen in basic product innovations--big transformational changes come only when rules are broken and perceptions are altered. By focusing on this aspect of the creative process--or what he calls the forgotten half of change--de Brabandere says business can inspire innovation that will enhance their position in the ever-changing marketplace.


Reader's Index
Send us your favorite quotes or passages from this book
.
• "Innovation and creativity are very different. Changing reality is the proper target of innovation. It requires action by a team, is continuous and takes a long time. It delivers something new to the system and its impact is measurable and certain. It requires the use of tools and project management. Creativity, on the other hand, changes perception and requires thinking. It is a challenge for individuals and is discontinuous, taking an instant. It changes how we see the entire system of company, people, suppliers and competitors. Its impact cannot be measured and it requires learning methods fuelled by questions, surprises, and incomplete answers."
• "To make a long story short, a strategic vision is a representation, an ambitious image of a future state that is radically preferable to the current state. It becomes a reference, and in so doing, provides a set of concepts that allows every employee to approach his work thoughtfully and effectively." Pg. 160
• "If you want to change, you have to change twice. You not only need to change the reality of your situation, you also need to change your perception of this reality." Pg. 7

About the Author
Luc de Brabandere
is Europe's bestselling author on business innovation and a partner in the Boston Consulting Group, a $1 billion international strategy management consulting firm. He has consulted for several respected multinational firms and frequently conducts seminars for them on business innovation. De Brabandere is also the author of three top-selling books.

Table of Contents
| | | |
| --- | --- | --- |
| | Preface | vii |
| 1 | Changing Twice | 1 |
| 2 | A Non Finito World | 17 |
| 3 | Seeing is Believing | 43 |
| 4 | Surviving the Success | 69 |
| 5 | Think Twice, It's All Right! | 83 |
| 6 | The Magic of Imagination | 103 |
| 7 | An Ideas Factory | 127 |
| 8 | The "Ideal" Manager | 145 |
| | Notes | 163 |
| | Bibliography | 165 |
| | Index | 167 |

Customer Reviews
Write your own online review
.

This book changed me!
June 20, 2006
Reviewer: from Toronto, Canada
For the better part of half my lifetime I have been managing change. Luc's book encouraged me to think differently. It wasn't about the accelerator pedal any more (pushing harder and harder to get organizational tractional) but more about the steering wheel - skillfully using it to navigate through reality and perceptions.

Find Items On Similar Subjects

Change
: Principles of Problem Formation and Problem Resolution

The Power of Impossible Thinking
: Transform the Business of Your Life and the Life of Your Business

Presence
: Human Purpose and the Field of the Future

Confronting Reality