Theory U
: Leading from the Future as It Emerges
C Otto Scharmer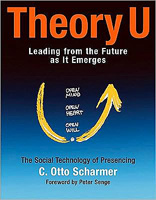 Format:
Paperback, 560pp.
ISBN:
9781576757635
Publisher:
Berrett-Koehler Publishers
Pub. Date:
January 1, 2009
Average Customer Review:

For Bulk Orders Call: 626-441-2024

Description and Reviews
From
The Publisher:
Access the deepest source of inspiration and vision.
We live in a time of massive institutional failure, one that requires a new consciousness and a new collective leadership capacity. In this groundbreaking book, Otto Scharmer invites us to see the world in new ways and in so doing discover a revolutionary approach to leadership.
What we pay attention to and how we pay attention is key to what we create. What prevents us from attending to situations more effectively is that we aren't fully aware of and in touch with the inner place from which attention and intention originate. This is what Scharmer calls our blind spot. By moving through Scharmer's U process, we consciously access the blind spot and learn to connect to our authentic Self--the deepest source of knowledge and inspiration--in the realm of "presencing," a term coined by Scharmer that combines the concepts of presence and sensing. Based on ten years of research and action learning and interviews with over 150 practitioners and thought leaders, Theory U offers a rich diversity of compelling stories and examples and includes dozens of exercises and practices that allow leaders, and entire organizations, to shift awareness, connect with the best future possibility, and gain the ability to realize it.
First introduced in
Presence
, the U methodology of leading profound change is expanded and deepened in
Theory U
. By moving through the "U" process we learn to connect to our essential Self in the realm of 'presencing'—a term coined by Scharmer. When 'presencing' we are able to see our own blind spot and pay attention in a way that allows us to experience the opening of our minds, our hearts, and our wills. Through this process we are able to shift our awareness to allow us to connect with our best future possibility—and to realize it.

Reviews
"Scharmer's Theory U model of how to open our mind, emotions, and will to moments of discovery and mutual understanding is profound and much needed."
—Edgar Schein, Sloan Fellows Professor of Management Emeritus, MIT Sloan School of Management, and author of Helping
"Pushes the envelope of current leadership wisdom and invites you to explore the strongest leadership tool there is: yourself."
—Ralf Schneider, Head of Global Talent Management, PricewaterhouseCoopers
"The impact of the Theory U method on our organization is remarkable, but even more important is the amazing personal growth many leaders have experienced. Scharmer's work has allowed them to experience a new approach to the world."
—Marcia Marsh, Chief Operating Officer, World Wildlife Fund
"Though many agree with Einstein's observation that `problems cannot be resolved at the level of consciousness that created them' the key question remains how to realize such a shift. Theory U offers a unique integral perspective combined with a practical approach to addressing the megaissues facing our world today."
—Jack Jacometti, Vice President, Global GTL Development, Shell International Gas Limited
"This book is an inspiration. It gives definition to the mystery of the creative process."
—Eileen Fisher, President and Chief Creative Officer, Eileen Fisher Inc.

About the Author
Otto Scharmer
is a senior lecturer at the Massachusetts Institute of Technology and the founding chair of the Presencing Institute. He has codesigned and delivered award-winning leadership programs for clients such as Daimler, PricewaterhouseCoopers, and Fujitsu. He is the coauthor of Presence.

Table of Contents
| | | |
| --- | --- | --- |
| | | |
| | Foreword by Peter Senge | |
| | Acknowledgments | |
| | Introduction | |
| | | |
| | Part One: Bumping into Our Blind Spot | |
| 1 | Facing the Fire | |
| 2 | The Journey to "U" | |
| 3 | Fourfold Learning and Change | |
| 4 | Organizational Complexity | |
| 5 | Shifts in Society | |
| 6 | Philosophical Grounding | |
| 7 | On the Threshold | |
| | | |
| | Part Two: Entering the U Field | |
| 8 | Downloading | |
| 9 | Seeing | |
| 10 | Sensing | |
| 11 | Presencing | |
| 12 | Crystallizing | |
| 13 | Prototyping | |
| 14 | Performing | |
| | | |
| | Part Three: Presencing: A Social Technology for Leading Profound Innovation & Change | |
| 15 | The Grammar of the Social Field | |
| 16 | Individual Actions | |
| 17 | Conversational Actions | |
| 18 | Organizational Actions | |
| 19 | Global Actions | |
| 20 | Catching Social Reality Creation in Flight | |
| 21 | Principles and Practices of Presencing for Leading Profound Innovation & Change | |
| | | |
| | Epilogue: Birthing a Global Presencing-in-Action University | |
| | | |
| | Glossary | |
| | Notes | |
| | Bibliography | |
| | Index | |
| | About the Author | |
| | About the Organizations | |

Find Items On Similar Subjects

Presence
: An Exploration of Profound Change • Paperback