Getting Things Done
: The Art of Stress-Free Productivity
David Allen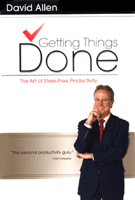 Format:
Hardcover, 267pp.
ISBN:
9780670899241
Publisher:
Viking Press
Pub. Date:
January 2001
Average Customer Review:

Also Available in
Paperback
For Bulk Orders Call: 626-441-2024

Description and Reviews
From
The Publisher:
In today's world, yesterday's methods just don't work. Veteran coach and management consultant David Allen recognizes that time management is useless the minute your schedule is interrupted; setting priorities isn't relevant when your e-mail is down; procrastination solutions won't help if your goals aren't clear. Instead, Allen shares with readers the proven methods he has already introduced in seminars and at top organizations across the country. The key to
Getting Things Done?
Relaxation.
Allen's premise is simple: our ability to be productive is directly proportional to our ability to relax. Only when our minds are clear and our thoughts are organized can we achieve stress-free productivity. His seamless system teaches us how to identify, track, and-most important-choose the next action on all our tasks, commitments, and projects and thus master all the demands on our time while unleashing our creative potential. The book's stylish, dynamic design makes it easy to follow Allen's tips, examples, and inspiration to achieve what we all seek-energy, focus, and relaxed control.

Reviews
"...one of the most influential thinkers on productivity."
—Fast Company
"David Allen's methods are key to survival in today's chaotic business climate."
—Patricia Seybold, author of Customer.com
"...this book can go a long way toward helping people relax, gain control... and focus on the really important stuff."
—Morning Star-Telegram

About the Author
David Allen
is president of David Allen & Co. and has more than twenty years' experience as a management consultant, executive coach, and educator. He has been a keynote speaker and productivity facilitator for organizations such as Oracle, L. L. Bean, Microsoft, Lockheed, and the World Bank.His work has been featured in
Fast Company
,
Fortune
, and many other publications.

Table of Contents
| | | |
| --- | --- | --- |
| | Acknowledgments | |
| | Welcome to Getting Things Done | |
| Part 1 | The Art of Getting Things Done | 1 |
| 1 | A New Practice for a New Reality | 3 |
| 2 | Getting Control of Your Life: The Five Stages of Mastering Workflow | 24 |
| 3 | Getting Projects Creatively Under Way: The Five Phases of Project Planning | 54 |
| Part 2 | Practicing Stress-Free Productivity | 83 |
| 4 | Getting Started: Setting Up the Time, Space, and Tools | 85 |
| 5 | Collection: Corralling Your "Stuff" | 104 |
| 6 | Processing: Getting "In" to Empty | 119 |
| 7 | Organizing: Setting Up the Right Buckets | 138 |
| 8 | Reviewing: Keeping Your System Functional | 181 |
| 9 | Doing: Making the Best Action Choices | 191 |
| 10 | Getting Projects Under Control | 211 |
| Part 3 | The Power of the Key Principles | 223 |
| 11 | The Power of the Collection Habit | 225 |
| 12 | The Power of the Next-Action Decision | 236 |
| 13 | The Power of Outcome Focusing | 249 |
| | Conclusion | 257 |
| | Index | 261 |

Find Items On Similar Subjects

Execution
: The Discipline of Getting Things Done

Now, Discover Your Strengths

Getting Things Done
- P