Now, Discover Your Strengths
Marcus Buckingham and Donald O.Cifton Ph.D.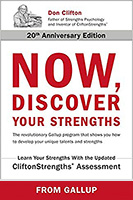 Format:
Hardcover, 320pp.
ISBN:
9780743201148
Publisher:
Gallup Press
Pub. Date:
February 2, 2020 - 20th anniversary edition
Average Customer Review:

For Bulk Orders Call: 626-441-2024

Description and Reviews
From
The Publisher:
The 20th anniversary edition of
Now, Discover Your Strengths
comes with an access code to the Clifton StrengthsFinder 2.0 assessment. This updated assessment includes reports and resources that go far beyond the standardized reports of the older assessment by providing you with personalized insight statements unique to your specific combination of strengths.
Many people have little sense of their talents and strengths, much less the ability to build their lives around them. Instead, they are raised and taught to become experts in their weaknesses — and spend their lives trying to fix them — while their strengths lie dormant.
Led by Don Clifton, the Father of Strengths-Based Psychology, Gallup created a revolutionary program to help people identify their talents; develop them into strengths; and enjoy consistent, near-perfect performance. Twenty years ago, Gallup released
Now, Discover Your Strengths
to bring this program to the world.
At the heart of this book is CliftonStrengths, the assessment that is the product of decades of research and hundreds of thousands of interviews to identify the most prevalent human strengths. CliftonStrengths reveals 34 dominant talent themes that you can translate into personal and career success. To develop this assessment, Gallup conducted psychological profiles with more than 2 million individuals to help people around the world focus and perfect these themes. Since
Now, Discover Your Strengths
was first released two decades ago, more than 20 million people worldwide have taken the CliftonStrengths assessment.
The 20th anniversary edition includes a unique access code to take CliftonStrengths — previously known as StrengthsFinder 2.0 — which is a significantly more robust program than the assessment that appeared in the original edition of the book. This web-based assessment analyzes your instinctive reactions and immediately presents you with your top five themes.
Once you know which of the 34 themes you lead with — such as Achiever, Activator, Empathy, Futuristic and Strategic — the book will show you how to use your top themes for your own development, for your success as a manager and for the success of your organization.
With accessible and profound insights into how to turn talents into strengths, and with immediate online feedback from the CliftonStrengths assessment at its core,
Now, Discover Your Strengths
is one of the most groundbreaking and powerful business books ever written.

About the Author
Marcus Buckingham
graduated from Cambridge University in 1987, with a master's degree in Social and Political Science. During his 17 years with The Gallup Organization, Buckingham helped lead research into the world's best leaders, managers, and workplaces. He drew on this research and used it as the basis for two bestselling books:
First, Break All the Rules: What the World's Best Managers Do Differently
and
Now, Discover Your Strengths
, of which he was both the writer and principal author.
A subject of in-depth profiles in
The New York Times, Fortune
, and
Fast Company
, Buckingham, now an independent consultant, author, and speaker, is considered one of the world's leading authority's on employee productivity and the practices of leading and managing. He is a member of the Secretary of State Advisory Committee on Leadership and Management. He lives with his wife and two children in Los Angeles.

Table of Contents
Introduction: The Strengths Revolution at Work
The Revolution
5
Two Million Interviews
11
I
The Anatomy of a Strength
Chapter 1
Strong Lives
The Investor, the Director, the Skin Doctor, and the Editor
19
Tiger Woods, Bill Gates, and Cole Porter
25
Three Revolutionary Tools
28
Chapter 2
Strength Building
Is He Always This Good?
39
Knowledge and Skills
41
Talent
48
II
Discover the Source of Your Strengths
Chapter 3
StrengthsFinder
The Traces of Talent
67
The StrengthsFinder Profile
76
Chapter 4
The Thirty-four Themes of StrengthsFinder
Achiever
83
Activator
84
Adaptability
85
Analytical
86
Arranger
87
Belief
88
Command
89
Communication
90
Competition
91
Connectedness
92
Context
93
Deliberative
94
Developer
95
Discipline
96
Empathy
97
Fairness
98
Focus
99
Futuristic
100
Harmony
101
Ideation
102
Inclusiveness
103
Individualization
104
Input
105
Intellection
106
Learner
107
Maximizer
108
Positivity
109
Relator
110
Responsibility
111
Restorative
112
Self-assurance
113
Significance
114
Strategic
115
Woo
116
III
Put Strengths to Work
Chapter 5
The Questions You're Asking
Are there any obstacles to building my strengths?
121
Why should I focus on my signature themes?
131
Is there any significance to the order of my signature themes?
134
Not all of the phrases in the theme description apply to me. Why?
136
Why am I different from other people with whom I share some of the same themes?
137
Are any of the themes "opposites"?
139
Can I develop new themes if I don't like the ones I have?
141
Will I become too narrow if I focus on my signature themes?
144
How can I manage around my weaknesses?
148
Can my themes reveal whether I am in the right career?
160
Chapter 6
Managing Strengths
"Fidel," Sam Mendes, and Phil Jackson
171
One By One
176
Chapter 7
Building a Strengths-based Organization
The Full Story
213
The Practical Guide
218
Appendix
A Technical Report on StrengthsFinder

Find Items On Similar Subjects

Go Put Your Strengths to Work
: 6 Powerful Steps to Achieve Outstanding Performance

First, Break All the Rules
: What the World's Greatest Managers Do Differently

The One Thing You Need to Know

Soar With Your Strengths