Execution
: The Discipline of Getting Things Done
Larry Bossidy and Ram Charan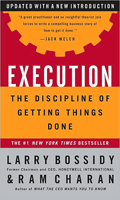 Format:
Hardcover, 256pp.
ISBN:
9780609610572
Publisher:
Crown Publishers
Pub. Date:
June 2002
Average Customer Review:

For Bulk Orders Call: 626-441-2024

Description and Reviews
From
The Publisher:
The book that shows how to get the job done and deliver results . . . whether you're running an entire company or in your first management job.
Larry Bossidy is one of the world's most acclaimed CEOs, a man with few peers who has a track record for delivering results. Ram Charan is a legendary advisor to senior executives and boards of directors, a man with unparalleled insight into why some companies are successful and others are not. Together they've pooled their knowledge and experience into the one book on how to close the gap between results promised and results delivered that people in business need today.
After a long, stellar career with General Electric, Larry Bossidy transformed AlliedSignal into one of the world's most admired companies and was named CEO of the year in 1998 by Chief Executive magazine. Accomplishments such as 31 consecutive quarters of earnings-per-share growth of 13 percent or more didn't just happen; they resulted from the consistent practice of the discipline of execution: understanding how to link together people, strategy, and operations, the three core processes of every business.
Leading these processes is the real job of running a business, not formulating a "vision" and leaving the work of carrying it out to others. Bossidy and Charan show the importance of being deeply and passionately engaged in an organization and why robust dialogues about people, strategy, and operations result in a business based on intellectual honesty and realism.
The leader's most important job—selecting and appraising people—is one that should never be delegated. As a CEO, Larry Bossidy personally makes the calls to check references for key hires. Why? With the right people in the right jobs, there's a leadership gene pool that conceives and selects strategies that can be executed. People then work together to create a strategy building block by building block, a strategy in sync with the realities of the marketplace, the economy, and the competition. Once the right people and strategy are in place, they are then linked to an operating process that results in the implementation of specific programs and actions and that assigns accountability. This kind of effective operating process goes way beyond the typical budget exercise that looks into a rearview mirror to set its goals. It puts reality behind the numbers and is where the rubber meets the road.
Putting an execution culture in place is hard, but losing it is easy. In July 2001 Larry Bossidy was asked by the board of directors of Honeywell International (it had merged with AlliedSignal) to return and get the company back on track. He's been putting the ideas he writes about in Execution to work in real time.

Reviews
"If you want to be a CEO-or if you are a CEO and want to keep your job-read Execution and put its principles to work."
—Michael Dell, chairman and CEO, Dell Computer Corp.
"Good practical insight and advice on managing for results at firms of any size. Execution is key, and this book clearly explains what it means and how it brings together the critical elements of any organization-its people, strategies, and operations."
—L. R. Raymond, chairman and CEO, Exxon Mobil
"The best-thought-out plans in the world aren't worth the paper they're written on if you can't pull them off. And that's what this book is all about. Execution: The Discipline of Getting Things Done is well written and gives sound, practical advice about how to make things happen. It is well worth the reading."
—Ralph S. Larsen, chairman and CEO, Johnson & Johnson
"Larry Bossidy recognizes how execution in a business defines the true greatness of a company. He captures a lifetime of building winning formulas and puts them in a simple and practical context for executives at any level. Read it!"
—Ivan Seidenberg, president and co-chief executive officer, Verizon
"For those managers who have struggled to make it happen, fix a problem, get it done-or otherwise transform winning strategies into genuine results-here's the missing medicine from two who know from long experience what works and what doesn't. Larry Bossidy and Ram Charan offer a compelling leadership prescription, and it comes down to realism, discipline, and above all, great execution."
—Michael Useem, professor of management and director of the Center for Leadership and Change, Wharton School, University of Pennsylvania
"Larry Bossidy and Ram Charan define the true meaning of leadership from an implementation point of view. Larry is the expert on productivity in the world of business, and this book demonstrates how leadership is the key to achieving ongoing financial success."
—Richard Schroeder, cofounder of Six Sigma Academy

About the Authors
Larry Bossidy
is chairman and former CEO of Honeywell International, a Fortune 100 diversified technology and manufacturing leader. Earlier in his career he was chairman and CEO of AlliedSignal, chief operating officer of General Electric Credit (now GE Capital Corporation), executive vice president and president of GE's Services and Materials Sector, and vice chairman of GE.
Ram Charan
is a highly sought advisor to CEOs and senior executives in companies ranging from start-ups to the Fortune 500, including GE, DuPont, EDS, and Colgate-Palmolive. He is the author of
What the CEO Wants You to Know
and
Boards That Work
and the coauthor of
Every Business Is a Growth Business
. Dr. Charan has taught at both the Harvard Business School and the Kellogg School of Northwestern University.
Charles Burck
is a writer and editor who collaborated with Larry Bossidy and Ram Charan. Earlier in his career he was an editor at
Fortune
magazine.

Table of Contents
| | | |
| --- | --- | --- |
| | | |
| | Introduction | 1 |
| | | |
| | Pt. I Why Execution is Needed | |
| 1 | The Gap Nobody Knows | 13 |
| 2 | The Execution Difference | 35 |
| | | |
| | Pt. II The Building Blocks of Execution | |
| 3 | Building Block One: The Leader's Seven Essential Behaviors | 57 |
| 4 | Building Block Two: Creating the Framework for Cultural Change | 85 |
| 5 | Building Block Three: The Job No Leader Should Delegate - Having the Right People in the Right Place | 109 |
| | | |
| | Pt. III The Three Core Processes of Execution | |
| 6 | The People Process: Making the Link with Strategy and Operations | 141 |
| 7 | The Strategy Process: Making the Link with People and Operations | 178 |
| 8 | How to Conduct a Strategy Review | 207 |
| 9 | The Operations Process: Making the Link with Strategy and People | 226 |
| | Conclusion: Letter to a New Leader | 265 |
| | | |
| | Index | 271 |

Customer Reviews
Write your own online review
.

Great Resource and Guide
February 03, 2008
Reviewer: JR from North Carolina, United States
I first listened to this book twice on CD and later bought the book. I created a deep dive summary on how to apply it to my own businesses. All I can say is that this is one of the most valuable resources that I have found in 25 years of executive management!!! If used correctly, the approaches are scalable and appropriate for any company.

Execution, The Soul Of Strategy
June 10, 2008
Reviewer: Saswat Barpanda from Sambalpur, orissa, India
Why execution needed. Ideas are everywhere. The real trick to making something great often has extremely little to do with the idea, and much more to do with the execution. That's where the real innovation occurs -- in taking an idea and trying to figure out how to make it useful. It's that process that's important, much more than the original idea.
Here the writer Larry Bossidy and Ram Saran has discussed the three building blocks of execution. On the first building block he discussed about the seven essential behaviors of leaders, which are, the first one is to know your people and business what focus on formal and informal systems to generate and capture information about the competencies and performance of people. The second one is to insist on realism which is nothing but knowing the facts about a business: market share, ROI, costs of customer acquisition, customers intentions etc. the third one is setting clear-cut goals and priorities, the fourth one is follow-through where the leader has to think Who will do what and when? How will success be measured, by whom and when? The fifth is reward the doer that means if you want people to use specific results, you reward them accordingly. The sixth one is to expand the people s capabilities through coaching. By coaching, the authors mean one-on-one instruction. But they also seem to include formal professional development programs in this category. And finally to know yourself, which means Organizational leadership requires emotional fortitude, which is made up of four key qualities: authenticity, self-awareness, self-mastery, and humility. The second building block is regarding how to create a framework for cultural change. To change a business's culture, you need a set of processes -- social operating mechanisms -- that will change the beliefs and behavior of people in ways that are directly related to bottom-line results. You need to change people's behavior so that they produce results. First you tell people clearly what results you're looking for. Then you discuss how to get those results, as a key element of the coaching process. Then you reward people for producing the results. If they come up short, you provide additional coaching, withdraw rewards, give them other jobs, or let them go. When you do these things, you create a culture of getting things done. Regarding operationalizing cult the authors suggest that values rarely need to be changed, but that beliefs must often be changed to influence long-term behavior patterns. Generally, an organization s values, such as fundamental principles, integrity, respect, etc., are appropriate. The authors also suggest people change their beliefs only when new evidence shows them persuasively that they are faulty. The authors are exclusively talking about pay and bonuses as rewards . The foundation of changing behavior is linking rewards to performance and making the linkages transparent. A business s culture defines what gets appreciated and respected and, ultimately, reported. It tells the people in the organization what s valued and recognized, and in the interest of trying to make their own careers more successful, that s where they will concentrate. If a company rewards and promotes people for execution, its culture will change. The anthers also speaks about the social software of execution like value, belief, norms of behavior and the organization hardware like organizational structure, reward design, compensation, communication, financial reports and their flows. The last building block is the people. Larry Bossidy says that when things were going well in a company he headed, he spent 20% of his time on the people processes, when he was re-building, that went up to 30-40%. During his first three years at Allied Signal, he personally interviewed many of the 300 plus MBA s hired because they were the source for future leaders. So why are there mismatches in people and the needs of the organization? The reasons may be leaders don t know enough about the people they hire or leaders pick people they are comfortable with, rather than those with the best skills or leaders lack courage to discriminate between strong and weak performers and to take necessary actions. To consistently improve the leadership gene pool, every business needs a discipline that is embedded in the people process, with candid dialogues about the matches between people and jobs, and follows through that ensures that people take appropriate actions. The final part is all about three core processes of execution i.e. people processes which links the strategy with operation, the Strategy Process: Making the Link with People and Operations and the Operations Process: Making the Link with Strategy and People

Excellent leadership book
December 2, 2008
Reviewer: Eric Swanson from Dallas, TX
Too sum this book up in one word "EXCELLENT." If you are looking for a motivational book, then read this. This book has helped me 100% more with my leadership and management skills. If you are just getting started in management or been there a long time and having problems, then I would strongly insist reading this. It will definitely help you out.

Find Items On Similar Subjects

Getting Things Done
: The Art of Stress-Free Productivity

Know-How
: The 8 Skills That Separate People Who Perform from Those Who Don't