Inspiring Leadership
: Learning from Great Leaders
John Adair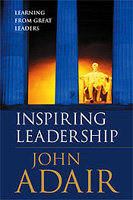 Format:
Paperback, 366pp.
ISBN:
9781854182074
Publisher:
Thorogood
Pub. Date:
September 28, 2003
Average Customer Review:

For Bulk Orders Call: 626-441-2024

Description and Reviews
From
The Publisher:
Who are the great leaders in history and what have they got to teach us today about the nature and practice of leadership? A wide range of inspiring leaders, from Lao Tzu and Machiavelli, to Thatcher and Mandela.
This book is a unique approach to leadership by a writer internationally acknowledged as a major influence on leadership studies. There are Points to Ponder throughout the book, helping to draw out the lessons and concepts for the reader. It features among others: Alexander the Great, Amundsen, Attila, Attlee, Bevan, Boudicca, Mike Brearley, Caesar, Churchill, de Gaulle, Einstein, Eisenhower, Elizabeth I, Gandhi, Sir Edmund Hillary, Ho Chih Min, Hsun-Tzu, Jefferson, Jesus, Jinnah, Kennedy, Lao Tzu, Lincoln, Machiavelli, Mandela, Montgomery, Mosley, Napoleon, Nehru, Nixon, Pericles, Plato, Reagan, F D Roosevelt, St Paul, Scott, Shackleton, Socrates, Washington, Wellington and Xenophon.

Reviews
"How rare is it to come upon a book about leaders with depth, conceptual bite and historical context"
—Warren Bennis

About the Author
John Adair
is widely acknowledged as one of the most significant influences on management and leadership development in the world. He studied history at Cambridge University and holds higher degrees from the Universities of Oxford and London. He became the world's first Professor of Leadership Studies at the University of Surrey and is internationally known as a consultant. He is the author of many respected books on management and leadership.

Table of Contents
| | | |
| --- | --- | --- |
| | Introduction | 1 |
| | | |
| | PART 1 | |
| | ONE Leadership Through Knowledge | 4 |
| | Socrates – A Leader of Ideas | 6 |
| | The Case of the Aspiring General | 7 |
| | The Case of the Young Cavalry Commander | 8 |
| | Knowledge – The Key to Leadership | 11 |
| | Are Knowledge and Experience Enough? | 13 |
| | A Leader in Action | 17 |
| | Chapter Review | 20 |
| | | |
| | TWO Leadership Skills | 24 |
| | The Case of Nicomachides | 25 |
| | Human Needs and Leadership Functions | 28 |
| | A Leader in Estate Management | 30 |
| | Are Leaders Born or Made? | 33 |
| | Chapter Review | 34 |
| | | |
| | THREE The Servant-Leader | 37 |
| | The Teaching of Lao Tzu | 39 |
| | The Tao of Leadership | 40 |
| | Jesus and His Disciples | 44 |
| | Servant Leadership in Perspective | 47 |
| | The Japanese Contribution | 53 |
| | Chapter Review | 55 |
| | | |
| | FOUR The Ability to Give Direction | 58 |
| | What's in a Word? | 59 |
| | The Shepherd and His Flock | 61 |
| | Interlude: The Three Circles | 66 |
| | Alexander the Great | 67 |
| | Creating Unity and Teamwork | 69 |
| | Caring for Individuals | 71 |
| | Chapter Review | 74 |
| | | |
| | FIVE Making the Right Decisions | 77 |
| | Thinking to Some Purpose | 78 |
| | From Ideas to Responsible and Decisive Action | 84 |
| | Case-study: Chairing the Cabinet | 90 |
| | Intuition and Imagination | 94 |
| | Calmness Under Pressure | 99 |
| | The Value of Humour | 103 |
| | Chapter Review | 105 |
| | | |
| | SIX The Art of Inspiring While Informing | 108 |
| | The Effective Communicator | 109 |
| | The Art of Inspiring Others | 110 |
| | The Relevance of the Second World War | 114 |
| | Case-Study: The Forgotten Army | 115 |
| | Case-study: Montgomery | 124 |
| | The Effects of Telecommunications | 129 |
| | Chapter Review | 133 |
| | | |
| | PART 2 | |
| | | |
| | SEVEN The Roots of British Tradition | 138 |
| | Eagles of Rome | 138 |
| | The Tribal Legacy | 145 |
| | Alfred the Great | 148 |
| | Chapter Review | 154 |
| | | |
| | EIGHT The Gentleman Leader | 156 |
| | The Impact of Education | 158 |
| | Leadership Qualities | 162 |
| | Machiavelli and Leadership | 169 |
| | The Great Rebellion | 172 |
| | The American Experience | 176 |
| | George Washington | 182 |
| | Chapter Review | 185 |
| | | |
| | NINE Nelson | 187 |
| | Early Life | 188 |
| | The Man and the Legend | 189 |
| | Achieving the Task | 194 |
| | Bringer of Harmony | 197 |
| | Meeting Individual Needs | 198 |
| | Nelson's Legacy | 204 |
| | Chapter Review | 205 |
| | | |
| | TEN Polar Explorers | 207 |
| | Captain Robert Falcon Scott | 208 |
| | Sir Ernest Shackleton | 211 |
| | Gino Watkins | 213 |
| | Chapter Review | 218 |
| | | |
| | ELEVEN Leadership in a Changing World | 220 |
| | The New Climate of Change in the Nineteenth Century | 221 |
| | How Progress Happens | 225 |
| | Captains of Industry | 227 |
| | Management Through Leadership | 232 |
| | A Factory of Democratic Leaders | 234 |
| | Slim on Leadership | 243 |
| | Managers or Leaders? | 246 |
| | Chapter Review | 249 |
| | | |
| | PART 3 | |
| | | |
| | TWELVE Charisma | 254 |
| | The Rediscovery of Charisma | 255 |
| | Leadership: A Gift from Above? | 256 |
| | Case-study: Alexander the Great | 261 |
| | Case-study: Lawrence of Arabia | 268 |
| | Chapter Review | 273 |
| | | |
| | THIRTEEN Women as Leaders | 276 |
| | The Western Tradition | 277 |
| | Leadership in Marriage | 282 |
| | Great Social Reformers | 287 |
| | Women as Manager-Leaders | 291 |
| | Case-study: Margaret Thatcher | 293 |
| | Chapter Review | 301 |
| | | |
| | FOURTEEN Styles of Leadership | 303 |
| | Greatness | 303 |
| | Abraham Lincoln | 306 |
| | Charles de Gaulle | 309 |
| | Adolf Hitler | 315 |
| | Mahatma Gandhi | 322 |
| | Nelson Mandela | 328 |
| | Chapter Review | 333 |
| | | |
| | FIFTEEN Leaders for Tomorrow | 335 |
| | Not Followers But Companions | 338 |
| | An Invitation to Greatness | 338 |
| | Chapter Review | 344 |
| | | |
| | Picture Acknowledgements | 346 |
| | Select Bibliography | 347 |
| | Index | 349 |

Find Items On Similar Subjects

The Best of John Adair on Management and Leadership

How to Grow Leaders

The Inspirational Leaders
: How to Motivate, Encourage & Achieve Success

Leadership and Motivation
: The Fifty-Fifty Rule and the Eight Key Principles of Motivating Others

The Art of Creative Thinking
: How to Be Innovative and Develop Great Ideas