How To Grow Leaders
: The Seven Key Principles Of Effective Leadership Development
John Adair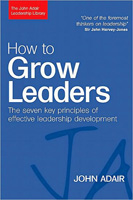 Format:
Paperback, 184pp.
ISBN:
9780749454807
Publisher:
Kogan Page
Pub. Date:
New Edition March 28, 2009
Average Customer Review:


For Bulk Orders Call: 626-441-2024

Description and Reviews
From
The Publisher:
John Adair has transformed the understanding of how leadership works with his pioneering book
Not Bosses But Leaders
. Now he returns with a new title that explores in an authoritative way exactly what we know about leadership and leadership development. There is a revolution underway. We are moving - rapidly in some areas, slower in others - from management to business leadership.
How to Grow Leaders
is a ground-breaking new book from acknowledged expert John Adair, which aims to set the record straight on leadership development. First he invites you to join him on a journey of discovery about the nature of leadership and how it can be taught. Then he identifies the seven key principles of leadership development and answers vital questions on how to select, train and educate leaders at team, operational and strategic levels.
Leadership is not a soft skill; it is a key factor in business success.
How to Grow Leaders
will help you to develop these skills in others whilst guiding you on your own personal journey towards excellence as a leader.
How to Grow Leaders
looks at the nature of leadership and how it can be encouraged and developed. Topics discussed include:
the manager as leader
how people become leaders
training team leaders
how to manage leadership training
learning to be a top strategic leader
Thought provoking and highly readable,
How to Grow Leaders
is a vital addition to the debate on leadership from a true world-renowned authority.

Reviews
"Authoritative & wise"
—Warren Bennis
"John Adair is without doubt one of the foremost thinkers on leadership in the world"
—Sir John Harvey-Jones

About the Author
John Adair
is acknowledged internationally as an authority on leadership. The world's first Professor of Leadership Studies, he advises many organizations in business, government, education, health and the voluntary sector. An effective speaker with a valuable message, he is one of the very few figures in recent years to have transformed the debate as to what effective leadership is all about. John has recently received the Lifetime Achievement in Leadership Award, and he continues to write and teach throughout the world, inspiring new audiences with his timeless and timely vision of leadership. China has made him its first Honorary Professor of Leadership. He is the author of over 50 books and articles, now in 25 languages, on leadership and management development, including the best-selling classics
Not Bosses But Leaders
and
The Inspirational Leader
both published by Kogan Page.

Table of Contents
Introduction
1


Part 1: Exploring Leadership - A Personal Odyssey
5
1
The Qualities Approach
7
2
The Group or Function Approach
15
3
Leaders or Managers?
25
4
The Situational Approach
33
5
Levels of Leadership
43


Part 2: How to Grow Leaders - The Seven Principles
53
Principle One:
Training for leadership
55
Principle Two:
Selection
79
Principle Three:
Line managers as leadership mentors
97
Principle Four:
The chance to lead
107
Principle Five:
Education for leadership
117
Principle Six:
A strategy for leadership development
139
Principle Seven:
The chief executive
149
Conclusion
163
Index
167

Find Items On Similar Subjects

The Best of John Adair on Management and Leadership

The Inspirational Leader
: How to Motivate, Encourage & Achieve Success

Leadership and Motivation: The Fifty-Fifty Rule and the Eight Key Principles of Motivating Others