Leadership and Motivation
: The Fifty-Fifty Rule and the Eight Key Principles of Motivating Others
John Adair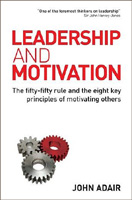 Format:
Paperback, 160pp.
ISBN:
9780749454821
Publisher:
Kogan Page
Pub. Date:
March 1, 2009
Average Customer Review:

For Bulk Orders Call: 626-441-2024

Description and Reviews
From
The Publisher:
What motivates people is an important consideration for captains of industry, commerce and the public sector – in fact anyone who works with other people – since people are central to the success of organizations.
Leadership and Motivation
explores the subject in depth. Leadership guru John Adair reassesses the theories of Herzberg and Maslow – still the major contributors to our understanding of motivation – in the context of Action-Centred Leadership – the concept pioneered and developed by the author.
Central to the book are the Fifty-Fifty Rule and the Eight Key Principles of Motivating Others. With the Fifty-Fifty Rule, Adair states that half of a person's motivation comes from within and half is due to their environment – especially the leadership they encounter there. His Eight Key Principles of Motivating Others are:
1. Be self-motivated
2. Select people who are also self-motivated
3. Treat everyone as an individual
4. Set challenging yet realistic targets
5. Remember that progress motivates
6. Create a motivating environment
7. Provide fair rewards
8. Give recognition.

Reviews
"John Adair is the first professor of Leadership Studies in the world and he remains the most distinguished figure in the field."
—The Sunday Times

About the Author
John Adair
is acknowledged internationally as an authority on leadership. The world's first Professor of Leadership Studies, he advises many organizations in business, government, education, health and the voluntary sector. An effective speaker with a valuable message, he is one of the very few figures in recent years to have transformed the debate as to what effective leadership is all about. John has recently received the Lifetime Achievement in Leadership Award, and he continues to write and teach throughout the world, inspiring new audiences with his timeless and timely vision of leadership. China has made him its first Honorary Professor of Leadership. He is the author of over 50 books and articles, now in 25 languages, on leadership and management development, including the best-selling classics
Not Bosses But Leaders
and
The Inspirational Leader
both published by Kogan Page.

Find Items On Similar Subjects

The Best of John Adair on Management and Leadership

The Inspirational Leader
: How to Motivate, Encourage & Achieve Success

How to Grow Leaders

The Art of Creative Thinking
: How to Be Innovative and Develop Great Ideas