Lincoln Speaks to Leaders
: 20 Powerful Lessons for Today's Leaders from America's 16th President
Gene Griessman and Pat Williams with Peggy Matthews Rose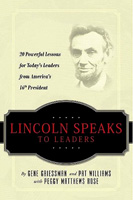 Format:
Paperback, 180pp.
ISBN:
9781601940285
Publisher:
Elevate
Pub. Date:
February 1, 2009
Average Customer Review:

For Bulk Orders Call: 626-441-2024

Description and Reviews
From
The Publisher:
What if you could get leadership advice directly from the man universally recognized as one of America's most admired presidents, Abraham Lincoln himself? And then what if you could hear from a well-known contemporary marketplace leader about functional ways to apply those lessons today? In this unique book, you'll be able to do just that, thanks to the creative lessons offered by Lincoln writer, actor, and playwright Gene Griessman. To drive the lessons home, NBA executive Pat Williams offers his trademark wisdom, humor, and practical insight based on his rich and varied personal experiences. If you want your leadership life to pop in a way that spells resounding success, make sure this book is on your shelf, easily within reach. You'll want to refer to it again and again.
Through the pages of
Lincoln Speaks to Leaders
, you can have Abraham Lincoln conveniently at your fingertips whenever you need his guidance…
…complete with pointers on how to live the Lincoln way every day.
With each chapter, readers will hear wisdom from Abraham Lincoln himself, followed by illustrations and anecdotes from leadership expert Pat Williams, designed to bring Lincoln's lessons into the 21st century.
Chapters include:
What happened to Gettysburg – and why it matters today
History lessons to profit by
The benefits of slow thinking
How to learn by listening
How to learn by reading
How to destroy an enemy
What to do when things don't work out
On finishing well

Reviews
Gene Griessman and Pat Williams have captured Lincoln's practical principles with such clarity that every American wil learn from this book.
—Newt Gingrich, Author of Gettysburg
That Lincoln continues to offer timeless inspiration and hands-on encouragement in the 21st century is clearly apparent in this most appealing and useful guidebook. Modern Americans could have no better role model, and Lincoln could have no more enthusiastic and persuasive interpreters than Gene Griessman and Pat Williams.
—Harold Holzer, Co-chairman, U. S. Abraham Lincoln Bicentennial Commission
Abraham Lincoln's words prove to be timeless in this engaging and insightful work. Lincoln Speaks to Leaders is an important read for all those who wish to improve their leadership skills.
—Donald T. Phillips, Author, Lincoln On Leadership

About the Authors
Gene Griessman
is an internationally known speaker on what makes people successful in their careers. He often appears on television and radio, and his award-winning programs have aired on WCNN and TBS. Dr. Griessman has written and co-authored seven books in addition to his one-man play on Abraham Lincoln. He has performed at Ford's Theatre, the Georgia Dome before 25,000, at countless conventions, schools, and universities, and recently aboard the USS Abraham Lincoln.
Pat Williams
is the Co-Founder of the NBA's Orlando Magic as well as one of America's top motivational, inspirational, and humorous speakers. Since 1968, Pat has been affiliated with NBA teams in Chicago, Atlanta, Philadelphia, including the 1983 World Champion 76ers, and now the Orlando Magic in which he serves as Senior Vice President. Pat and his wife are the parents of nineteen children, including fourteen adopted from four nations. Pat has authored more than 50 successful books on leadership, business, and personal success, including How to Be Like Walt Disney.
Peggy Matthews Rose
is a writer who has partnered with Pat Williams on the books Read for Your Life and The Take Away, with Karyn Williams. A former Disney communications leader, she also contributed to the book How to Be Like Walt Disney.

Find Items On Similar Subjects

Lincoln on Leadership
: Executive Strategies for Tough Times

Lincoln's Virtues
: An Ethical Biography

Team of Rivals
: The Political Genius of Abraham Lincoln