Lincoln on Leadership
: Executive Strategies for Tough Times
Donald T. Phillips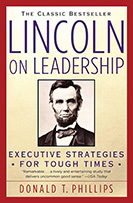 Format:
Paperback, 188pp.
ISBN:
9780446394598
Publisher:
Warner Books
Pub. Date:
February 1993
Average Customer Review:

For Bulk Orders Call: 626-441-2024

Description and Reviews
From
The Publisher:
You think you have it rough?
Only ten days before Abraham Lincoln took the oath of office in 1861,the Confederate States of America seceded from the Union taking all Federal agencies, forts, and arsenals within their territory. To make matters worse, Lincoln, who was elected by a minority of the popular vote, was viewed by his own advisors as nothing more than a gawky, second-rate country lawyer with no leadership experience. What Lincoln did to become our most honored and revered president is history, how he can help you to run your organization is not.
Lincoln on Leadership
is the first book to examine Abraham Lincoln's diverse leadership abilities and how they can be applied to today's complex world.
You'll discover why you should:
Seize the initiative and never relinquish it
Wage only one war at a time
Encourage risk-taking while providing job security
Avoid issuing orders and instead-request, imply, or make suggestions
Once in a while, let things slip, unbeknownst-like...and much much more.

Reviews
"Remarkable...a lively and entertaining study that delivers uncommon good sense."
—USA Today
"If Lincoln's example were taken to heart, life undoubtedly would improve up and down the corporate line."
—New York Times
"An honest and useful look at Lincoln's leadership style...Phillips' timing couldn't be better."
—Chicago Tribune

About the Author
Donald T. Phillips
is the author of six books, including Lincoln on Leadership, The Founding Fathers on Leadership, and Martin Luther King, Jr., on Leadership. He lives in Fairview, Texas, where he currently serves as mayor.

Table of Contents
| | | |
| --- | --- | --- |
| | | |
| | Introduction | |
| | | |
| | Part I: People | |
| 1 | Get Out of the Office and Circulate Among the Troops | |
| 2 | Build Strong Alliances | |
| 3 | Persuade Rather than Coerce | |
| | | |
| | Part II: Character | |
| 4 | Honesty and Integrity Are the Best Policies | |
| 5 | Never Act Out of Vengeance or Spite | |
| 6 | Have the Courage to Handle Unjust Criticism | |
| 7 | Be a Master of Paradox | |
| | | |
| | Part III: Endeavor | |
| 8 | Exercise a Strong Hand - Be Decisive | |
| 9 | Lead by Being Led | |
| 10 | Set Goals and Be Results-Oriented | |
| 11 | Keep searching Until You Find Your "Grant" | |
| 12 | Encourage Innovation | |
| | | |
| | Part IV: Communication | |
| 13 | Master the Art of Public Speaking | |
| 14 | Influence People Through Conversation and Storytelling | |
| 15 | Preach a Vision and Continually Reaffirm It | |
| | | |
| | Epilogue | |
| | Notes | |
| | Bibliography | |
| | Index | |

Find Items On Similar Subjects

Lincoln on Leadership for Today
: Abraham Lincoln's Approach to Twenty-First-Century Issues

Tried by War
: Abraham Lincoln as Commander in Chief

Lincoln's Virtues
: An Ethical Biography

President Lincoln
: The Duty of a Statesman

Looking for Lincoln
: The Making of an American Icon

A. Lincoln
: A Biography

The Founding Fathers on Leadership
: Classic Teamwork in Changing Times

Churchill on Leadership