Revolutionary Management
: John Adams on Leadership
Alan Axelrod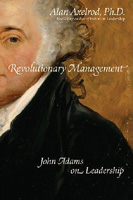 Format:
Hardcover, 256pp.
ISBN:
9781599214115
Publisher:
The Lyons Press
Pub. Date:
February 25, 2008
Average Customer Review:

For Bulk Orders Call: 626-441-2024

Description and Reviews
From
The Publisher:
John Adams did not hesitate to lead his countrymen into revolution, but when other advocates of American independence devoted themselves solely to tearing down British tyranny, Adams kept asking, "Then what?" Asking—and answering—this question was for him the key to managing revolutionary change successfully, for the present and for the ages.
A prime mover and architect of American independence, collaborator in the creation of America's first army as well as founder of the U. S. Navy, John Adams negotiated the foreign finance that made the Revolution possible, then he negotiated the treaties that ended it in absolute victory.
A steward of justice and liberty, Adams was instrumental in building a government of laws, not men. He believed that power drove all people, all nations, and all enterprises, and that the purpose of good government was to manage power—not by attempting to deny or suppress it, but by using one power to balance another. This was the art and science of revolutionary management.
Adams's concept of revolution was always less about radical change than about achieving just and effective sustainability, and it is for this reason that his experience offers to those who lead and manage modern enterprises such rich, relevant, and immediately useful lessons. For the more a business changes and must respond to change—the more revolutionary a business must become—the more effectively its leaders must answer Adams controlling question: Then what?"
Drawing on the latest scholarship as well as Adams's own autobiographical writings,
Revolutionary Management: John Adams on Leadership
presents 128 lessons for today's leaders of enterprise. It is written in the spirit and style of Dr. Alan Axelrod's innovative bestsellers Patton on Leadership (hailed by leaders ranging from the New York Yankees' George Steinbrenner to Warner-Lambert chairman and CEO Melvin R. Goodes) and Elizabeth I, CEO (which has earned praise from former Colorado congresswoman Patricia Schroeder and Chas. Levy Company board chairman Barbara Levy Kipper.

About the Author
Alan Axelrod, Ph.D.
, has written many popular books on business, management, history, science, culture, military history, and biography. He has published, among many others, Patton on Leadership and Elizabeth I, CEO (both bestsellers), plus Eisenhower on Leadership: Ike's Enduring Lessons in Total Victory Management, Getting Your Way Every Day: Mastering the Lost Art of Pure Persuasion, and Profiles in Audacity: Great Decisions and How They Were Made, as well as Miracle at Belleau Wood (for The Lyons Press). He has been a featured speaker at the Lehman Brothers Undergraduate Business School Leadership Conference, 2005 (Goizueta Business School, Emory University, Atlanta, Georgia), the Excellence in Government Conference, 2004 (Washington, D.C.), The Leadership Institute of Columbia College (Columbia, South Carolina), and The Henry Ford (Dearborn, Michigan), and has appeared on MSNBC, CNN, CNNfn, CNBC, and the major broadcast networks as well as many radio news and talk programs, including National Public Radio. He and his work have been featured in such magazines as BusinessWeek, Fortune, TV Guide, Men's Health, Cosmopolitan, Inc., and Atlanta Business Chronicle.

Find Items On Similar Subjects

John Adams
by David McCullough

Adams vs. Jefferson
: The Tumultuous Election of 1800

Elizabeth I, CEO
: Strategic Lessons from the Leader Who Built an Empire