John Adams
David McCullough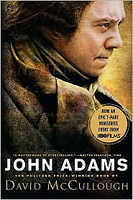 Format:
Paperback, 768pp.
ISBN:
9781416575887
Publisher:
Simon & Schuster
Pub. Date:
January 29, 2008
Average Customer Review:

For Bulk Orders Call: 626-441-2024

Description and Reviews
From
The Publisher:
In this powerful, epic biography, David McCullough unfolds the adventurous life journey of John Adams, the brilliant, fiercely independent, often irascible, always honest Yankee patriot who spared nothing in his zeal for the American Revolution; who rose to become the second president of the United States and saved the country from blundering into an unnecessary war; who was learned beyond all but a few and regarded by some as "out of his senses"; and whose marriage to the wise and valiant Abigail Adams is one of the most moving love stories in American history.
This is history on a grand scale -- a book about politics and war and social issues, but also about human nature, love, religious faith, virtue, ambition, friendship, and betrayal, and the far-reaching consequences of noble ideas. Above all,
John Adams
is an enthralling, often surprising story of one of the most important and fascinating Americans who ever lived.

Reviews
Here a preeminent master of narrative history takes on the most fascinating of our founders to create a benchmark for all Adams biographers. With a keen eye for telling detail and a master storyteller's instinct for human interest, McCullough (Truman; Mornings on Horseback) resurrects the great Federalist (1735-1826), revealing in particular his restrained, sometimes off-putting disposition, as well as his political guile. The events McCullough recounts are well-known, but with his astute marshaling of facts, the author surpasses previous biographers in depicting Adams's years at Harvard, his early public life in Boston and his role in the first Continental Congress, where he helped shape the philosophical basis for the Revolution. McCullough also makes vivid Adams's actions in the second Congress, during which he was the first to propose George Washington to command the new Continental Army. Later on, we see Adams bickering with Tom Paine's plan for government as suggested in Common Sense, helping push through the draft for the Declaration of Independence penned by his longtime friend and frequent rival, Thomas Jefferson, and serving as commissioner to France and envoy to the Court of St. James's. The author is likewise brilliant in portraying Adams's complex relationship with Jefferson, who ousted him from the White House in 1800 and with whom he would share a remarkable death date 26 years later: July 4, 1826, 50 years to the day after the signing of the Declaration. (June) Forecast: Joseph Ellis has shown us the Founding Fathers can be bestsellers, and S&S knows it has a winner: first printing is 350,000 copies, and McCullough will go on a 15-city tour; both Book-of-the-Month Club and the History Book Club have taken this book as a selection.
—Publishers Weekly, Copyright 2001 Cahners Business Information, Inc.

About the Author
David McCullough
was born in 1933 in Pittsburgh, Pennsylvania, educated there and at Yale. Author of Truman, Brave Companions, Mornings on Horseback, The Path Between the Seas, The Great Bridge, and The Johnstown Flood, he has received the Pulitzer Prize (in 1993, for Truman), the Francis Parkman Prize, and the Los Angeles Times Book Award, and is twice winner of the National Book Award, for history and for biography.

Table of Contents
| | | |
| --- | --- | --- |
| | Part I Revolution | |
| 1 | The Road to Philadelphia | 17 |
| 2 | True Blue | 78 |
| 3 | Colossus of Independence | 125 |
| | | |
| | Part II Distant Shores | |
| 4 | Appointment to France | 167 |
| 5 | Unalterably Determined | 228 |
| 6 | Abigail in Paris | 287 |
| 7 | London | 333 |
| | | |
| | Part III Independence Forever | |
| 8 | Heir Apparent | 389 |
| 9 | Old Oak | 467 |
| 10 | Statesman | 515 |
| 11 | Rejoice Ever More | 568 |
| 12 | Journey's End | 615 |
| | | |
| | Acknowledgments | 653 |
| | Source Notes | 657 |
| | Bibliography | 703 |
| | Index | 727 |

Find Items On Similar Subjects

Adams vs. Jefferson
: The Tumultuous Election of 1800

Revolutionary Management
: John Adams on Leadership