Elizabeth I, CEO
: Strategic Lessons from the Leader Who Built an Empire
Alan Axelrod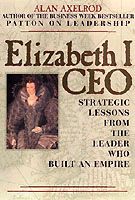 Format:
Paperback , 288pp.
ISBN:
9780735203570
Publisher:
Prentice Hall Press
Pub. Date:
May 1, 2002
Average Customer Review:

For Bulk Orders Call: 626-441-2024

Description and Reviews
From
The Publisher:
Last year, Alan Axelrod used General George S. Patton's WW II experiences as the basis for his national bestseller Patton on Leadership. This year, Dr. Axelrod turns to one of history's greatest rulers, and greatest women, for a fresh look at the always-compelling topic of how to lead people to extraordinary achievement. Elizabeth I, CEO: Strategic Lessons in Leadership from the Woman Who Built an Empire reveals how the embattled monarch overcame daunting obstacles to win intense loyalty and lead England to greatness. Elizabeth I, CEO will attract the leaders of today, the builders of contemporary empires, as well as history-lovers. The life of Elizabeth has much to say to those beginning their climb up the corporate ladder as well those who, having attained the top rung, do not want to slip from it. The queen's long reign offers lessons on:
Developing a leadership attitude and image, enhanced by personal dynamism
Becoming an effective coach and mentor, skilled at nurturing creativity
Manipulating others—subtly and ethically
Knowing and anticipating the "enemy"
Setting clear goals and motivating others to work to achieve them
Most of all, the career of Elizabeth I is an example of vision, of creating vision, of communicating vision, and of realizing vision. Not only did she create loyalty among those nearest her, she met headlong an array of the most daunting challenges any leader has ever faced.
How did Elizabeth meet these challenges, managing not only to stay alive and to keep her imperiled nation afloat, but also to win the intense loyalty of her people and to lead England to greatness? Historians and biographers have offered many explanations. Elizabeth, CEO takes a fresh view, exploring issues that are relevant to leaders—especially business leaders—of today.

About the Author
Alan Axelrod
, author of the
Business Week
bestseller
Patton on Leadership
has written many books on management, business, and career development, as well as works of military history and historical biography. He lives in Atlanta, Georgia.

Table of Contents
Introduction
1
One
An Elizabethan Prologue
A Leader's First Lesson: Survival
23
Two
From Bastard Child To Virgin Queen: Creating A Leadership Image
47
Three
Unto Her People: Combining The Common Touch With the Air of Leadership
65
Four
Keeping the Faith
Creating Common Cause Without Tyranny
89
Five
Good Counsel
Building a Loyal Staff—and a Loyal Opposition
113
Six
New Worlds, New Markets
Growing the Enterprise and Crushing the Competition
157
Seven
The Heart and Stomach of a King
Turing Crisis into Triumph
171
Eight
Rebellion
Holding on to Power
187
Nine
Queen of the Bottom Line
Doing Business Without Excuses
203
Ten
Winning
A Great Leader Assesses Herself
235
Appendix
An Elizabethan Chronicle
A Timeline Study of the Age of Elizabeth
253
Recommended Reading
263
Index
266

Find Items On Similar Subjects

Catherine the Great, CEO
: 7 Principles to Guide & Inspire Modern Leaders

Edison on Innovation
: 102 Lessons in Creativity for Business and Beyond

Theodore Roosevelt on Leadership
: Executive Lessons from the Bully Pulpit