The Accidental Creative
: How to Be Brilliant at a Moment's Notice
Todd Henry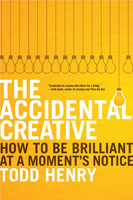 Format:
Paperback, 240pp.
ISBN:
9781591846246
Publisher:
Portfolio
Pub. Date:
August 27, 2013
Average Customer Review:

For Bulk Orders Call: 626-441-2024

Description and Reviews
From
The Publisher:
Have better ideas, faster, without the stress and burnout.
It isn't enough to just do your job anymore. In order to thrive in today's marketplace, all of us, regardless of our role, have to be ready to generate brilliant ideas on demand.
Business creativity expert Todd Henry explains how to establish effective practices that unleash your creative potential. Born out of his consultancy and his popular podcast, Henry has created a practical method for discovering your personal creative rhythm. He focuses on five key elements:
Focus: Begin with your end goal in mind.
Relationships: Build stimulating relationships and ideas will follow.
Energy: Manage it as your most valuable resource.
Stimuli: Structure the right "inputs" to maximize creative output.
Hours: Focus on effectiveness, not efficiency.
This is a guide for staying inspired and experiencing greater creative productivity than you ever imagined possible.

Reviews
"My copy of The Accidental Creative has notes and highlights throughout. Invaluable for anyone who thinks for a living."
—Seth Godin, Author of Linchpin
"Mr. Henry's prescription for maximizing productivity is sagacious, innovative, and sublimely practical. I've already incorporated into my own regimen three of his notions and they are working like gangbusters. The Accidental Creative is high-octane fuel for creative productivity."
—Steven Pressfield, Author of The War of Art
"Todd Henry has spent years breaking down the secrets of highly effective creatives. Read this book and prepare to ramp up your brilliance!"
—Chris Guillebeau, Author of The Art of Non-Conformity
"The Accidental Creative is an inspiring and practical guide for staying fresh and doing brilliant work. If you regularly need great ideas, this book will help you find them."
—Tony Schwartz, Author of Be Excellent at Anything
"There are two definitive versions of you with Todd's book: you before reading it, and you to the 100th power immediately after."
—riCardo Crespo, SVP/Global Creative Chief, 20th Century Fox FCP
"This book is a practical awakening to a life of surprise and usefulness. It contains wisdom, practices, and guidelines to help calm and focus us in a world vibrating with distraction."
—Peter Block, Author of Community
"The Accidental Creative should be required reading whether you are starting out in business or already a CEO. It presents a step-by-step model that will immediately help you generate business-building ideas for your job."
—Bob Gilbreath, Chief Strategy Officer, Possible Worldwide, and Author of The Next Evolution of Marketing
"I was struck with how relevant and practical this book is for anyone in the creative field at any level. It is full of invaluable life lessons."
—Tim Hale, SVP of Marketing and Design Communications, Fossil
"The gift of creative insight is not to be squandered! Todd Henry has assembled a guide that will enrich your creative pursuits. Don't dream without it."
—Scott Belsky, CEO, Behance, and Author of Making Ideas Happen

About the Author
Todd Henry
is the founder and CEO of Accidental Creative, a consultancy that helps organizations generate brilliant ideas. In 2006 he started The Accidental Creative, one of the top business podcasts. Henry is a sought-after speaker, consultant, and coach. Visit AccidentalCreative.com to learn more.

Find Items On Similar Subjects

Die Empty
: Unleash Your Best Work Every Day

The War of Art
: Break Through the Blocks and Win Your Inner Creative Battles