The War of Art
: Break Through the Blocks and Win Your Inner Creative Battles
Steven Pressfield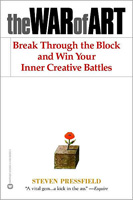 Format:
Paperback, 190pp.
ISBN:
9781936891023
Publisher:
Black Irish Entertainment LLC
Pub. Date:
Janaury 11, 2012
Average Customer Review:

For Bulk Orders Call: 626-441-2024

Description and Reviews
From
The Publisher:
DO YOU:
dream about writing the Great American Novel?
regret not finishing your paintings, poems, or screenplays?
want to start a business or charity?
wish you could start dieting or exercising today?
hope to run a marathon someday?
If "yes," then you need…
The War Of Art
Now, in this powerful, straight-from-the-hip examination of the internal obstacles to success, bestselling author Steven Pressfield shows readers how to identify, defeat, and unlock the inner barriers to creativity.
The War Of Art
is an inspirational, funny, well-aimed kick in the pants guaranteed to galvanize every would-be artist, visionary, or entrepreneur.
Steven Pressfield enjoys great international success as a bestselling novelist. But in order to reach the top he had to do a lot of work to fight the inner demons that told him he couldn't make it.
The War Of Art
is his challenge to creative block, and his succinct, straight-from-the-hip style will help every reader unleash their personal ambitions, be they literary, artistic, or business-minded.
According to Pressfield, the internal obstacle to success is Resistance. Resistance is the difference between the life you lead and the life you want to lead, and can take many forms. Pressfield shows readers how to identify and defeat Resistance at every turn and challenges them to change their amateurish, unsuccessful habits into a professional attitude that can get the job done. Finally, Sun Tzu for the soul!
Inspirational, funny, and a great kick in the pants,
The War Of Art
is the perfect book for anybody who had a goal circumvented by life and circumstance: which is to say, you and everybody you've ever met.

Reviews
From the Introduction by Robert McKee (Bestselling Author of Story: Substance, Structure, Style, and the Principles of Screenwriting)
On The War of Art
Steven Pressfield wrote The War of Art for me. He undoubtedly wrote it for you too, but I know he did it expressly for me because I hold Olympic records for procrastination. I can procrastinate thinking about my procrastination problem. I can procrastinate dealing with my problem of procrastinating thinking about my procrastination problem. So Pressfield, that devil, asked me to write this foreword against a deadline, knowing that no matter how much I stalled, eventually I'd have to knuckle down and do the work. At the last possible hour I did, and as I leafed through Book One, "Defining the Enemy," I saw myself staring back guilty-eyed from every page. But then Book Two gave me a battle plan; Book Three, a vision of victory; and as I closed The War of Art, I felt a surge of positive calm. I now know I can win this war. And if I can, so can you.
To begin Book One, Pressfield labels the enemy of creativity Resistance, his all-encompassing term for what Freud called the Death Wish-that destructive force inside human nature that rises whenever we consider a tough, long-term course of action that might do for us or others something that's actually good. He then presents a rogue's gallery of the many manifestations of Resistance. You will recognize each and every one, for this force lives within us all-self-sabotage, self-deception, self-corruption. We writers know it as "block," a paralysis whose symptoms can bring on appalling behavior.
Some years ago I was as blocked as a Calcutta sewer, so what did I do? I decided to try on all my clothes. To show just how anal I can get, I put on every shirt, pair of pants, sweater, jacket, and sock, sorting them into piles: spring, summer, fall, winter, Salvation Army. Then I tried them on all over again, this time parsing them into spring casual, spring formal, summer casual... Two days of this and I thought I was going mad. Want to know how to cure writer's block? It's not a trip to your psychiatrist. For as Pressfield wisely points out, seeking "support" is Resistance at its most seductive. No, the cure is found in Book Two: "Turning Pro."
Steven Pressfield is the very definition of a pro. I know this because I can't count the times I called the author of The Legend of Bagger Vance to invite him for a round of golf, and although tempted, he declined. Why? Because he was working, and as any writer who has ever taken a backswing knows, golf is a beautifully virulent form of procrastination. In other words, Resistance. Steve packs a discipline forged of Bethlehem steel.
I read Steve's Gates of Fire and Tides of War back-to-back while traveling in Europe. Now, I'm not a lachrymose guy; I hadn't cried over a book since The Red Pony, but these novels got to me. I found myself sitting in cafés, choking back tears over the selfless courage of those Greeks who shaped and saved Western civilization. As I looked beneath his seamless prose and sensed his depth of research, of knowledge of human nature and society, of vividly imagined telling details, I was in awe of the work, the work, all the work that built the foundation of his riveting creations. And I'm not alone in this appreciation. When I bought the books in London, I was told that Steve's novels are now assigned by Oxford history dons who tell their students that if they wish to rub shoulders with life in classical Greece, read Pressfield.
How does an artist achieve that power? In the second book Pressfield lays out the day-by-day, step-by-step campaign of the professional: preparation, order, patience, endurance, acting in the face of fear and failure-no excuses, no bullshit. And best of all, Steve's brilliant insight that first, last, and always, the professional focuses on mastery of the craft.
Book Three, "The Higher Realm," looks at Inspiration, that sublime result that blossoms in the furrows of the professional who straps on the harness and plows the fields of his or her art. In Pressfield's words: "When we sit down each day and do our work, power concentrates around us...we become like a magnetized rod that attracts iron filings. Ideas come. Insights accrete." On this, the effect of Inspiration, Steve and I absolutely agree. Indeed, stunning images and ideas arrive as if from nowhere. In fact, these seemingly spontaneous flashes are so amazing, it's hard to believe that our unworthy selves created them. From where, therefore, does our best stuff come?
It's on this point, however, the cause of Inspiration, that we see things differently. In Book One Steve traces Resistance down its evolutionary roots to the genes. I agree. The cause is genetic. That negative force, that dark antagonism to creativity, is embedded deep in our humanity. But in Book Three he shifts gears and looks for the cause of Inspiration not in human nature, but on a "higher realm." Then with a poetic fire he lays out his belief in muses and angels. The ultimate source of creativity, he argues, is divine. Many, perhaps most readers, will find Book Three profoundly moving.
I, on the other hand, believe that the source of creativity is found on the same plane of reality as Resistance. It, too, is genetic. It's called talent: the innate power to discover the hidden connection between two things-images, ideas, words-that no one else has ever seen before, link them, and create for the world a third, utterly unique work. Like our IQ, talent is a gift from our ancestors. If we're lucky, we inherit it. In the fortunate talented few, the dark dimension of their natures will first resist the labor that creativity demands, but once they commit to the task, their talented side stirs to action and rewards them with astonishing feats. These flashes of creative genius seem to arrive from out of the blue for the obvious reason: They come from the unconscious mind. In short, if the Muse exists, she does not whisper to the untalented.
So although Steve and I may differ on the cause, we agree on the effect: When inspiration touches talent, she gives birth to truth and beauty. And when Steven Pressfield was writing The War of Art, she had her hands all over him.

About the Author
Steven Pressfield
is the author of international bestsellers
The Legend of Bagger Vance, Gates of Fire, Tides of War
, and
Last of the Amazons
.

Find Items On Similar Subjects

The Creative Habit
: Learn It and Use It for Life