Die Empty
: Unleash Your Best Work Every Day
Todd Henry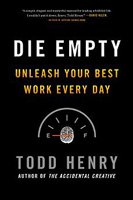 Format:
Paperback, 240pp.
ISBN:
9781591846994
Publisher:
Portfolio
Pub. Date:
April 28, 2015
Average Customer Review:


For Bulk Orders Call: 626-441-2024

Description and Reviews
From
The Publisher:
A guide for reclaiming your passion, finding your voice, and unleashing your brilliance every day
Most of us live with the stubborn idea that we'll always have tomorrow. But sooner or later all of our tomorrows will run out. Each day that you postpone the hard work and succumb to the clutter that chokes creativity, discipline, and innovation will result in a net deficit to the world, to your company, and to yourself.
Die Empty
is a tool for individuals and companies that aren't willing to put off their best work. Todd Henry explains the forces that keep people in stagnation and introduces a three-part process for tapping into your passion:
Excavate
: Find the bedrock of your work to discover what drives you.
Cultivate
: Learn how to develop the curiosity, humility, and persistence that save you from getting stuck in ruts.
Resonate
: Learn how your unique brilliance can inspire others.
Henry shows how to find and sustain your passion and curiosity, even in tough times.

Reviews
"A simple, masterful manual for leading a fulfilled life. I couldn't put it down. Bravo, Todd Henry!"
—David Allen, author of the international bestseller Getting Things Done
"In a field crowded with rivals, Todd Henry stands out as a unique and original voice.... If you can read this book and not be inspired, you need a 100% full-body-and-soul transplant. Outstanding!"
—Steven Pressfield, bestselling author of The War of Art and Turning Pro
"You have a limited number of days on Earth. This book sends an urgent message: make them count!"
—Chris Guillebeau, NYT Bestselling author of The $100 Startup
"Die Empty looks past simple slogans to highlight detailed strategies for building a meaningful life; a must-read for anyone interested in moving from inspiration to action."
—Cal Newport, author of So Good They Can't Ignore You
"We all want confirmation that our life compass is pointed in the direction and that we are on course. Die Empty provides practical methods for reflecting and then immediately taking action that keeps you on the right path and helps you unlock your full potential on a daily basis."
—Tim Schigel, founder and Chairman of ShareThis

Find Items On Similar Subjects

The Accidental Creative
: How to Be Brilliant at a Moment's Notice