Start With Why
: How Great Leaders Inspire Everyone to Take Action
Simon Sinek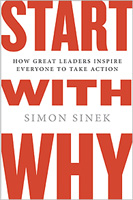 Format:
Paperback, 256pp.
ISBN:
9781591846444
Publisher:
Portfolio Hardcover
Pub. Date:
December 27, 2011
Average Customer Review:


For Bulk Orders Call: 626-441-2024

Description and Reviews
From
The Publisher:
The most important question for any organization
There's a naturally occurring pattern shared by the people and organizations that achieve the greatest long-term success. From Martin Luther King Jr. to Steve Jobs, from the pioneers of aviation to the founders of Southwest Airlines, the most inspiring leaders think, act, and communicate the exact same way-and it's the complete opposite of everyone else.
The common thread, according to Simon Sinek, is that they all start with why. This simple question has the power to inspire others to achieve extraordinary things.
Any organization can explain what it does; some can explain how; but very few can clearly articulate why. Why do we offer these particular products or services? Why do our customers choose us? Why do our employees stay (or leave)? Once you have those answers, teams get stronger, the mission clicks into place, and the path ahead becomes much clearer.
Starting with why is the key to everything from putting a man on the moon to launching the iPod. Drawing on a wide range of fascinating examples, Sinek shows readers how to apply why to their culture, hiring decisions, product development, sales, marketing, and many other challenges. Some naturally think this way, but Sinek proves that anyone can learn how.
Start With Why
offers an unconventional perspective that explains WHY some people and organizations are more innovative, more profitable, command greater loyalties from customers and employees alike and, most importantly, are able to repeat their success over and over. These are not the one hit wonders. These are the ones who change the course of industries or even society.
Because it's all based on how people think and act, this unique view of the world has application in big business and small business, in politics and non-profit. Though some people have a natural ability to start with WHY, this book offers compelling evidence that, with a little discipline, anyone can learn how to do it.
How does one idea do so much? Simple. It doesn't matter what you do, it matters WHY you do it.

Reviews
"
Start With Why
is one of the most useful and powerful books I have read in years. Simple and elegant, it shows us how leaders should lead. Highly recommended."
—William Ury, co author of Getting to Yes

About the Author
Simon Sinek
teaches leaders and companies around the world how to inspire people. From members of Congress to foreign ambassadors, from small businesses to corporations like Microsoft and American Express, from Hollywood to the Pentagon, he has presented his ideas about the power of why. He is quoted frequently by national publications and is a regular contributor to The Huffington Post and
BrandWeek
. This is his first book.

Table of Contents
| | | |
| --- | --- | --- |
| | | |
| | Introduction:Why Start with Why? | 1 |
| | | |
| | Part 1: A World That Doesn't Start With Why | |
| 1 | Assume You Know | 11 |
| 2 | Carrots and Sticks | 16 |
| | | |
| | Part 2: An Alternative Perspective | |
| 3 | The Golden Circle | 37 |
| 4 | This Is Not Opinion, This Is Biology | 52 |
| 5 | Clarity, Discipline and Consistency | 65 |
| | | |
| | Part 3: Leaders Need A Following | |
| 6 | The Emergence of Trust | 83 |
| 7 | How a Tipping Point Tips | 115 |
| | | |
| | Part 4: How to Rally Those Who Believe | |
| 8 | Start with WHY, but Know HOW | 133 |
| 9 | Know WHY. Know HOW. Then WHAT? | 154 |
| 10 | Communication Is Not About Speaking, It's About Listening | 160 |
| | | |
| | Part 5: The Biggest Challenge Is Success | |
| 11 | When WHY Goes Fuzzy | 175 |
| 12 | Split Happens | 183 |
| | | |
| | Part 6: Discover Why | |
| 13 | The Origins of a WHY | 209 |
| 14 | The New Competition | 222 |
| | | |
| | Acknowledgments | 227 |
| | Notes | 233 |
| | Index | 241 |

Find Items On Similar Subjects

Leaders Eat Last
: Why Some Teams Pull Together and Others Don't

The Inspiring Leader
: Unlocking the Secrets of How Extraordinary Leaders Motivate

Change the Way You See Everything
Through Asset-based Thinking

Change the Way You See Yourself
: Through Asset-Based Thinking