The Inspiring Leader
: Unlocking the Secrets of How Extraordinary Leaders Motivate
John Zenger, Joseph Folkman and Scott Edinger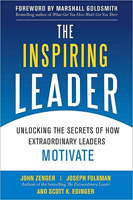 Format:
Hardcover, 272pp.
ISBN:
9780071621243
Publisher:
McGraw-Hill
Pub. Date:
May 29, 2009
Average Customer Review:

For Bulk Orders Call: 626-441-2024

Description and Reviews
From
The Publisher:
In their bestselling work
The Extraordinary Leader
, performance thought leaders John Zenger and Joseph Folkman revealed the 16 key competencies that separate the top 10 percent of leaders from the rest. Since that book's publication, they and coauthor Scott Edinger discovered, through an extensive study conducted over four years, that leaders who possessed the ability to inspire and motivate outperformed all others.
The authors found that the impact of inspiring and motivating others is consistent across different kinds of organizations and within different cultures. The Inspiring Leader reveals the authors' newest proprietary research on how top leaders inspire teams to greatness. It discusses the behaviors exhibited by the most successful leaders and includes advice on how to implement them. Drawing from statistically significant data and objective empirical evidence, the book shows how to:
Establish a clear vision and direction
Use the power of emotions
Create stretch goals for your team
Foster innovation and risk taking
Encourage teamwork and collaboration
Champion change, and much more
Zenger, Folkman, and Edinger lay out the strategies and concepts used by the world's greatest leaders to motivate their teams. With
The Inspiring Leader
as your guide, you will learn how to put those strategies to work in your own business.

Reviews
"While providing the same practical 'hard science' approach to bring focus and value, this writing advances the practice of leadership development with new insight, new advice, and new inspiration for all of us to grow."
—Kevin D. Wilde, Vice President and Chief Learning Officer, (2007 CLO of the Year), General Mills, Inc.
"The Inspiring Leader provides new insights into how leaders can improve the results of their organization through inspiration."
—Bill Blase, Senior Executive Vice President, Human Resources, AT&T Corp.
"The real importance of this book is the clear and simple road map it provides on how to lead in ways that release the seldom fully tapped performance power in our organizations."
—Michael A. Peel, Vice President, Human Resources and Administration, Yale University
"Finally a book that provides empirical evidence that inspirational leaders consistently produce superior results."
—Kevin Rhein, Group Executive Vice President, Card Services and Consumer Lending, Wells Fargo Bank
"Following the steps recommended by the authors will enhance leadership skills, influence employee engagement, and impact business results. A real winner."
—Pam Poggi, Vice President, Corporate Human Resources Development, Safeway, Inc.

About the Authors
John H. Zenger
, D.B.A., is the CEO of Zenger Folkman, a firm that brings empirical research, innovative development methods, and software tools to leadership development. He is a member of the Human Resource Development Hall of Fame, and has authored or coauthored eight books and 50 articles on leadership, productivity, and teams.
Joseph Folkman
, Ph.D., is president of Zenger Folkman.?He is an authoritative voice on the subject of developing and using employee surveys to create organizational change and 360-degree feedback assessment for individual development. He is the author of three books: Turning Feedback into Change, Making Feedback Work, and Employee Surveys That Make a Difference.
Scott Edinger
, is Executive Vice President at Zenger Folkman where he consults with Fortune 500 companies to initiate and implement large-scale performance improvement and leadership initiatives. Each year he works with hundreds of leaders to develop leadership talent and address the challenges of organizational change. . He is a popular keynote speaker at national conferences and has extensive experience working in some of the most prominent organizations in the world. Scott is recognized as an expert in helping organizations achieve measurable business results. . Prior to joining Zenger Folkman, Scott was a Senior Executive for Huthwaite, Inc. His career in consulting began at Coopers And Lybrand (now PriceWaterhouseCoopers).. Scott holds a B.S. in Communication and Rhetoric from Florida State University. He is the co-author of several articles and publications.

Table of Contents
| | | |
| --- | --- | --- |
| | | |
| | Foreword | ix |
| 1 | Inspiration: The Most Important Leadership Ingredient | 1 |
| | Part 1 The Importance of Inspiration | |
| 2 | The Business Outcomes of Inspiration | 17 |
| 3 | How Inspired Colleagues Behave | 27 |
| 4 | A Foundation for Understanding Inspiration | 45 |
| | Part 2 The Making of an Inspirational Leader | |
| 5 | Attributes of The Inspirational Leader | 61 |
| 6 | Using Emotion: The DNA of Inspiration | 85 |
| 7 | Setting Stretch Goals | 103 |
| 8 | Creating Vision and Direction | 119 |
| 9 | Communicating Powerfully | 133 |
| 10 | Developing People | 153 |
| 11 | Being Collaborative and a Good Team Player | 171 |
| 12 | Fostering Innovation | 187 |
| 13 | Most Common Mistakes in Inspiring Others | 207 |
| 14 | Conclusions | 223 |
| | Appendix 1 Further Research Information: The Multiplier Effect of Attributes | 229 |
| | Appendix 2 Frequently Asked Questions About Inspiration | 231 |
| | Appendix 3 Full Text of Shakespeare's Version of Henry V's Speech to His Soldiers at Agincourt | 233 |
| | Endnotes | 235 |
| | Index | 239 |

Find Items On Similar Subjects

How to Be Exceptional
: Drive Leadership Success By Magnifying Your Strengths

The Extraordinary Leader
: Turning Good Managers into Great Leaders

Start With Why
: How Great Leaders Inspire Everyone to Take Action