Change the Way You See Everything
Through Asset-based Thinking
Kathryn D. Cramer and Hank Wasiack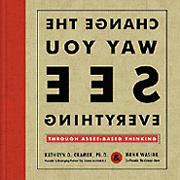 Format:
Hardcover, 152pp.
ISBN:
9780762427239
Publisher:
Running Press Book Publishers
Pub. Date:
April 30, 2006
Average Customer Review:

For Bulk Orders Call: 626-441-2024

Description and Reviews
From
The Publisher:
They say a picture is worth a thousand words, that perception is reality, and that a single strength can overcome a world of obstacles. These three powerful ideas converge in the breakthrough work,
Change the Way You See Everything
This brilliantly simple book on the philosophy known as Asset-Based Thinking, instills success-oriented habits in even the most die-hard cynic. Its transformational lessons--conveyed through unique photographic metaphors and inspiring stories from real people--reveal how the slightest shift in perception can lead to monumental results in both business and in life. ABT is not just positive thinking, but rather a systematic observation of "what works." Kathryn Cramer, an acclaimed corporate consultant, and Hank Wasiak, a creative icon of the advertising industry, have produced a work that looks and works like no other business or self-help book-because it IS like no other book.
Change the Way You See Everything
is a revolutionary approach to every aspect of life that bears not just reading, but re-reading, and sharing with people in your circle. You'll never look at the world the same way again.

Reviews
"When I read
Change the Way You See Everything
, I saw that it does what it promises to do, and more. This is a simple, yet brilliant thesis. It gives us information we can actually use."
—James Patterson, number one selling author
"Anyone in a consumer products business will find
Change the Way You See Everything
, to be a powerful tool to motivate the people in your organization to stay focused on the keys to success: Appreciating and making the most of the
personal
assets that make an organization great, being in total being in total service to benefiting the company's most important asset—the consumer and finding and leveraging the hidden assets present in any marketplace situation. It is a small shift that really can make a seismic difference."
—Joe Weller, CEO Nestlé USA retired


Reader's Index
Send us your favorite quotes or passages from this book
.
• "Just think what could be possible if people focused their attention to:
Opportunities rather than problems
Strengths more than weaknesses
What can be done instead of what can't" Pg. 10

About the Authors
Kathryn D. Cramer, Ph.D.
is a practicing psychologist, sought-after corporate consultant and speaker, and author of three books on personal effectiveness and professional development. She is founder of The Stress Center at St. Louis University, and managing partner of The Cramer Institute, an internationally recognized coaching and consulting firm. She lives in St. Louis, Missouri.
Hank Wasiak
is co-founder of The Concept Farm, one of the hottest creative development companies in the world. He is an advertising industry icon who works with the corporate elite of global and domestic business. He lives in New York City.

Customer Reviews

Change the way you see things & the things you see change
March 16, 2006
Reviewer: Stanley, Little Rock, AR, United States
Bite-sized inspiration. A coffee table book that offers a new lexicon for life. Visually stunning with a strong underlying message. It's a workbook but not in the tradtional sense of the word. It's for business and it's not. Change the Way You See Everything is impactful but not heavy handed as it imparts its simple yet powerful lessons. Definitely worth grabbing in hardback.

Wonder Read!
March 15, 2006
Reviewer: Rebecca, United States
Wow! I love this book. My husband bought it for me last week and it has truly inspired me. Great read, I would highly suggest it.

Find Items On Similar Subjects

Change the Way You See Yourself
: Through Asset-Based Thinking

A Whole New Mind
: Moving from the Information Age to the Conceptual Age