Crucibles of Leadership
: How to Learn from Experience to Become a Great Leader
Robert J. Thomas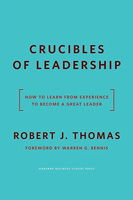 Format:
Hardcover, 256pp.
ISBN:
9781591391371
Publisher:
Harvard Business School Press
Pub. Date:
March 24, 2008
Average Customer Review:


For Bulk Orders Call: 626-441-2024

Description and Reviews
From
The Publisher:
Experience may be a leader's best teacher--but there's a hitch. Two people can have identical experiences, but one blossoms while the other is depleted. The same can be said for any pair of fired CEOs, unsuccessful political candidates, or rookie supervisors.
In
Crucibles of Leadership
, Robert J. Thomas concludes that what matters most is what one makes of experience, particularly the traumatic and often unplanned crucible events that challenge one's identity as a leader. What distinguishes leaders who grow through a crucible experience? Their approach to learning. Like accomplished athletes or artists, they practice as strenuously as they perform. And because the line between performance and practice is often hard to discern, they learn how to practice while they perform.
But theirs is no ordinary practice. It's a regimen tailored to individual aspirations, motivations, and learning styles--a Personal Learning Strategy. Building on insightful and moving stories told by accomplished leaders, Thomas offers probing self-assessments and innovative tools designed to help you develop your own Personal Learning Strategy.
Provocative and original, with examples drawn from business and politics as well as from the inner workings of the Mormon Church and the Hell's Angels, Thomas's book will revolutionize the way you think about leadership and learning.

Reviews
"Robert Thomas's fresh answer to the tired question of whether leaders are born or made takes readers in a new direction: toward understanding the burning challenges and even failures that turn ordinary people into great leaders. This practical book can help men and women from all walks of life rise to their full potential."
—Rosabeth Moss Kanter, Harvard Business School Professor and author of Confidence and America the Principled
"Learning from one's own experiences and from those of others is the Archimedes lever for leadership effectiveness. Crucibles of Leadership unlocks the secrets of learning how to lead--what a gift!"
—Fred Harburg, Former President and CLO, Motorola University and former SVP of Leadership and Learning, Fidelity Investments
"As someone who has participated in the journey of a company that has grown from $4 million to $40 billion, I believe the core premise of this book rings true. The skills derived from facing one's own "crucibles" are powerful tools for growing one's business."
—Brad Anderson, Vice Chairman and CEO, Best Buy Co., Inc.

About the Author
Robert J. Thomas
is Executive Director of Accenture's Institute for High Performance Business and Galvin Professor of Leadership at the Fletcher School of Law and Diplomacy at Tufts University. He co-authored Geeks and Geezers: How Era, Values and Defining Moments Shape Leaders with Warren Bennis.

Table of Contents
Foreword by Warren Bennis
vii
Preface and Acknowledgements
xi
Part One: Experience Matters—But Then What?
1
How Do You Find What Matters In Experience?
3
2
Extracting Insight From Experience
17
3
Inside the Crucible
Learning and Leading with Resilience
43
4
Leaders as Expert Performers
Practice Can Trump Talent
59
Part Two: Crafting a Personal Learning Strategy
5
The Core of a Personal Learning Strategy
Recognizing and Transforming Crucible Experiences
85
6
Exploring Your Capabilities
Begin With a Candid Self-Assesment
113
7
Creating Your Own Personal Learning Strategy
A Step-by-Step Approach
153
Part Three: The Big Picture
8
Experience-Based Leader Development
The Organizational Dimension
185
9
Invigorating the Practice of Leadership
Aligning Organizational Needs with Individual Capabilities
213
Notes
233
Index
249
About the Author
265

Find Items On Similar Subjects

Driving Results Through Social Networks
: How Top Organizations Leverage Networks for Performance and Growth

Geeks and Geezers
: Leading and Learning for a Lifetime