Geeks and Geezers
: Leading and Learning for a Lifetime
Warren G. Bennis
and Robert Thomas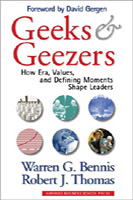 Format:
Hardcover, 224pp.
ISBN:
9781578515820
Publisher:
Harvard Business School Press
Pub. Date:
August 2002 Available in
Paperback
Average Customer Review:

For Bulk Orders Call: 626-441-2024

Description and Reviews
From
The Publisher:
Today's young leaders grew up in the glow of television and computers; the leaders of their grandparents' generation in the shadow of the Depression and World War II. In a groundbreaking study of these two disparate groups-affectionately labeled "geeks" and "geezers"-legendary leadership expert Warren Bennis and leadership consultant Robert Thomas set out to find out how era and values shape those who lead. What they discovered was something far more profound: the powerful process through which leaders of any era emerge.
Geeks and Geezers
is a book that will forever change how we view not just leadership—but the very way we learn and ultimately live our lives. It presents for the first time a compelling new model that predicts who is likely to become—and remain—a leader, and why.
At the heart of this model are what the authors call "crucibles"—utterly transforming periods of testing from which one can emerge either hopelessly broken, or powerfully emboldened to learn and to lead. Whether losing an election or burying a child, learning from a mentor or mastering a martial art, crucibles are turning points: defining events that force us to decide who we are and what we are capable of.
Through the candid and often deeply moving crucibles of pioneering journalist Mike Wallace to new economy entrepreneur Michael Klein, from New York Stock Exchange trailblazer Muriel Siebert to environmental crusader Tara Church, Geeks and Geezers illustrates the stunning metamorphoses of true leaders. It also reveals the critical traits they share, including adaptability, vision, integrity, unquenchable optimism, and "neoteny"—a youthful curiosity and zest for knowledge.
Highlighting the forces that enable any of us to learn and lead not for a time, but for a lifetime, this book is essential reading for geeks, geezers, and everyone in between.
Based on a cross-generational study of 45 leaders ranging in age from 21 to 93, Geeks and Geezers proposes a new model of leadership. Whereas most of the leadership literature focuses on the traits and habits of successful leaders, Geeks and Geezers introduces several novel concepts to describe the underlying patterns of experience that characterize great leaders. These include the concepts of a "crucible," the confluence of transformative events and circumstances through which individuals learn resilience and adaptability, and "neoteny," a term borrowed from zoology that suggests the vitality or "innocence in action" that impels great leaders to drive toward the future.
The book also explores the role that mentoring--not simply focusing on the importance of being coached, but on the ability to identify the right teachers and to be "first-class noticers"--plays in the development of lifetime leaders. Geeks and Geezers is rich with stories from well-known leaders (including, in the geezer category, architect Frank Gehry, coaching legend John Wooden, the SEC's Arthur Levitt, Jr., television journalist Mike Wallace and, weighing in for the geeks, high-tech entrepreneur Sky Dayton, social philanthropist Wendy Kopp, and environmentalist Tara Church). Taken together, these stories offer much more than a collection of useful and memorable anecdotes. Rather, Geeks and Geezers is nothing less than a compelling new theory of leadership, one that explains how leaders develop the capacity to grow for a lifetime and how their response to personal tragedies and professional challenges have uniquely shaped them.


Reader's Index
Send us your favorite quotes or passages from this book
.
• "We found that every leader in our study, young or old, had undergone at least one intense, transformational experience. That transformational experience was at the very heart of becoming a leader." Pg. 14

About the Authors
Warren Bennis
is Professor and Founding Chairman of The Leadership Institute at the University of Southern California, and the author of over thirty visionary books on leadership.
Robert J. Thomas
is an Associate Partner and Senior Fellow with the Accenture Institute for Strategic Change and award-winning author of
What Machines Can't Do
.

Table of Contents
| | | |
| --- | --- | --- |
| | Preface | ix |
| | Acknowledgements | xix |
| | Foreword by David Gergen | xxv |
| | | |
| 1 | Leading and Learning for a Lifetime | 1 |
| 2 | Geezers: The Era of Limits | 23 |
| 3 | Geeks: The Era of Options | 51 |
| 4 | Crucibles of Leadership | 87 |
| 5 | The Alchemy of Leadership | 121 |
| 6 | A Passion for the Promises of Life | 157 |
| | Appendix A: Biographies | 181 |
| | Appendix B: Interview Questions | 199 |
| | | |
| | Notes | 203 |
| | Index | 209 |
| | About the Authors | 223 |

Find Items On Similar Subjects

Driving Results Through Social Networks
: How Top Organizations Leverage Networks for Performance and Growth

Leading for a Lifetime
: How Defining Moments Shape Leaders of Today and Tomorrow • Paperback

All Tiles by
Warren G. Bennis