Lift
: The Fundamental State of Leadership
2nd edition
Ryan W Quinn and Robert E Quinn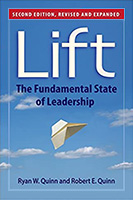 Format:
Paperback, 160pp.
ISBN:
9781576754443
Publisher:
Berrett-Koehler Publishers
Pub. Date:
2nd edition August 10, 2015
Average Customer Review:


For Bulk Orders Call: 626-441-2024

Description and Reviews
From
The Publisher:
Just as the Wright Brothers combined science and practice to finally achieve the dream of flight, Ryan and Robert Quinn combine research and experience to demonstrate how we can elevate ourselves and the situations and people around us to greater heights of integrity, openness, and achievement—the psychological equivalent of aerodynamic lift.
Solidly based in the social science literature—with special focus on recent advances in the study of positive psychology and strengths-based leadership, as well as Robert Quinn's groundbreaking work on organizational effectiveness—
Lift
identifies four mindsets that will enable us become a consistently positive influence in every aspect of our lives: being purpose-centered, internally-directed, other-focused and externally-open. Separate chapters explore each of these components in depth, analyzing the psychological and social factors that keep people from applying them and what we can do to overcome those obstacles.
Although there are exercises and tools throughout to help you understand and apply the authors' lift framework—as well as compelling stories of personal and professional applications of lift—this is not a book about tactics. Rather, the Quinns challenge you to ask:
What can I do to be a positive influence?

Reviews
"Lift challenges our understanding of how we influence others. While it is commonly thought that influence is some political force that we exert upon others to get our way, the Quinns show how truly effective leadership begins with a selfless and positive influence that radiates from our inner core--our best self."
—Thomas Glocer, CEO, Thomson Reuters
"The psychological state required for Lift encompasses the very essence of leadership in the public domain: a sense of being purpose centered; guided by values, caring for others, and focused on what can be done to improve programs, conditions, and services. Lift is all about making a difference--the spirit of public service in the 21st century."
—Mary Ellen Joyce, Director of Executive Programs, The Brookings Institution
"You should read this book! It presents rigorous science in an accessible way and imparts practical wisdom that keeps the title's promise: it will lift you and the people around you."
—R. Edward Freeman, Elis and Signe Olsson Professor of Business Administration and Codirector of the Olsson Center for Applied Ethics, Darden School of Business, University of Virginia


Reader's Index
Send us your favorite quotes or passages from this book
.
• "Infl uence is positive when it (1) invites people toward purposes that (2) meet the needs of the people involved (3) in ways that increasingly reflect their highest personal and social values and (4) adapt to changing circumstances over time." Pg. 8

About the Authors
Ryan Quinn
is assistant professor of business administration at the University of Virginia's Darden School of Business, where he teaches in the MBA, MBA for Executives, and Executive Education programs, with a specific focus on topics such as influence, change management, high-impact conversations, learning, power, and courage. He is also a consultant whose clients include Fortune 500 companies, private firms, and start-up businesses.
Robert Quinn
holds the Margaret Elliott Tracy Collegiate Professorship at the University of Michigan and is professor of management and organizations in the Ross School of Business. One of the cofounders of the Center for Positive Organizational Scholarship, he is a fellow of the Academy of Management and the World Business Academy. He is the author of sixteen books, including Beyond Rational Management, Becoming a Master Manager, and Deep Change.

Table of Contents
| | | |
| --- | --- | --- |
| | | |
| | Introduction: A Positive Force in Any Situation | 1 |
| | | |
| 1 | Lift – A Positive Influence and a Psychological State | 6 |
| 2 | The Science, History, and Metaphor of Lift | 24 |
| 3 | Seeking Comfort and Dwelling on Problems | 41 |
| 4 | Becoming Purpose-Centered | 53 |
| 5 | Falling Short of Our Values and Not Realizing It | 79 |
| 6 | Becoming Internally Directed | 98 |
| 7 | Seeing Others as Objects | 122 |
| 8 | Becoming Other-Focused | 141 |
| 9 | Fearing Feedback | 163 |
| 10 | Becoming Externally Open | 176 |
| 11 | The Integration of Positive Opposites | 196 |
| | | |
| | Notes | 221 |
| | Acknowledgments | 245 |
| | Index | 247 |
| | About the Authors | 253 |

Find Items On Similar Subjects

Who Switched off My Brain?
Controlling Toxic Thoughts and Emotions

Building the Bridge As You Walk On It
: A Guide for Leading Change

Deep Change
: Discovering the Leader Within