Who Switched off My Brain?
Controlling Toxic Thoughts and Emotions - Revisied
Caroline Leaf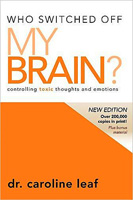 Format:
Hardcover, 176pp.
ISBN:
9780981956725
Publisher:
Thomas Nelson
Pub. Date:
New Edition November 3, 2009
Average Customer Review:

For Bulk Orders Call: 626-441-2024

Description and Reviews
From
The Publisher:
Researchers say that 87% of the illnesses plaguing us today directly result from our thought life! What we think about affects us physically and emotionally.
Release the full potential of your cognitive power through proven brain research as Dr. Caroline Leaf delves into the physiology of the learning process and shows you how to understand and remember important information.
You will learn how to detox your brain and rid yourself of harmful thoughts and emotions and the stress they generate, by:
Understanding exactly what a thought is and how it forms
Finding out what happens to a thought when your thoughts and emotions become toxic
Learning about the stress impact that toxic thoughts and emotions have on our bodies
Appreciating the impact that stress and toxic emotions have on our children
Learning 13 steps on exactly how to control toxic thoughts and emotions
Learn to "detox" your thoughts and live a healthier life!

About the Author
Since 1981, Dr.
Caroline Leaf
has researched the human brain with particular emphasis on unlocking its vast untapped potential. She has been received all over the world by a variety of audiences due to her unique ability to link the scientific principles of the brain to intellectual and emotional issues in a simple and practical way. Through years of research she developed the Geodesic Learning® theory (brain-compatible learning) which is a scientifically and statistically proven approach to thinking, teaching and learning.

Table of Contents
| | | |
| --- | --- | --- |
| | | |
| | Part 1 Switch on Your Brain | |
| 1 | Introduction | 1 |
| 2 | What is a Toxic Thought? | 13 |
| | | |
| | Part 2 Stress | |
| 3 | Stress and the Dirty Dozen | 29 |
| 4 | The Toxic Pathway | 39 |
| | | |
| | Part 3 The Science of Thought | |
| 5 | Gather | 49 |
| 6 | Reflect | 59 |
| 7 | Journal | 65 |
| 8 | Revisit | 69 |
| 9 | Reach | 73 |
| | | |
| | Part 4 The Dirty Dozen | |
| 10 | Toxic Thoughts | 83 |
| 11 | Toxic Emotions | 87 |
| 12 | Toxic Words | 93 |
| 13 | Toxic Choices | 99 |
| 14 | Toxic Dreams | 103 |
| 15 | Toxic Seeds | 109 |
| 16 | Toxic Faith | 115 |
| 17 | Toxic Love | 119 |
| 18 | Toxic Touch | 125 |
| 19 | Toxic Seriousness | 133 |
| 20 | Toxic Health | 139 |
| 21 | Toxic Schedules | 143 |
| | | |
| | Appendix A | 152 |
| | End Notes | 154 |
| | Recommended Reading | 162 |

Find Items On Similar Subjects

Lift
: Becoming a Positive Force in Any Situation