Building the Bridge As You Walk On It
: A Guide for Leading Change
Robert E. Quinn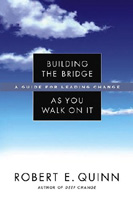 Format:
Hardcover, 256pp.
ISBN:
9780787971120
Publisher:
Jossey-Bass Publishers
Pub. Date:
April 2004
Average Customer Review:


For Bulk Orders Call: 626-441-2024

Description and Reviews
From
The Publisher:
How to transform your organization by transforming yourself
When it was first published, Robert Quinn's best-selling book
Deep Change
revealed that anyone can become a leader of change, but to do so requires the transformation of self. The book struck a chord with thousands, and inspired readers wrote Quinn to share their stories of how his book guided them on their journeys to deep change.
Building the Bridge As You Walk On It
tells the personal stories of people who have embraced deep change and inspired author Robert Quinn to take his concept one step further and develop a new model of leadership--"the fundamental state of leadership." The exploration of this transformative state is at the very heart of the book. Quinn shows how anyone can enter the fundamental state of leadership by engaging in the eight practices that center on the theme of ever-increasing integrity--reflective action, authentic engagement, appreciative inquiry, grounded vision, adaptive confidence, detached interdependence, responsible freedom, and tough love. After each chapter, Quinn challenges you to assess yourself with respect to each practice and to formulate a strategy for personal growth.
Building the Bridge As You Walk On It
emphasizes that developing leaders is not a simple matter of imparting a set of concepts or reaching into a toolkit of strategies and behaviors. To become a leader requires engagement in the process of deep change in oneself, thereby inviting others to do the same. Once this process is in motion, we truly begin to transform one another to become the type of leaders we strive to be.

Reviews
"Quinn's work captures a crucial truth about great leadership--that it is about who we are and not what we do. In facing our fears and harnessing our uniqueness, we bring forth the capacity for inspired leadership and for enduring change. Robert Quinn is a gifted storyteller. This is his best book to date."
—Peter J. Frost, Edgar F. Kaiser Professor of Organizational Behavior, Sauder School of Business, University of British Columbia, and author of Toxic Emotions at Work
"Quinn's fundamental state of leadership is fundamentally uncommon. Rather than focusing on how to lead others, he has served up authentic insights on how leaders can best lead themselves."
—Jim Haduan, CEO, Root Learning, Inc.
"Read this book only if you are willing to address the fear that keeps you from leadership, and from profound change in yourself and others."
—Allan R. Cohen, Distinguished Professor of Global Leadership, Babson College, and coauthor of Power-Up: Transforming Organizations Through Shared Leadership
"Quinn takes us to the chasm where deep change is lived and led--then guides us over it. Practical scholarship. Masterful teaching."
—Philip Mirvis, coauthor of To the Desert and Back: The Story of One of the Most Dramatic Business Transformations on Record
"A gem of a book, as wise and practical a guide on individual and organizational transformation as you'll find anywhere."
—Warren Bennis, university professor, University of Southern California and coauthor of Geeks and Geezers: How Era, Values, and Defining Moments Shape Leaders

About the Author
Robert E. Quinn
(Ann Arbor, MI) holds the M. E. Tracy Collegiate Professorship at the University of Michigan and is Professor of Organizational Behavior at the University of Michigan Business School. He is the author of numerous books including the best-selling
Deep Change
and
Change the World
. Quinn consults with organizations all over the world and speaks extensively on the subject of deep change.

Table of Contents
| | | |
| --- | --- | --- |
| | | |
| | Preface | |
| | | |
| | PART 1: An Invitation To The Fundamental State Of Leadership | |
| 1 | Building the Bridge As You Walk on It | |
| 2 | The Fundamental State of Leadership | |
| 3 | Entering the Fundamental State of Leadership | |
| 4 | Personal Revitalization | |
| 5 | Becoming More Aware and Authentic | |
| 6 | Transforming Others by Transforming Self | |
| 7 | A New View of Leadership | |
| | | |
| | PART 2: Eight Practices For Entering The Fundamental State Of Leadership | |
| | Reflective Action | |
| 9 | Authentic Engagement | |
| 10 | Appreciative Inquiry | |
| 11 | Grounded Vision | |
| 13 | Adaptive Confidence | |
| 13 | Detached Interdependence | |
| 14 | Responsible Freedom | |
| 15 | Tough Love | |
| | | |
| | PART 3: Developing Leaders | |
| 16 | The Stages of Self-Change | |
| 17 | Inviting Others into the Fundamental State of Leadership | |

Find Items On Similar Subjects

Deep Change
: Discovering the Leader Within