A Sense of Urgency
John P. Kotter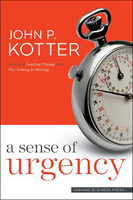 Format:
Hardcover, 128pp.
ISBN:
9781422179710
Publisher:
Harvard Business School Press
Pub. Date:
September 3, 2008
Average Customer Review:


For Bulk Orders Call: 626-441-2024

Description and Reviews
From
The Publisher:Does your organization have a true sense of urgency?
True urgency is a gut-level determination to move and win, now.
Its practitioners are unusually alert. They come to work each day determined to achieve something important, and they shed irrelevant activities to move faster and smarter. Those with a sense of true urgency are the opposite of complacent—but they are not stressed-out, anxious, generating great activity without much productivity. Instead, they are moving boldly toward the future—sharply on the lookout for both hazards and opportunities that change brings.
Bestselling author and business guru John Kotter shows what a true sense of urgency really is, why it is becoming an exceptionally important asset, and how you can create and sustain it within your organization—starting today.
Most organizational change initiatives fail spectacularly (at worst) or deliver lukewarm results (at best). In his international bestseller
Leading Change
, John Kotter revealed why change is so hard, and provided an actionable, eight-step process for implementing successful transformations. The book became the change bible for managers worldwide.
Now, in
Urgency
, Kotter shines the spotlight on the crucial first step in his framework: creating a sense of urgency by getting people to actually see and feel the need for change.
Why focus on urgency? Without it, any change effort is doomed. Kotter reveals the insidious nature of complacency in all its forms and guises.
In this exciting new book, Kotter explains:
How to go beyond "the business case" for change to overcome the fear and anger that can suppress urgency
Ways to ensure that your actions and behaviors -- not just your words -- communicate the need for change
How to keep fanning the flames of urgency even after your transformation effort has scored some early successes
Written in Kotter's signature no-nonsense style, this concise and authoritative guide helps you set the stage for leading a successful transformation in your company.

About the Author
John P. Kotter
is Konosuke Matsushita Professor of Leadership, Emeritus, at Harvard Business School, and is widely regarded as the world's foremost authority on leadership and change. His has been the premier voice on how the best organizations actually do change.

Table of Contents
Preface
vii
1
It All Starts With A Sense of Urgency
1
2
Complacency and False Urgency
19
3
Increasing True Urgency
One Strategy, Four Tactics
43
4
Tactic One
Bring the Outside In
67
5
Tactic Two
Behave With Urgency Every Day
101
6
Tactic Three
Find Opportunity in Crises
125
7
Tactic Four
Deal with NoNos
151
8
Keep Urgency Up
175
9
The Future
Begin Today
195
About the Author
201

Find Items On Similar Subjects

Leading Change

Our Iceberg Is Melting
: Changing and Succeeding Under Any Conditions

Force for Change
: How Leadership Differs From Management