A Force for Change
: How Leadership Differs From Management
John P. Kotter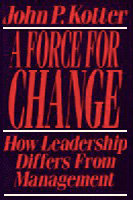 Format:
Hardcover, 180pp.
ISBN:
9780029184653
Publisher:
Free Press
Pub. Date:
May 1990
Average Customer Review:

For Bulk Orders Call: 626-441-2024

Description and Reviews
From
The Publisher:
The critics who despair of the coming of imaginative, charismatic leaders to replace the so-called manipulative caretakers of American corporations don't tell us much about what leadership actually is, or, for that matter, what management is either. Now, John P. Kotter, who focused on why we have a leadership crisis in The Leadership Factor shows here, with compelling evidence, what leadership really means today, why it is rarely associated with larger-than-life charismatics, precisely how it is different from management, and yet why both good leadership and management are essential for business success, especially for complex organizations operating in changing environments.
Leadership, Kotter clearly demonstrates, is for the most part not a god-like figure transforming subordinates into superhumans, but is in fact a process that creates change -- a process which often involves hundreds or even thousands of "little acts of leadership" orchestrated by people who have the profound insight to realize this. Building on his landmark study of 15 successful general managers, Kotter presents detailed accounts of how senior and middle managers in major corporations, in close concert with colleagues and subordinates, were able to create a leadership process that put into action hundreds of commonsense ideas and procedures that, in combination with competent management, produced extraordinary results.
This leadership turned NCR from a loser to a big winner in automated teller machines, despite intense competition from IBM. The same process at American Express and SAS helped businesses grow dramatically despite the fact that they were "mature" and "commodity-like." Kotter also shows how leadership turned around operations at P&G and Kodak; produced huge business successes at PepsiCo, ARCO, and ConAgra; and made the impossible occasionally happen at Digital.
Thousands of companies today are overmanaged and underled, John Kotter concludes, not because managers lack charisma, but because far too few executives have a clear understanding of what leadership is and what it can accomplish. Without such a vision, even the most capable people have great difficulty trying to lead effectively and to create the cultures which will help others to lead.

About the Author
John P. Kotter
, professor emeritus at Harvard Business School, is often called the world's fore­most authority on leadership and change. His many previous books, including
Leading Change
and
Our Iceberg Is Melting
, have been translated into more than two hundred foreign-language editions and have been bestsellers around the world. He is a founder of Kotter International, a consulting firm that specializes in helping leaders transform their organizations.

Find Items On Similar Subjects

Our Iceberg Is Melting
: Changing and Succeeding Under Any Conditions

Leading Change

The Heart of Change
: Real-Life Stories of How People Change Their Organizations