Leading Change
John Kotter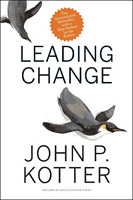 Format:
Hardcover, 208pp.
ISBN:
9781422186435
Publisher:
Harvard Business Review Press
Pub. Date:
November 6, 2012
Average Customer Review:

For Bulk Orders Call: 626-441-2024

Description and Reviews
From
The Publisher:
The international bestseller—now with a new preface by author John Kotter.
Millions worldwide have read and embraced John Kotter's ideas on change management and leadership. From the ill-fated dot-com bubble to unprecedented M&A activity to scandal, greed, and ultimately, recession—we've learned that widespread and difficult change is no longer the exception. It's the rule. Now with a new preface, this refreshed edition of the global bestseller Leading Change is more relevant than ever.
John Kotter's now-legendary eight-step process for managing change with positive results has become the foundation for leaders and organizations across the globe. By outlining the process every organization must go through to achieve its goals, and by identifying where and how even top performers derail during the change process, Kotter provides a practical resource for leaders and managers charged with making change initiatives work. Leading Change is widely recognized as his seminal work and is an important precursor to his newer ideas on acceleration published in Harvard Business Review.
Needed more today than at any time in the past, this bestselling business book serves as both visionary guide and practical toolkit on how to approach the difficult yet crucial work of leading change in any type of organization. Reading this highly personal book is like spending a day with the world's foremost expert on business leadership. You're sure to walk away inspired—and armed with the tools you need to inspire others.

Reviews
"The best work I have seen on strategy implementation."
—William C. Finnie
Harvard Business School professor Kotter (
A Force for Change
) breaks from the mold of M.B.A. jargon-filled texts to produce a truly accessible, clear and visionary guide to the business world's buzzword for the late '90schange. In this excellent business manual, Kotter emphasizes a comprehensive eight-step framework that can be followed by executives at all levels. Kotter advises those who would implement change to foster a sense of urgency within the organization. "A higher rate of urgency does not imply everpresent panic, anxiety, or fear. It means a state in which complacency is virtually absent." Twenty-first century business change must overcome overmanaged and underled cultures. "Because management deals mostly with the status quo and leadership deals mostly with change, in the next century we are going to have to try to become much more skilled at creating leaders." Kotter also identifies pitfalls to be avoided, like "big egos and snakes" or personalities that can undermine a successful change effort. Kotter convincingly argues for the promotion and recognition of teams rather than individuals. He aptly concludes with an emphasis on lifelong learning. "In an ever changing world, you never learn it all, even if you keep growing into your '90s." Leading Change is a useful tool for everyone from business students preparing to enter the work force to middle and senior executives faced with the widespread transformation in the corporate world. 60,000 first printing; $100,000 ad/promo; dual main selection of the Newbridge Book Club Executive Program; 20-city radio satellite tour. (Sept.)
—Publishers Weekly
After trying an endless array of quick fixes and other panaceas, executives struggling to stay in business in a rapidly changing world are finding it necessary to consider more fundamental reasons for their lack of success.Kotter (The New Rules: A Force for Change, Free Pr., 1995) now offers a practical approach to an organized means of leading, not managing, change. He presents an eight-stage process of change with highly useful examples that show how to go about implementing it. Based on experience with numerous companies, his sound advice gets directly at reasons that organizations fail to change, reasons that concern primarily the leader. This is a solid, substantive work that goes beyond the clichs and the consultant-of-the-month's express down yet another dead-end street. With its clear demonstration of the hard work necessary to lead change, this important work stands with Michael Hammer's latest, Beyond Reengineering. Highly recommended.Dale F. Farris, Groves, Tex.
—Library Journal

About the Author
John P. Kotter
, professor emeritus at Harvard Business School, is often called the world's fore­most authority on leadership and change. His many previous books, including
Leading Change
and
Our Iceberg Is Melting
, have been translated into more than two hundred foreign-language editions and have been bestsellers around the world. He is a founder of Kotter International, a consulting firm that specializes in helping leaders transform their organizations.

Table of Contents
| | | |
| --- | --- | --- |
| | | |
| | Preface | |
| | | |
| 1 | Transforming Organizations: Why Firms Fail | 3 |
| 2 | Successful Change and the Force That Drives It | 17 |
| 3 | Establishing a Sense of Urgency | 35 |
| 4 | Creating the Guiding Coalition | 51 |
| 5 | Developing a Vision and Strategy | 67 |
| 6 | Communicating the Change Vision | 85 |
| 7 | Empowering Employees for Broad-Based Action | 101 |
| 8 | Generating Short-Term Wins | 117 |
| 9 | Consolidating Gains and Producing More Change | 131 |
| 10 | Anchoring New Approaches in the Culture | 145 |
| 11 | The Organization of the Future | 161 |
| 12 | Leadership and Lifelong Learning | 175 |
| | | |
| | About the Author | 187 |

Find Items On Similar Subjects

Our Iceberg Is Melting
: Changing and Succeeding Under Any Conditions

Leading Change
by James O'Toole

The Heart of Change
: Real-Life Stories of How People Change Their Organizations

The Heart of Change Field Guide
: Tools and Tactics for Leading Change in Your Organization

The General Manager

Power and Influence
: Beyond Formal Authority