The Leader's Guide to Speaking with Presence
: How to Project Confidence, Conviction, and Authority
John Baldoni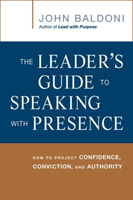 Format:
Paperback, 80.
ISBN:
9780814433799
Publisher:
AMACOM
Pub. Date:
November 5, 2013
Average Customer Review:

For Bulk Orders Call: 626-441-2024

Description and Reviews
From
The Publisher:
With their warmth, confidence, and ability to connect, many leaders look like they were born to the role. But that's rare. What seem to be innate gifts are usually the result of learning and practicing great communication.
Communication is a critical skill for leaders. Whether in a contentious meeting, a casual conversation, or a formal speech, the ability to craft and deliver clear, authentic messages, ones your audience will believe, is the tipping point between forgettable and transformational.
The Leader's Guide to Speaking with Presence
will turn even dull speakers into dazzling communicators. Stripped of excess complexity and verbiage, the book distills the truly essential components of extraordinary communication into 100 actionable tips, including:
• Why framing your speech as a musical composition captures hearts and minds
• How to avoid common blunders, such as hunching at the podium or furtively glancing sideways
• PowerPoint dos and don'ts to enhance a message, not distract from it
• Why leaders who tell compelling stories will turn listeners into followers
• How to be a credible optimist, without being a Pollyanna
• Three steps to ensure you get out of your office and mingle with employees
• How to project certitude and a clear path for others to follow—plus much more
A leader's most important job is to communicate. This handy guide helps you achieve the kind of genuine presence and communication excellence that earn lasting trust and quantifiable influence.


Reader's Index
Send us your favorite quotes or passages from this book
.
• "A leader's job is to bring people together for a common purpose, so credibility is critical. That will only come when people trust their leader and want to follow his or her lead. Communication opens the door to understanding what the leader is and what he or she stands for." Pg. 2

About the Author
John Baldoni
, president of Baldoni Consulting LLC, is an internationally recognized executive coach, speaker, and author of a dozen leadership books. In 2013, Global Gurus International ranked John No. 14 on its list of the world's top 30 leadership experts. John has written over 400 columns for the online sites of Harvard Business Review, Forbes and FastCompany.

Table of Contents
| | | |
| --- | --- | --- |
| | | |
| | Introduction to Authentic Communication | 1 |
| | | |
| 1 | The Sound of Your Leadership Speech | 3 |
| 2 | Present as a Leader | 9 |
| 3 | Make the Audience Feel Welcome (and Banish Stage Fright) | 13 |
| 4 | Stand Up Straight (and Don't Forget to Breathe) | 17 |
| 5 | Lead Your Presentation, Don't Have It Lead You | 21 |
| 6 | Turn PowerPoint into Performance Art | 27 |
| 7 | "Tell Me a Story" | 31 |
| 8 | Project Optimism the Right Way | 35 |
| 9 | Master the Art of Meeting and Mingling | 39 |
| 10 | Leverage the Energy of the Room | 43 |
| 11 | Avoid Nuance When You Speak Out Loud | 47 |
| 12 | Develop Your Leadership Presentation | 51 |
| | | |
| | Handbook on Communicating Leadership Presence | 55 |
| | Notes | 65 |
| | Index | 67 |
| | About the Author | 70 |

Find Items On Similar Subjects

12 Steps to Power Presence
: How to Exert Your Authority to Lead