The AMA Handbook of Leadership
Edited by Marshall Goldsmith, John Baldoni and Sarah McArthur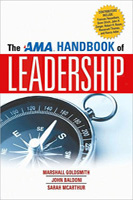 Format:
Hardcover, 288pp.
ISBN:
9780814415139
Publisher:
AMACOM
Pub. Date:
January 13, 2010
Average Customer Review:

For Bulk Orders Call: 626-441-2024

Description and Reviews
From
The Publisher:
The AMA Handbook of Leadership
features insights from best-of-the-best thought leaders and executive leadership coaches on topics from talent development, the arts and leadership, and competitive advantage through leadership, to leading across cultures, sustainability, executive transition, and many more timeless (and timely) issues. Filled with powerful examples and full case studies, the book includes previously unpublished articles from:
Frances Hesselbein • R. Roosevelt Thomas, Jr. • Dave Ulrich • John (Jack) Zenger • Nancy J. Adler • John Baldoni • Judith M. Bardwick • Marshall Goldsmith • James F. Bolt • Marc Effron • Joe Folkman • Colin Gautrey • Paul Hersey • Maya Hu-Chan • Wendy Johnson • Beverly Kaye • Paula Kruger • Laurence S. Lyons • D. Quinn Mills • Howard Morgan • Luke Novelli, Jr. • Miriam Ort • Gary Ranker • Robert H. Rosen • Norm Smallwood • Andrew Sobel • Fons Trompenaars • Albert A. Vicere • Peter Woolliams • and Patricia Wheeler
In a challenging business climate, enterprises look to their leaders. Some situations call for drastic change, while others require the fortitude to stay the course. Who better to help today's business leaders than the greatest leadership thinkers of our time?

About the Editors
MARSHALL GOLDSMITH (Rancho Santa Fe, CA) is a New York Times best-selling author and one of the world's foremost leadership experts. JOHN BALDONI (Ann Arbor, MI) is an internationally recognized leadership consultant, coach, and speaker. SARAH MCARTHUR (San Diego, CA) is a business writer and editor.

Table of Contents
| | | |
| --- | --- | --- |
| | | |
| | Foreword by James M. Kouzes | |
| | Introduction | 1 |
| | | |
| | Pt. 1 Forging Ahead: The Global Picture | |
| 1 | Diversity: The Imperative for Today's Leaders - Frances Hesselbein | 9 |
| 2 | Leadership and Diversity Management: Unfinished Business - Roosevelt Thomas, Jr. | 15 |
| 3 | 360 for Global Leaders: Coaching Through a World Lens - Maya Hu-Chan | 25 |
| 4 | Asian and Western Executive Styles - D. Quinn Mills and Luke Novelli, Jr. | 35 |
| | | |
| | Pt. 2 Developing People: The Key to the Future | |
| 5 | Passing the Baton: Developing Your Successor - Marshall Goldsmith | 51 |
| 6 | Developing Exceptional Leaders: Critical Success Factors - James F. Bolt | 61 |
| 7 | The Leader's Role in Growing New Leaders - Beverly Kaye | 75 |
| 8 | Talent Pool or Talent Puddle: Where's the Talent in Talent Management? - Marc Effron and Miriam Ort | 83 |
| 9 | The Cost of Investing in People Leadership Negatively Affects the Bottom Line: Fact or Fiction? - Howard J. Morgan and Paula Kruger | 91 |
| | | |
| | Pt. 3 Engaging People: The Force of Change | |
| 10 | Leadership's Silver Bullet: The Magic of Inspiration - John H. (Jack) Zenger | 103 |
| 11 | Create Awareness; Create Change - Judith M. Bardwick | 111 |
| 12 | I Really Do Care! - Joseph Folkman | 121 |
| 13 | The Real Legacy of Leadership: Aligning Rhetoric with Reality - Albert A. Vicere | 133 |
| 14 | What Do Leaders Need to Know About Generation Y in Order to Lead Successfully? - Paul Hersey | 145 |
| | | |
| | Pt. 4 Facilitating Change: The Leader's Role | |
| 15 | What Is an Effective Leader? The Leadership Code and Leadership Brand - Norm Smallwood and Dave Ulrich | 157 |
| 16 | Leading the Emotional Side of Change: The New 21st-Century Leadership Capability - Robert H. Rosen | 167 |
| 17 | Adjusting the Political Temperature of Your Team - Gary Ranker and Colin Gautrey | 179 |
| 18 | Making Successful Transitions: The Leader's Perspective - Patricia Wheeler | 187 |
| 19 | A Question of Leadership: What Does the Organization Need Me to Do? - John Baldoni | 203 |
| | | |
| | Pt. 5 Taking the Lead: The X Factors | |
| 20 | Situational Intelligence - Laurence S. Lyons | 213 |
| 21 | The Arts and Leadership - Nancy J. Adler | 219 |
| 22 | Client Leadership: Leading in the Marketplace - Andrew Sobel | 231 |
| 23 | Leading for Sustainability - Fons Trompenaars and Peter Woolliams | 249 |
| | | |
| | Index | 261 |

Find Items On Similar Subjects

Books by John Baldoni