A Class With Drucker
: The Lost Lessons of the World's Greatest Management Teacher
William A. Cohen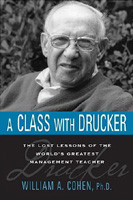 Format:
Paperback, 256pp.
ISBN:
9780814414187
Publisher:
AMACOM
Pub. Date:
March 4, 2009
Average Customer Review:

For Bulk Orders Call: 626-441-2024

Description and Reviews
From
The Publisher:
Long considered the worldís greatest thinker and writer on management, Peter Druckerís teachings continue to inspire leaders everywhere. From 1975 to 1979, author William Cohen studied under the Great Man and became the first graduate of his doctoral program. What Drucker taught him literally changed his life. In a matter of a few years, he was recommissioned in the Air Force and rose to the rank of major general. Eventually, he became a full professor, management consultant, multibook author, and university president Ė as well as maintaining a nearly lifelong friendship with the master.
In
A Class with Drucker
, Cohen shares many of Druckerís teachings that never made it into his countless books and articles, ideas that were offered to his students in classroom or informal settings. Cohen expands on Druckerís lessons with personal anecdotes about his teacherís personality, lack of pretension, and interactions with students and others. He also shows how Druckerís ideas can be applied to the real-world challenges managers face today. Now every reader can benefit from Druckerís thoughts on such topics as:
what everybody knows is frequently wrong
why everyone should approach problems with their ignorance
top executives should stay no longer than six years
some so-called menial tasks can only be done by the boss
what everyone needs to be an effective manager
why self-confidence is a necessity
Enlightening and intriguing, A Class with Drucker will enable anyone to gain from the timeless wisdom of the inspiring man himself.

About the Author
William A. Cohen, Ph.D.
(Pasadena, CA) is an authority on leadership and strategy formulation and deployment. He gives speeches and seminars for the Industrial College of the Armed Forces, the Air War College, the FBI Academy, all four armed services, and corporations from Boeing to The Cheesecake Factory. He is the author of many books including The New Art of the Leader, The Wisdom of the Generals, and How to Make It Big as a Consultant.

Table of Contents
| | | |
| --- | --- | --- |
| | | |
| | Acknowledgments and Dedication | vii |
| | What Peter Drucker Wrote About Bill Cohen | viii |
| | Foreword Ira Jackson | ix |
| | Introduction | xiii |
| | | |
| | How I Became the Student of the Father of Modern Management | 1 |
| | Drucker in the Classroom | 11 |
| | What Everybody Knows Is Frequently Wrong | 19 |
| | Self-Confidence Must Be Built Step-by-Step | 30 |
| | If You Keep Doing What Worked in the Past You're Going to Fail | 44 |
| | Approach Problems with Your Ignorance-Not Your Experience | 57 |
| | Develop Expertise Outside Your Field to Be an Effective Manager | 69 |
| | Outstanding Performance Is Inconsistent with Fear of Failure | 82 |
| | The Objective of Marketing Is to Make Selling Unnecessary | 96 |
| | Ethics, Honor, Integrity and the Law | 108 |
| | You Can't Predict the Future, But You Can Create It | 121 |
| | We're All Accountable | 133 |
| | You Must Know Your People to Lead Them | 147 |
| | People Have No Limits, Even After Failure | 160 |
| | A Model Organization That Drucker Greatly Admired | 173 |
| | The Management Control Panel | 189 |
| | Base Your Strategy on the Situation, Not on a Formula | 201 |
| | How to Motivate the Knowledge Worker | 215 |
| | Drucker's Principles of Self-Development | 231 |
| | Afterword | 246 |
| | | |
| | Notes | 249 |
| | Books by and About Peter Drucker | 252 |
| | Index | 253 |

Find Items On Similar Subjects

Drucker on Leadership
: New Lessons from the Father of Modern Management

Inside Drucker's Brain