Drucker on Leadership
: New Lessons from the Father of Modern Management
William A. Cohen, PhD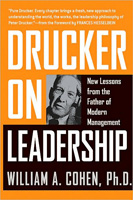 Format:
Hardcover, 304pp.
ISBN:
9780470405000
Publisher:
Jossey-Bass
Pub. Date:
November 16, 2009
Average Customer Review:

For Bulk Orders Call: 626-441-2024

Description and Reviews
From
The Publisher:
A fresh look at vital lessons from "The Father of Modern Management"–exploring Peter Drucker's teachings on leadership
As we approach what would have been his 100th birthday, the late Peter Drucker's management principles continue to be studied and applied by managers all over the world. Though many seek his lessons on the central element of management-leadership-he in fact wrote relatively little under this actual subject heading. Now, for the first time, William A. Cohen, a former student of Drucker's and a leadership expert and author in his own right, brings together Drucker's reflections on leadership, culled from his 40 books and hundreds of articles. Explaining why there is so little know about Drucker's ideas on leadership, this book is a must-read for students and fans alike looking to lead better in today's world.

Reviews
Bill Cohen's Drucker on Leadership is the best collection of Peter Drucker's unique insights, deep wisdom, and practical advice I have ever read. Cohen channels Drucker as only a three decades-long colleague and student can. You will find the lessons highly accessible, immensely enjoyable, and wonderfully fresh.
—Jim Kouzes, Award-winning co-author of the bestselling, The Leadership Challenge
For those who sit at the feet of Peter Drucker, and always will, and for those just discovering our greatest leadership philosopher, Drucker on Leadership is a rare and timely gift, as we approach the great celebration of Peter Drucker's 100th birthday. . . When I finished Bill Cohen's book, I felt as though I had been listening to the voice of Peter Drucker himself.
—Frances Hesselbein, CEO, Leader to Leader Institute.
Cohen has written with clarity and authority about the major challenges facing leaders today. And Cohen, like Drucker, emphasizes responsibility and integrity in leadership, qualities so desperately needed today. I strongly recommend this book to you.
—Joseph A. Maciariello, Horton Professor of Management, Peter F. Drucker and Masatoshi Ito Graduate School of Management and Co-Author of The Daily Drucker by Peter F. Drucker and Management by Peter F. Drucker
Cohen's unique relationship with Peter Drucker, as student and friend, allows him to extract valuable leadership lessons from Drucker's writings and teachings on management. Bill Cohen's "labor of love" provides the essential lessons for leaders straight from the Father of Modern Management.
—Ronald E. Riggio, Henry R. Kravis Professor of Leadership and Organizational Psychology, and director of the Kravis Leadership Institute at Claremont McKenna College
For those who aspire to lead – and we need a new generation of Drucker--- like leaders in organizations in every country around the world --- Bill Cohen distills the essential leadership lessons from the world's greatest management thinker.
—Ira A. Jackson, Dean and Professor of Management, Peter F. Drucker and Masatoshi Ito Graduate School of Management

About the Author
William A. Cohen, Ph.D.
(Pasadena, CA) is an authority on leadership and strategy formulation and deployment. He gives speeches and seminars for the Industrial College of the Armed Forces, the Air War College, the FBI Academy, all four armed services, and corporations from Boeing to The Cheesecake Factory. He is the author of many books including The New Art of the Leader, The Wisdom of the Generals, and How to Make It Big as a Consultant.

Table of Contents
Foreword (Frances Hesselbein).

Introduction: Peter Drucker and Leadership.

Part One The Leader's Role in Shaping the Organization's Future.

1. The Fundamental Decision: Determining the Business of the Organization.

2. The Process: Creating a Strategic Plan.

3. Look, Listen, and Analyze: The Information the Leader Needs.

4. Methodology: Developing Drucker-Based Strategies.

5. Taking Action: What It Takes to Implement Your Plan.

Part Two Ethics and Personal Integrity.

6. Drucker's Views on Business Ethics.

7. Effective Leadership and Personal Integrity.

8. The Seven Deadly Sins of Leadership.

9. Effective Leadership and Corporate Social Responsibility.

10. The Responsibility of a Corporation: First, Do No Harm.

Part Three The Military: Drucker's Model Organization.

11. Leadership Lessons from Xenophon.

12. Training and Developing Managers.

13. Promotion and Staffing.

14. The Heart of Leadership.

15. Leadership for Upper Management.

Part Four Motivation and Leadership.

16. Leadership Style as a Motivator.

17. Motivating to Peak Performance.

18. Charisma as a Motivator.

19. The Volunteer Paradigm.

Part Five The Marketing Model of Leadership.

20. Applying Marketing to Leadership.

21. Applying Segmentation to Leadership.

22. Applying Positioning to the Organization and the Leader.

23. The Role of Influence and Persuasion on Strategy and Tactics.

Epilogue Drucker's Legacy.

Notes.

About the Author.

Index

Find Items On Similar Subjects

A Class With Drucker
: The Lost Lessons of the World's Greatest Management Teacher

Inside Drucker's Brain