Inside Drucker's Brain
Jeffrey A. Krames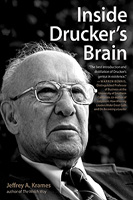 Format:
Hardcover, 224pp.
ISBN:
9781591842224
Publisher:
Portfolio Hardcover
Pub. Date:
October 16, 2008
Average Customer Review:


For Bulk Orders Call: 626-441-2024

Description and Reviews
From
The Publisher:
In late 2003, ninety-four-year-old Peter Drucker invited me to his home for a daylong interview. He spoke candidly about his seminal management principles, his enormous body of work, (thirty-eight books over six decades), and the leaders he had advised over the years (Jack Welch).
It took many months for me to transcribe the six-hour plus taped interview, but the lessons I learned were not immediately clear. I had to allow some months, even years, for them to sink in. I learned more about Drucker that day — and the real essence of management — than I had during the many years I had read him and other seminal figures in the field. In twenty plus years I had published management books by countless authors. Yet not one gave me the education I had gained at Drucker's side in that one remarkable day.
His lessons delved into the areas of education, society, politics, and medicine. Drucker was the ultimate Renaissance man, and when he died, an enormous body of knowledge died with him.
Drucker lived a life based on embracing tomorrow and abandoning yesterday. Along the way he discovered an important paradox: in order to build one must tear down. Drucker had little problem tearing things down, abandoning what did not work, leaving behind what was no longer important. That was how he was able to accomplish so much.
The chief goal of Inside Drucker's Brain is to give readers a fresh perspective into the thought pattern of this extraordinary thinker. At the same time, by including many contemporary examples, I hope to bring a part of a part of Drucker's incredible body of knowledge to life, and show how so many of his seminal ideas are as relevant today as when they were written.

Reviews
"This book conveys the greatness and humanity of Peter Drucker. Managers couldn't find a better refresher course to read than this book on first principles of management."
—Philip Kotler, Marketing Pioneer, and author of the breakthrough book Marketing Management
"Jeffrey Krames' meeting with Drucker was the opportunity of a lifetime, and his giving us this insightful glimpse of the humble man behind the most influential management ideas of the last several centuries is a priceless gift for all us!"
—Margret McBride, co-author The 4th Secret of The One Minute Manager
"Inside Drucker's Brain is the best Drucker book not written by the man himself. If you thought you knew Drucker and his best management ideas I challenge you to read this book and come away unchanged."
—Bill McDermott, President & CEO, SAP Americas & Asia Pacific Japan
"Fabulous! The best comprehensive survey of Drucker's ideas available anywhere. Reading this very engaging book is like getting a personal tutorial by the creator of modern management."
—Robert J. Herbold, Former COO, Microsoft Corporation
"The best introduction and distillation of Drucker's genius in existence."
—Warren G. Bennis, Distinguished Professor of Business at the University of Southern California, co-author of Judgment: How Winning Leaders Make Great Calls and On Becoming a Leader
"Inside Drucker's Brain gives readers access to the treasure chest of Drucker's best ideas—and provides specific suggestions for ways that managers can put Drucker's wisdom to work in their own organizations."
—Barbara E. Bund, author of The Outside-in Corporation and former professor at MIT Sloan School of Management and at Harvard Business School
"What an unexpectedly engaging and informative book! Instead of serving up a predictable repetition and review of Peter Drucker's many contributions, Jeffrey Krames has created a fascinating book that is part biography of the great man's life, part critical synthesis of his many contributions, and part history of the evolving practice of management — all interspersed with Krames's own insightful analysis, illustration, and key lessons learned. As a result, this is a book that can be enjoyed as much by a new generation of managers as by those who have followed Drucker's work for decades. It's the book Peter would have wished for — beyond a celebration of his life and a retrospective of his work, it applies his timeless ideas to today's business challenges in an informative way that is bound to have a positive effect on current management practice."
—Christopher A. Bartlett, Thomas D. Casserly Professor of Business Administration, Emeritus, Harvard Business School.
"Finally a book on Drucker that combines the best of two worlds. Drucker's profound insights are expressed by Krames, who writes in an interesting and engaging manner. Then there's the added bonus of having many of his ideas adapted to today's issues. Capping it off is the personal glimpse into the man and how he thought."
—Jack Zenger, CEO of Zenger | Folkman and co-author of the best-selling The Extraordinary Leader.



Reader's Index
Send us your favorite quotes or passages from this book
.
• "Results are achieved by exploiting opportunities not solving problems. Solving problems can only return the organization to its prior status quo. To achieve results managers must exploit opportunities. However, in most organizations, its best people spend too much time putting out fires rather than searching for new opportunities than can become tomorrow's cash cows." Pg. 56

About the Author
As former Vice President and Publisher of McGraw-Hill's trade business books division,
Jeffrey Krames
has personally edited and published more than 300 business books, including many award-winning, best-selling titles on business luminaries that include Jack Welch, Michael Ovitz, Ross Perot, William Paley, Michael Dell, Bill Gates, Herb Kelleher and Lou Gerstner among others. Recently, Mr. Krames published seven of the top 35 best business books of the year as determined by Library Journal. In 2006, Mr. Krames become the Editorial Director of Portfolio/Penguin.

Table of Contents
| | | |
| --- | --- | --- |
| | | |
| | Introduction: In Search of Drucker | 1 |
| | | |
| 1 | Opportunity Favors the Prepared Mind | 21 |
| 2 | Execution First and Always | 30 |
| 3 | Broken Washroom Doors | 40 |
| 4 | Outside-In | 53 |
| 5 | When Naturals Run Out | 68 |
| 6 | The Jeffersonian Ideal | 82 |
| 7 | Abandon All but Tomorrow | 99 |
| 8 | Auditing Strengths | 111 |
| 9 | The Critical Factor? | 125 |
| 10 | Drucker on [Jack] Welch | 136 |
| 11 | Life-and-death Decisions | 150 |
| 12 | The Strategic Drucker | 161 |
| 13 | The Fourth Information Revolution | 178 |
| 14 | The Leader's Most Important Job | 195 |
| 15 | A Short Course on Innovation | 208 |
| | Epilogue: From the Monster to the Lamb: The People Who Shaped Peter Drucker | 229 |
| | | |
| | Acknowledgements | 259 |
| | Sources | 261 |
| | Index | 269 |

Find Items On Similar Subjects

The Jack Welch Lexicon of Leadership
: Over 250 Terms, Concepts, Strategies & Initiatives of the Legendary Leader

Inside Rupert's Brain