Go Put Your Strengths to Work
: 6 Powerful Steps to Achieve Outstanding Performance
Marcus Buckingham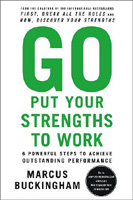 Format:
Paperback, 320pp.
ISBN:
9780743261685
Publisher:
Free Press
Pub. Date:
December 28, 2010
Average Customer Review:

For Bulk Orders Call: 626-441-2024

Description and Reviews
From
The Publisher:
Beginning with the million-copy bestsellers
First, Break All the Rules and Now, Discover Your Strengths,
Marcus Buckingham jump-started the strengths movement that is now sweeping the work world, from business to government to education. Now that the movement is in full swing, Buckingham's new book answers the ultimate question: How can you actually apply your strengths for maximum success at work?
Research data show that most people do not come close to making full use of their assets at work -- in fact, only 17 percent of the workforce believe they use all of their strengths on the job.
Go Put Your Strengths to Work
aims to change that through a six-step, six-week experience that will reveal the hidden dimensions of your strengths. Buckingham shows you how to seize control of your assets and rewrite your job description under the nose of your boss. You will learn:
• Why your strengths aren't "what you are good at" and your weaknesses aren't "what you are bad at."

• How to use the four telltale signs to identify your strengths.

• The simple steps you can take each week to push your time at work toward those activities that strengthen you and away from those that don't.

• How to talk to your boss and your colleagues about your strengths without sounding like you're bragging and about your weaknesses without sounding like you're whining.

• The fifteen-minute weekly ritual that will keep you on your strengths path your entire career.
With structured exercises that will become part of your regular workweek and proven tactics from people who have successfully applied the book's lessons,
Go Put Your Strengths to Work
will arm you with a radically different approach to your work life. As part of the book's program you'll take an online Strengths Engagement Track, a focused and powerful gauge that has proven to be the best way to measure the level of engagement of your strengths or your team's strengths. You can also download the first two segments of the renowned companion film series
Trombone Player Wanted.
Go Put Your Strengths to Work
will open up exciting uncharted territory for you and your organization. Join the strengths movement and thrive.


Reader's Index
Send us your favorite quotes or passages from this book
.
• "While there are many good levers for engaging people and driving performance—levers such as selecting talent, setting clear expectations, praising where praise is due, and defining the team's mission—the
master lever
is getting each person to play to his strengths. Pull this lever, and an engaged and productive team will be the result. Fail to pull it, and no mater what else is done to motivate the team, it'll never fully engage. It will never become a high-performance team." Pg. 9

About the Author
Marcus Buckingham
, graduated from Cambridge University in 1987, with a master's degree in social and political science. During his seventeen years with The Gallup Organization, Buckingham helped lead research into the world's best leaders, managers, and workplaces. He drew on this research and used it as the basis for two bestselling books:
First, Break All the Rules: What the World's Best Managers Do Differently
and
Now, Discover Your Strengths
, of which he was both the writer and the principal author. Buckingham is considered one of the world's leading authorities on employee productivity and the practices of leading and managing. He lives with his wife and two children in Los Angeles.

Table of Contents
Introduction: LEAD THIS MOVEMENT
1
• The First Stage: How to Label
• The Second Stage: How to Take Action
• You Are Here
• And You're Closer Than You Think
• The Six Step Discipline
• Trombone Player Wanted


Step 1
BUST THE MYTHS:
"So, What?s Stopping You?"
33
• Meet Heidi
• Myth #1: As You Grow, Your Personality Changes
• Myth #2: You Will Improve Most in Your Areas of Greatest Weakness.
• Myth #3: A Good Team Member Does Whatever it Takes to Help the Team.
Step 2
GET CLEAR:
"Do You Know What Your Strengths Are?"
71
• The Four Signs of a Strength
• Who is the Best Judge of Your Strengths?
• Capture, Clarify, and Confirm Your Strengths
• Will Your Strengths Stay the Same Year After Year?
• Heidi Gets Clear
Step 3
FREE YOUR STRENGTHS:
"How Can You Make the Most of What Strengthens You?"
117
• How Heidi Got Weak
• How Heidi Got Strong
• Your Strong Week Plan
• Four Strategies to Put Your Strengths to Work
• Your FREE Interview
Step 4
STOP YOUR WEAKNESSES:
"How Can You Cut Out What Weakens You?"
153
• What Are Your Most Dominant Weaknesses?
• Capture, Clarify, and Confirm Your Weaknesses
• Quit ?Shoulding?
• Four Strategies to Stop Your Weaknesses
• Heidi Stops Calling
• Your STOP Interview
Step 5
SPEAK UP:
"How Can You Create Strong Teams?"
199
• Your Strengths Weaken Me.
• Conversation #1: The Strengths Chat
• Conversation #2: "How I Can I Help You"
• Conversation #3: The Weakness Chat
• Conversation #4: "How You Can Help Me"
• Tips for Strengths-based Managers
• Team Georgia
Step 6
BUILD STRONG HABITS:
"How Can You Make This Last Forever?"
243
• The End of the Beginning
• The Strongest Habits
• "What should I do if?"
1. "I don't know if I should take this job"
2. "I don't think I should have taken this job."
3. "I'm new to the job."
4. "I'm overworked."
5. "My manager doesn't understand me."
6. "My manager is an idiot."
7. "I'm burned out."
8. "In the grand scheme of things, my job's just not that important."
9. "Deep down, I don't think I'm as good as everyone says I am."
Coda: TAKE YOUR STAND
267
Acknowledgements
269

Find Items On Similar Subjects

The Truth About You
: Your Secret to Success

StrengthsFinder 2.0
: A New and Upgraded Edition of the Online Test

First, Break All the Rules
: What the World's Greatest Managers Do Differently

Now, Discover Your Strengths

The One Thing You Need to Know
: About Great Managing, Great Leading, and Sustained Individual Success