Owning Up
: The 14 Questions Every Board Member Needs to Ask
Ram Charan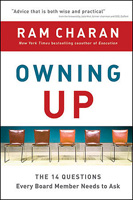 Format:
Hardcover, 224pp.
ISBN:
9780470397671
Publisher:
Jossey-Bass
Pub. Date:
April 13, 2009
Average Customer Review:

For Bulk Orders Call: 626-441-2024

Description and Reviews
From
The Publisher:
Your world as a director has suddenly changed. You've seen members of other boards take the heat when their companies imploded. The managements of Lehman Brothers, Bear Stearns, Merrill Lynch, and Washington Mutual clearly failed, but so did their boards. Now the board of every company beset with problems is coming under scrutiny.
The pressure is on. Your board must own up to its accountability for the performance of the corporation. Governance now means leadership.
Boards must change their modus operandi to address the new and complex issues that are emerging. These include
Ensuring liquidity in the context of the global financial crisis
Setting CEO performance targets in a very uncertain economy
Assessing strategy and enterprise risk under extreme volatility
So what should boards do now? What should they be talking about in their meetings and executive sessions? What decisions must they make? How assertive must they be regarding company priorities and operating goals?
In
Owning Up
, business advisor and corporate governance expert Ram Charan answers these and other burning questions on the minds of directors and business leaders. He describes best practices that are emerging in boardrooms he has observed firsthand. And he provides practical recommendations on a range of issues, from compensation to dealing with external constituencies. Wisely attuned to the human side, he confronts the need for some boards to refresh their composition and for others to rebalance their board dynamics.
Directors, CEOs, general counsels, and operating executives will find here the guidance they need to meet the new and rising standards for corporate governance in this demanding business environment.

Reviews
"This book is a most important contribution for both new and experienced directors, addressing contemporary corporate governance. The 14 practical questions represent the most vital issues that boards need to proactively address and are particularly crucial now as boards deal with the aftermath of the global financial tsunami."
—Thomas J. Neff, chairman, U.S., Spencer Stuart
"If Corporate America's board members had answered these questions, the crisis of '08 would have been avoided. The book is that powerful. It should be required reading in every boardroom, executive suite, and business school on the planet. This book with its singular wisdom could change the face of corporate governance—with huge dividends to shareholders and society."
—Ralph Whitworth, principal, Relational Investors LLC
"Ram Charan always seems to get it right. Owning Up not only asks the right questions, it gives answers that can make a real difference for improving board performance."
—James M. Kilts, former chairman and CEO, The Gillette Company
"As always, well-reasoned, insightful, and thought-provoking. A work that every director will find of value, particularly given the intense pressure of these unprecedented economic times."
—Professor Charles M. Elson, director of the John L. Weinberg Center for Corporate Governance at the University of Delaware
"Here is the book that every corporate director needs today. With his decades of insider experience, Ram Charan brings more wisdom and insight to this subject than anyone else I know."
—Geoff Colvin, Fortune editor and author, Talent Is Overrated: What Really Separates World-Class Performers from Everybody Else

About the Author
Ram Charan
is the go-to adviser for corporate directors and CEOs. Known for his insights and practical wisdom, Charan has counseled some of the world's most successful business leaders. He is coauthor of the bestseller Execution and author or coauthor of 14 other books including Leaders at All Levels, Boards That Deliver, and Boards at Work. He serves on three boards and was named one of Directorship's top 100 directors. He has an MBA and a doctoral degree with corporate governance as a field of study from the Harvard Business School.

Table of Contents
| | | |
| --- | --- | --- |
| | | |
| | Foreword by Jack Krol | |
| | | |
| | What Boards Need Now | |
| 1 | Question 1. Is the Composition of the Board Right for the Challenge? | |
| 2 | Question 2. How Are We Addressing the Risks that Could Put Our Company over the Cliff? | |
| 3 | Question 3. Are We Prepared to Do Our Job Well When a Crisis Erupts? | |
| 4 | Question 4. Are We Well Enough Prepared to Name Our Next CEO? | |
| 5 | Question 5. How Well Does the Board Own the Strategy? | |
| 6 | Question 6. How Can We Get the Information We Need to Govern Well? | |
| 7 | Question 7. How Can Our Board Get CEO Compensation Right? | |
| 8 | Question 8. Why Do We Need a Lead Director Anyway? | |
| 9 | Question 9. Is Our governance committee Best of Breed? | |
| 10 | Question 10. How Do We Get the Most Value out of Our Limited Time? | |
| 11 | Question 11. How Can Executive Sessions Improve the Ownership Function of the Board? | |
| 12 | Question 12. How Can Our Board Self-Evaluation Improve Our Functioning and Our Output? | |
| 13 | Question 13. How Do We Stop from Micromanaging? | |
| 14 | Question 14. How Well Prepared Are We to Work with Activist Shareholders and Their Proxies? | |
| | | |
| | About the Author | |
| | Index | |

Find Items On Similar Subjects

Leadership in the Era of Economic Uncertainty
: The New Rules for Getting the Right Things Done in Difficult Times

What the CEO Wants You To Know
: How Your Company Really Work

Know-How
: The 8 Skills That Separate People Who Perform from Those Who Don't