What the CEO Wants You To Know
: How Your Company Really Works
Ram Charan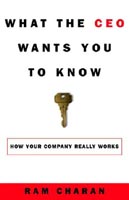 Format:
Hardcover, 176pp.
ISBN:
9780609608395
Publisher:
Currency
Pub. Date:
Expanded and Updated edition September 26, 2017
Average Customer Review:

For Bulk Orders Call: 626-441-2024

Description and Reviews
From
The Publisher:
The universal laws of business success . . . no matter whether you are selling fruit from a stand or running a Fortune 500 company.
Have you ever noticed that the business savvy of the world's best CEOs seems like a kind of street smarts? They sense where the opportunities are and how to take advantage of them. And their companies make money consistently, year after year.
How different is it to run a big company than to sell fruit from a cart or run a small shop in a village? In essence, not very, according to Ram Charan. From his childhood in India, where he worked in his family's shoe shop, to his education at Harvard Business School and his daily work advising many of the world's best CEOs, Ram understands business as few can.
The best CEOs have a knack for bringing the most complex business down to the fundamentals—the same fundamentals of the family shoe shop. They have business acumen—the ability to focus on the basics and make money for the company.
What the CEO Wants You to Know captures these insights and explains in clear, simple language how to do what great CEOs do instinctively and persistently:
* Understand the basic building blocks of a business and use them to figure out how your company makes money and operates as a total business.
* Decide what to do, despite the clutter of day-to-day business and the complexity of the real world.
Many people spend more than a hundred thousand dollars on an MBA without learning to pull these pieces of the puzzle together. Many others lack a formal business education and feel shut out from the executive suite. What the CEO Wants You to Know takes the mystery out of business and shows the secrets of success used by business legends like Jack Welch of GE.

Reviews
"
What the CEO Wants You to Know
is a book that should be read by everyone-from the newest recruit to the most seasoned senior manager."
—Jac Nasser, CEO and President, Ford Motor Company
"These ideas help simplify complexity and provide a lifetime of value.
What the CEO Wants You to Know
is a gem of a book."
—Larry Bossidy, former Chairman and CEO, AlliedSignal
"This is a book that's been needed for years. Ram Charan shares the secret to finding your way in the business world and making your career more meaningful."
—Chad Holliday, Chairman and CEO, Dupont
"Reading this book is like putting on a pair of glasses-suddenly the guts of the business are crystal clear."
—Dave Robino, Vice Chairman, Gateway Computer
"Finally, a book that shows how business really works."
—Bob Nardelli, President and CEO, GE Power Systems
"Business acumen-Ram Charan's term for using the universal laws of business—is the name of the game today."
—Lois D. Juliber, COO, Colgate-Palmolive

About the Author
Ram Charan
is a highly sought adviser to CEOs and senior executives in companies ranging from start-ups to the Fortune 500, including GE, Ford, DuPont, EDS, Universal Studios, and Verizon. He is the author of Boards That Work and the coauthor of Every Business Is a Growth Business and E-Board Strategies. Dr. Charan has written numerous articles for Harvard Business Review and other publications, including the Fortune cover story "Why CEOs Fail."He has a D.B.A and an M.B.A. from Harvard Business School and has taught at Harvard and Northwestern. He won the best teacher award at Northwestern's Kellogg School and was recently elected a Fellow of the National Academy of Human Resources.

Table of Contents
Preface
11
I
Business Acumen: The Universal Language of Business
15
1.
What Jack Welch and Street Vendors Share: The Essence of Business Thinking
17
2.
Every Business Is the Same Inside: Cutting Through to Cash, Margin, Velocity, Growth, and Customers
28
3.
Understanding Your Company's Total Business: How the Pieces Come Together
56
II
Business Acumen in the Real World
65
4.
The World Has Complexity, Leaders Provide Clarity: Figuring Out Business Priorities
67
5.
Wealth Is More Than Making Money: Seeing the Business Like an Investor
77
III
Getting Things Done
91
6.
Growing People Takes Courage: Making Matches, Fixing Mismatches
93
7.
Making Groups Decisive: Designing Social Operating Mechanisms
112
8.
What to Do and How to Do It: A CEO with an Edge in Execution
119
IV
Your Personal Agenda
127
9.
Your Part in the Big Picture: Rekindling the Spirit of the Lemonade Stand
129
Index

Find Items On Similar Subjects

Know-How
: The 8 Skills That Separate People Who Perform from Those Who Don't

Every Business Is a Growth Business
: How Your Company Can Prosper Year After Year