Know-How
: The 8 Skills That Separate People Who Perform from Those Who Don't
Ram Charan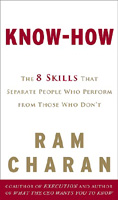 Format:
Hardcover, 288pp.
ISBN:
9780307341518
Publisher:
Crown Business
Pub. Date:
January 2, 2007
Average Customer Review:

For Bulk Orders Call: 626-441-2024

Description and Reviews
From
The Publisher:
The new grand theory of leadership by Ram Charan . . . The breakthrough book that links
know-how
—the skills of people who know what they are doing—with the personal and psychological traits of the successful leader.
How often have you heard someone with a commanding presence deliver a bold vision that turned out to be nothing more than rhetoric and hot air? All too often we mistake the
appearance
of leadership for the real deal. Without a doubt, intelligence, vision, and the ability to communicate are important. But something big is missing: the know-how of running a business—the capacity to take it in the right direction, do the right things, make the right decisions, deliver results, and leave the people and the business better off than they were before.
For well over four decades, Ram Charan has been learning in the most visceral way the underlying reasons why leaders succeed and fail. As one of the most influential advisers to top management teams of leading companies around the world, he has had a front-row seat to observe the cause and effect of leadership practices and behaviors.
Ram Charan's insight into the
real content of leadership
provides you with the eight fundamental skills needed for success in the twenty-first century:
Positioning (and, when necessary, repositioning) your business by zeroing in on the central idea that meets customer needs and makes money
Connecting the dots by pinpointing patterns of external change ahead of others
Shaping the way people work together by leading the social system of your business
Judging people by getting to the truth of a person
Molding high-energy, high-powered, high-ego people into a working team of leaders in which they equal more than the sum of their parts
Knowing the destination where you want to take your business by developing goals that balance what the business can become with what it can realistically achieve
Setting laser-sharp priorities that become the road map for meeting your goals
Dealing creatively and positively with societal pressures that go beyond the economic value creation activities of your business
Know-How
is the missing link of leadership. By showing how the eight know-hows link to, interact with, and reinforce personal and psychological traits, Ram Charan provides a holistic and innovative portrait of successful leaders of the twenty-first century.

Reviews
"This is the leadership book for the new generatin. It's not about climbing to the top of the heap. It's about substance- becoming the kind of leader who makes the right decisions time and time again. If you want to make your business, yourself, and your world better, use this book as your guide."
—Ron Meyer, president and COO, Universal Studios
"If you believe (as I do) that 'leaders are made,' or more precisely, choose to lead and to develop their skills as leaders, then you will find Ram Charan's very practical book on the eight 'know-hows' that are the foundation for leadership performance and success a very worthwhile read."
—A.G. Lafley, chairman and CEO, Proctor & Gamble
"Ram Charan has hit the nail on-the-head by constructively linking personal attributes and business success. His is an important message at an important time for business leaders."
—James McNerney, Jr., chairman, president and CEO, The Boeing Company
"Ram Charan cuts through the fog and 'mystique of the leader' with bold, fresh insights into the real substance of business leadership. What is truly pathbreaking is Know-How's integration of the eight skills for running a business with the personal and psychological traits of the successful leader. It is the must-have book if you want to differentiate yourself from the pack."
—Bill Conaty, senior vice president, human resources, General Electric
"Uniquely Charan. Pactical, insightful, application-oriented and full of wisdom. Read it and then refer to i frequently to enrigh your career. A real treasure."
—Larry Bossidy, retired chairman and CEO of Honeywell International and co-author of Execution and Confronting Reality
"Know-How is the distilled wisdom of one of our era's most insightful business minds. How do you achieve great business performance? Ram Charan knows how."
—Geoffrey Colvin, editor-at-large, Fortune magazine
"What Peter Drucker's The Practice of Management and The Effective Executive were to the 20th century industrial age, Ram Charan's Know-How is to the 21st century global digital knowledge worker age. Brilliant, immensely practical and comprehensive- with almos self evident prophetic wisdom. But, as we all know, what is common sense is seldom common practice."
—Stephen R. Covey, author of The 7 Habits of Highly Effective People and The 8th Habit
"Know-How puts to rest a lot of myths and false assumptions about the job of a leader. In a commonsense, practical way, it provides eight how-tos that are the foundation of leadership. Know-How is a breakthrough book for leaders and those who aspire to a leadership job."
—James M. Kilts, Centerview Partners, former chairman and CEO of Gillette
"Ram has an unparalleled track record of providing executives with compelling yet practical advice on how to succeed in tumultuous business environments. Know-How continues the tradition, defining in detail the performance factors that can give executives a competitive edge no matter how markets evolve."
—Ivan G. Seidenberg, chairman and CEO of Verizon


Reader's Index
Send us your favorite quotes or passages from this book
.
appearance of leadership." Pg. 1
• "You can't set goals by looking in the rearview mirror at what was accomplished last year and adjust this year's numbers accordingly, and you can't go by what is being projected for the industry or the economy overall. Goals should reflect the opportunities that lie ahead and what is possible
for your business
as it goes forward." Pg. 189

About the Author
Ram Charan
is the coauthor of the bestseller Execution and the author of What the CEO Wants You to Know and many other books. What people throughout the business world acclaim are Dr. Charan's practicality and the value he provides in helping them solve business problems. There are no high-falutin' theories that have people scratching their heads and saying, "Wow, that's really interesting, but what do I do Monday morning"? For Ram, the Monday-morning application of his ideas is the entire ball game and the reason why his teaching is valued at companies like General Electric, DuPont, Verizon, The Home Depot, KLM, Thomson Corporation, and many others.

Table of Contents
1
KNOW-HOW
The Substance of Successful Leaders
1
2
THE FOUNDATION
Positioning and Repositioning the Business to Make Money
25
3
BEFORE THE POINT TIPS
Connecting the Dots by Pinpointing and Taking Action on Emerging Patterns of External Change
53
4
HERDING CATS
Getting People to Work Togeher by Managing the Social System of Your Business
79
5
HOW LEADERS ARE MADE
Judging, Selecting, and Developing Leaders
115
6
UNITY WITHOUT UNIFORMITY
Molding a Team of Leaders
155
7
THE BUCK STARTS WITH YOU
Determining and Setting the Right Goals
183
8
IT'S MONDAY MORNING—NOW WHAT?
Setting Laser-Sharp Dominant Priorities
183
9
IN THE COURT OF PUBLIC OPINION
Dealing with Societal Forces Beyond the Market
213
LETTER TO A FUTURE LEADER
265
THE EIGHT KNOW-HOWS
273
Acknowledgements
277
Index
281

Find Items On Similar Subjects

Leaders at All Levels
: Deepening Your Talent Pool to Solve the Succession Crisis

Confronting Reality
: Doing What Matters to Get Things Right

Execution
: The Discipline of Getting Things Done

What the CEO Wants You To Know
: How Your Company Really Work