Greater Than Yourself
: The Ultimate Lesson of True Leadership
Steve Farber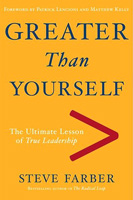 Format:
Hardcover, 208pp.
ISBN:
9780385522618
Publisher:
Doubleday Business
Pub. Date:
March 3, 2009
Average Customer Review:


For Bulk Orders Call: 626-441-2024

Description and Reviews
From
The Publisher:
An inspiring parable of the greatest leadership lesson of all—that the best leaders go beyond the tenets of the Golden Rule, and help others to be better than they are themselves.
Too many people assume that the timeless principles of genuine leadership—of helping others achieve their full potential—don't apply Monday through Friday during work hours or in any circumstance where a paycheck is involved.
In
Greater Than Yourself
, Stephen Farber proves them wrong. With this powerful and eye-opening story, Farber shows that the goal of true leadership is to help others—teammates, employees, and colleagues—become even more capable, confident, and accomplished than their leaders. Through the actions of a forward-thinking and extraordinarily successful CEO, Farber reveals the three keys to achieving what he call GTY: Expand Yourself, Give Yourself, and Replicate Yourself.
Filled with thought-provoking ideas and actionable principles,
Greater Than Yourself
offers perhaps the most powerful message today's business leaders can learn.

Reviews
"A terriffic—no, wonderful—idea...Steve is a tremendous writer, an original thinker, a masterful trainer, and a boffo public speechifier."
—Tom Peters
"Raising someone up does not reduce your stature—in fact, it exalts you in ways you have to experience to believe. Greater Than Yourself shows how you can begin improving the world by giving of yourself. It's a wonderful message wrapped in a highly entertaining, well-written story."
—Ken Blanchard, coauthor of The One Minute Manager® and Leading at a Higher Level
"Greater Than Yourself is more than a good tale well told. It's a path-breaking book that brings to life the ultimate leadership lesson—that the highest purpose of our work is the development of other leaders. It's a gift for your mind and your spirit. I enthusiastically recommend it."
—Jim Kouzes, coauthor of the bestselling book The Leadership Challenge, Dean's Executive Professor of Leadership, Leavey School of Business, Santa Clara University


Reader's Index
Send us your favorite quotes or passages from this book
.
• "There are three tenets of Greater Than Yourself," said Charles writing upside down on the pad so it was right side up to me. "
Expand Yourself
,
Give Yourself
, and
Replicate Yourself
." Pg. 18
• "Now," he continued, "if you're really going to take this seriously, to make others greater than yourself, you have to start the process not with them, but with yourself."
"Start with myself how?"
"Think about what has to be happening inside your head and heart. First, you have to have a very deep and expansive sense of who you are. Your self-confidence has to be unshakable and unwavering. You have to understand to the very core of your being that relationship is not a zero-sum game. Your heart has to be big enough to care about another's hopes and dreams at least as much as you care about your own. And you have to be getting better and better, more competent, smarter, more experienced, more connected to others all the time." Pg. 20
• "To philanthropize your life, then, means first developing a radar of sorts. It's about growing your sensibility to the needs of others and cultivating your desire to promote their welfare, their good or greater fortune, their success, their capacity for achievement." Pg. 123

About the Author
Steve Farber
, the president of Extreme Leadership, is a leadership consultant and speaker, and the author of the national bestseller
The Radical Leap
, and
The Radical Edge
. He lives in San Diego, California.

Table of Contents
| | | |
| --- | --- | --- |
| | Foreword by Patrick Lencionoi and Matthew Kelly | v |
| | Introduction | xiii |
| | Acknowledgements | xv |
| | | |
| | Prologue | 1 |
| 1-28 | GTY Story | 3 |
| | One More Thing | 143 |
| | | |
| | Epilogue by Andrew Lanham | 145 |
| | Greater Than Yourself: A Framework For Action | 161 |

Find Items On Similar Subjects

The Radical Leap Re-Energized
: Doing What You Love in the Service of People Who Love

Bringing Out the Best in Others!
3 Keys for Business Leaders, Educators, Coaches and Parents