The Radical Leap Re-Energized
: Doing What You Love in the Service of People Who Love
Steve Farber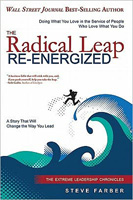 Format:
Hardcover, 368pp.
ISBN:
9781614660149
Publisher:
No Limit Publishing
Pub. Date:
November 2011
Average Customer Review:

For Bulk Orders Call: 626-441-2024

Description and Reviews
From
The Publisher:
The Radical Leap Re-Energized
represents a re-launch and a re-commitment to a universal set of life-changing/world-changing ideas. This new incarnation is actually two books,
The Radical Leap
and
The Radical Edge
, woven together into a new, expanded and rejuvenated work.
This book is a novel—a parable, so to speak. I've taken broad, creative license with the story and the characters in it in order to create an entertaining delivery system for ideas and practices that are anything but fictional. Part One: The Radical Leap offers a foundation, an operating system, for Extreme Leadership, and Part Two: The Radical Edge, takes it deeper with some significant personal applications and calls to action.

Reviews
Rejuvenate and revitalize with Farber's amazing The Radical Leap Re-Energized. It is timeless, universal, and extremely useful—and it will catapult you to success!"
—Marshall Goldsmith – author of the New York Times bestsellers, MOJO and What Got You Here Won't Get You There
Today's world demands a different leader: one who has the heart and courage to change it for the better. If you're ready to be one of them, read this phenomenal book and succeed."
—Darren Hardy, publisher SUCCESS magazine, bestselling author The Compound Effect
Steve Farber's work is even more important and more useful today than when it first appeared on the scene."
—Tom Peters, International bestselling author of In Search of Excellence
With his strikingly original voice and unparalleled storytelling ability, Steve Farber brings us The Radical Leap Re-Energized. This edgy leadership parable not only entertains and inspires, it teaches us how to become great leaders and change the world in the bargain. We wholeheartedly encourage you to take the LEAP!"
—Jim Kouzes and Barry Posner, authors of the bestselling The Leadership Challenge and Credibility
If you want to lead as big as you dream, Farber can take you to the extreme. This book is your path to soaring success."
—Tim Sanders, former Chief Solutions Officer at Yahoo! & author of Today We Are Rich
Steve Farber's books are as easy and enjoyable to read as they are insightful. This volume will be a great addition to any leader's library."
—Patrick Lencioni, president, The Table Group; author, The Five Dysfunctions of a Team
The Radical Leap Re-Energized is a clarion call for 21st century leaders and those who aspire to be. The LEAP will stay with me and will be required reading for leaders in my organization"
—Tony Uphoff, CEO, UBM TechWeb
Steve Farber has captured the heart of leadership in this wonderful book. If you'd really love to make a difference in this world, read it and apply its lessons to your life and business."
—Rita Davenport, former President, Arbonne International
There are two types of well-written leadership books: GOOD ones that you read once and pass along to a few friends, or GREAT ones that you read over and over and give to as many people as you can. The Radical Leap Re-Energized is one of the GREAT ones, and it is a total game-changer."
—Tommy Spaulding, author of the New York Times bestseller, It's Not Just Who You Know
Steve Farber's masterwork, The Radical Leap Re-Energized, is an inspired opus on what it means to be a leader of substance and significance. You'll find yourself coming back to it again and again."
—Michael E. Ventling, Global CFO, Ernst & Young
A brilliantly captivating book, vibrant and audacious, and an absolute joy to read. Every bit as engaging as Steve Farber himself."
—Sally Hogshead, speaker and author of Fascinate: Your 7 Triggers to Persuasion and Captivation
Steve Farber leaps again. I was into it the first time. This time, I'm leaping with him!"
—Chris Brogan, President Human Business Works
I have read most leadership books in print. None have resonated more than this one. It is timeless, relevant and energizing and should be required reading for all business leaders of the 21st century."
—Pamela Slim, author, Escape from Cubicle Nation: From Corporate Prisoner to Thriving Entrepreneur
I've read the original Radical Leap over a dozen times, and year after year, experience after experience, I have found that the concepts hold fast and true. The Radical Leap Re-Energized kick-starts and expands the experience to the next level. This really is a masterpiece."
—Burton M. Goldfield, President and CEO, TriNet

About the Author
Steve Farber
is the president of Extreme Leadership, Inc. and co-founder of Greater Than Learning & Development, organizations devoted to changing the world through the cultivation and development of extreme leaders in business and beyond. Former vice president and official mouthpiece—that's what it said on his business card—of The Tom Peters Company, Farber is a seasoned leadership coach and consultant who has worked with a vast array of public and private organizations in virtually every arena, from the tech sector to financial services, manufacturing, health care, hospitality, entertainment, retail, public education, nonprofits, and government.
He's the author of
Greater Than Yourself: The Ultimate Lesson of True Leadership
, which debuted as a
USA Today
and
Wall Street Journal
bestseller, and his first book,
The Radical Leap: A Personal Lesson in Extreme Leadership
, was named as one of the 100 Best Business Books of All Time.

Find Items On Similar Subjects

Greater Than Yourself
: The Ultmate Lesson of True Leadership