Why Great Leaders Don't Take Yes for an Answer
: Managing for Conflict and Consensus
Michael A. Roberto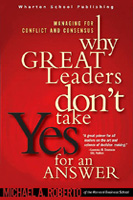 Format:
Paperback, 352 pp.
ISBN:
9780134392783
Publisher:
Wharton School Publishing
Pub. Date:
2 edition October 5, 2015
Average Customer Review:

For Bulk Orders Call: 626-441-2024

Description and Reviews
From
The Publisher:
Leaders hear 'yes' far too often.
They don't hear bad news until it's too late.
They get groupthink, not reality. They think they've achieved consensus, then find their decisions undermined by colleagues who never really bought in. They become isolated: even high-risk or illegal actions can go unquestioned. It's an enormous problem: for leaders, for teams, for the entire organization. But is it inevitable? Absolutely not.
In this book, Harvard Business School Professor Michael Roberto shows you how to stimulate dissent and debate to improve your decision making; he also shows how to keep that conflict constructive. Of course, conflict alone does not produce better decisions and improved results. Leaders need to cultivate debate and simultaneously build consensus. Strong buy-in paves the way to successful execution. Through fascinating examples from history, including the Columbia space shuttle disaster and the tragedy on Mount Everest, the book explores:
How real organizations make real decisions
How the decision process unfolds throughout the organization-not just in the executive suite
The five myths of executive decision making
Why they're so dangerous, and how to overcome them
How to foster open debate that actually builds long-term consensus
How to achieve "diversity in counsel, unity in command"
How to move to closure: overcoming the inability to decide
Avoiding "analysis paralysis" and other pitfalls
How to gain the whole-hearted commitment to act
Addressing hidden doubts that could undermine your final decision
Mike Roberto offers powerful new insights into managing teams, mitigating risk, even promoting ethics through effective governance. Whether you're a senior executive or a project team member, this book will help you leverage your team's immense untapped wisdom to make better decisions—and get better results.

Reviews
"Why Great Leaders Don't Take Yes for an Answer addresses a perennial and pernicious thorn in the leader's side—the yes-men in every organization. (And if you think your company is without them, you really need this book!) Leaders at all levels can use Mike Roberto's advice, to make better decisions and align their teams for results."
—Ken Blanchard, co-author of The One Minute Manager and Customer Mania
"Deciding how to decide: a powerful idea that all leaders should understand and put into practice. In doing so, they can become adept at stimulating candid dialogues, testing their company's core assumptions, and achieving alignment. Roberto's ideas have already begun to make a profound difference in the effectiveness of our management meetings. Our clients around the world would do well to adopt Roberto'sstraightforward recommendations."
—Ed Boswell, president and CEO, The Forum Corporation
"Too often leaders mistake silence for agreement. Roberto offers concreteadvice on how to beat this trap. A must-read for leaders at all levels."
—Kathleen M. Eisenhardt, Stanford W. Ascherman M.D. Professor, Stanford University and co-director, Stanford Technology Ventures Program
"In his book Why Great Leaders Don't Take Yes for an Answer, Michael Roberto provides a unique and very enlightening look into the process of decision making. His thesis around 'critical consensus building' is worthwhile reading for any manager or entrepreneur that strives to be the mosteffective leader they can be."
—Jonathan Kraft, vice chairman, New England Patriots
"Unasked questions and undermined decisions are the two main reasons for corporate failure. To avoid these dangerous wrong turns, every executive should study Professor Roberto'sclear road maps for making and implementing decisions."
—Wilbur L. Ross, Jr., chairman of the board, International Steel Group
"Why Great Leaders Don't Take Yes for an Answer rises far and above the other books on encouraging openness and managing conflict. Instead of offering empty platitudes, Michael Roberto has delivered a thoughtful and well-researched book with clear, specific actions to make the lessons work in the real world. Anyone who supports the clear exchange of ideas can andshould benefit from this excellent and thoroughly enjoyable book."
—Dr. David Sirota, chairman emeritus of Sirota Survey Intelligence and author of The Enthusiastic Employee: How Companies Profit by Giving Employees What They Want
"This is a book that should be on every manager's desk. Roberto writes in clear, easy-to-read language about why managing conflict and decision making in an explicit manner is so important to organizational success. He also gives practical examples of how to do it. The chapter on 'deciding how to decide' aloneis worth the price of the book."
—Sue Annis Hammond, author of The Thin Book of Appreciative Inquiry and consultant, HRD Solutions
"One of the best compliments an author can get is for someone to begin reading a book and not put it down until it is finished. This was my experience with Roberto's great tome on leadership. The quotes at the beginning of each chapter are classic. Many of the examples helped me understand some of my best leadership decisions and also a few of my worst in running the specialized investment banking firm I have headed for the past 31 years. There are few really good books on leadership, at least few that I have read. Roberto'sis the best."
—Matthew R. Simmons, author of Twilight in the Desert: The Coming Saudi Oil Shock and the World Economy and chairman, Simmons and Company International
"A great primer for all leaders on the art and science of decision making. Michael used examples ranging from the disastrous 1996 Everest climb to the Columbia disaster, the Bay of Pigs, and the Cuban missile crisis to thoughtfully outline best practices in the process of 'deciding how to decide!'"
—Lawrence N. Stevenson, CEO, PepBoys
"Every executive aspiring to be a good leader should read this book. First, Roberto crashes the myth that holds many back from being good leaders. That is, good leaders need to make the decisions. Instead, Roberto asserts that to be a good leader one must manage the decision-making process, not make the good decisions. But it is Roberto's insight into the decision-making process, or more importantly, the drivers of organizational performance, that is most valuable. All of us, no matter what level in the organization, need to embrace the need for cognitive conflict to produce the highest-quality decisions, while guarding against the ways in which affective conflict can greatly deteriorate the shared understanding and consensus necessary for effective implementation of these decisions. Roberto offers many tools and techniques for all of us to use to improve our ability to manage conflict and improve our organization's effectiveness and performance. While I believe that Constellation's success results from the fact that our operational model and its supporting culture and value reflect much of what Roberto describes, I also believe that we can use this model to ensure that managing conflict becomes an enduring part of Constellation'sleadership culture."
—Richard Sands, Chairman of the Board and CEO, Constellation Brands, Inc.

About the Author
Michael A. Roberto
is a faculty member at the Harvard Business School. He teaches courses on general management, managerial decision making, and business strategy. Professor Roberto's research focuses on strategic decision-making processes and senior management teams. Recently, he has studied why catastrophic group or organizational failures happen, such as the Columbia space shuttle accident and the 1996 Mount Everest tragedy.
Professor Roberto's work has been published in the
Harvard Business Review, California Management Review
, and
The Leadership Quarterly
. He has taught in the leadership development programs at a number of organizations including Morgan Stanley, Mars, The Home Depot, Novartis, and The World Bank. He has also consulted with organizations such as Johnson & Johnson, Lockheed Martin, Corporate Executive Board, and The Advisory Board. Professor Roberto earned an M.B.A. with High Distinction and a doctorate from the Harvard Business School. While pursuing graduate studies at Harvard, he taught the introductory undergraduate course in economic theory, twice winning Harvard's Allyn Young Prize for Teaching in Economics.
He lives in Holliston, Massachusetts with his wife, Kristin, and his two daughters, Grace and Celia.

Table of Contents
| | | |
| --- | --- | --- |
| | | |
| | Preface | |
| | Acknowledgments | |
| | | |
| | I. LEADING THE DECISION PROCESS | |
| 1 | The Leadership Challenge | |
| 2 | Deciding How to Decide | |
| | | |
| | II. MANAGING CONFLICT | |
| 3 | An Absence of Candor | |
| 4 | Stimulating the Clash of Ideas | |
| 5 | Keeping Conflict Constructive | |
| | | |
| | III. BUILDING CONSENSUS | |
| 6 | The Dynamics of Indecision | |
| 7 | Fair and Legitimate Process | |
| 8 | Reaching Closure | |
| | | |
| | IV. A NEW BREED OF TAKE-CHARGE LEADER | |
| 9 | Leading with Restraint | |
| | | |
| | Appendix Endnotes | |
| | Index | |

Find Items On Similar Subjects

Know What You Don't Know
: How Great Leaders Prevent Problems Before They Happen

Leading with Questions
: How Leaders Find the Right Solutions By Knowing What To Ask

Executive Intelligence
: What All Great Leaders Have

The First 90 Days
: Critical Success Strategies for New Leaders at All Levels