Know What You Don't Know
: How Great Leaders Prevent Problems Before They Happen
Michael A. Roberto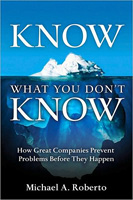 Format:
Paperback, 224pp.
ISBN:
9780134177014
Publisher:
FT Press
Pub. Date:
February 8, 2009
Average Customer Review:


For Bulk Orders Call: 626-441-2024

Description and Reviews
From
The Publisher:
Uncover Your Company's Emerging Problems–and Solve Them Before They Explode into Disaster
How to become a world-class problem-hunter...and why you must
"Connect the dots": Uncover the hidden patterns that could mean big trouble
By the best-selling author of Why Great Leaders Don't Take Yes for an Answer
Tired of "fighting fires"? Start "detecting smoke" — so you can fix your company's problems before they erupt into crisis! Face it: Your most dangerous problems are the ones you don't even know about.
Know What You Don't Know
will help you hunt down those hidden, festering issues: the ones that could destroy your organization if you don't discover them soon. Michael A. Roberto teaches the seven skill sets you need to become a world-class "problem hunter." Roberto shows leaders how to get past dangerous information "filtering"...watch how people behave, not just what they say...pick meaningful patterns out of raw data...encourage smarter risk-taking and "useful failures"...build a culture that welcomes challenges to conventional wisdom...draw crucial lessons from your organization's "game film"...and get your team to act on what you've learned. There are plenty of books about problem solving. But you can't solve a problem until you know it exists. Read
Know What You Don't Know
, and you
will
.
In
Know What You Don't Know
, best-selling author Michael Roberto shows leaders how to go beyond mere "problem solving" to uncover and address emerging problems while they're still manageable–before they mushroom into disaster! Roberto first identifies the diverse, sometimes surprising reasons why problems typically fester in the shadows, ignored and unaddressed. Next, he systematically introduces seven powerful solutions. You'll discover how to become a business "anthropologist," observing how your employees, customers, and suppliers actually behave, not just how they're "supposed" to behave. Roberto shows how and when to circumvent your gatekeepers to see crucial raw data...how to "connect the dots" among issues that seem unrelated, but are really signs of a deeper pattern...how to promote candor among front-line employees...encourage "useful" mistakes, and more. Along the way, Roberto offers powerful insights for overcoming the "isolation trap" so many senior executives face: the trap that can keep you assuming everything is fine, while your company's problems are spiraling out of control!
Watch your company's "game film"–and your competitors'
Systematically understand how your company is really behaving and performing–and how you really match up
Recognize the value of "small failures"
Use small problems as a window on your system–and a signal of possible weaknesses elsewhere
Get beyond the numbers, to the reality
Discover why too much formal analysis can actually hide your problems–and start leveraging the value of intuition
Become a true business "ethnographer"
Observe your people in their natural setting–and recognize what they're not telling you

Reviews
"Dr. Roberto has skillfully managed to blend in-depth research with his straightforward and enjoyable style and, in doing so, painted a masterpiece that should be considered by any institution or individual looking to detect or solve problems. Presenting cases and their lessons from multiple venues, he offers wisdom readily applicable to any arena."
—Duane Deal, Brigadier General, United States Air Force (Retired)
"Solving problems is one thing; finding them early enough to do something about it is quite another. In this entertaining book full of insight and examples, Michael Roberto provides managers with hands-on recommendations on how to avoid falling into decision-making traps by getting a step ahead."
—Sydney Finkelstein, Steven Roth Professor of Management, Tuck School of Business at Dartmouth, and author of Why Smart Executives Fail and Think Again
"In typical style, Mike Roberto gets right to the heart of major challenges facing businesses in today's rapidly changing landscape. He provides not only a burning platform for thinking differently, but also practical tools for busy leaders to implement following an 'action learning' approach."
—Jon Shepherd, Chief Learning Officer, Mars Inc.


Reader's Index
Send us your favorite quotes or passages from this book
.
• "Through my research, I have identified seven sets of skills and capabilities that leaders must master if they want to become effective problem-finders. First, you must recognize that people around you filter information, often with good intentions. They hope to conserve your precious time. Sometimes, though, they filter out the bad news. Problem-finders learn how to circumvent these filters. Second, you must learn to behave like an anthropologist who observes groups of people in natural settings. You cannot simply ask people questions; you must watch how they behave. After all, people often say one thing and do another. Third, the most effective problem-finders become adept at searching for and identifying patterns. They learn how to mine past experience, both personal and organizational, so that they can recognize problems more quickly. Fourth, you must refine your ability to "connect the dots" among seemingly disparate pieces of information. Threats do not come to us in neat little packages. They often remain maddeningly diffuse. Only by putting together many small bits of information can we spot the problem facing the organization. Fifth, effective problem-finders learn how to encourage people to take risks and learn from their mistakes. They recognize that some failures can be quite useful, because they provide opportunities for learning and improvement. You must distinguish between excusable and inexcusable mistakes, though, lest you erode accountability in the organization. Sixth, you must refine your own and your organization's communication skills. You have to train people how to speak up more effectively and teach leaders at all levels how to respond appropriately to someone who surfaces a concern, points out a problem, or challenges the conventional wisdom. Finally, the best problem-finders become like great coaches who watch film of past performances and glean important lessons about their team's problems as well as those of their principal rivals. You must become adept at review and reflection, as well as how to practice new behaviors effectively." Pg. xviii
• "Small problems often precede catastrophes. In fact, most large-scale failures result from a series of small errors and failures, rather than a single root cause. These small problems often cascade to create a catastrophe." Pg 4

About the Author
Michael A. Roberto
is the Trustee Professor of Management at Bryant University in Smithfield, Rhode Island, after six years as a faculty member at Harvard Business School. His research, teaching, and consulting focus on strategic decision-making processes and senior management teams. He is the author of
Why Great Leaders Don't Take Yes for an Answer
.

Table of Contents
| | | |
| --- | --- | --- |
| | | |
| | Preface | xvi |
| | | |
| 1 | From Problem-Solving to Problem-Finding | 1 |
| 2 | Circumvent the Gatekeepers | 27 |
| 3 | Become an Ethnographer | 53 |
| 4 | Hunt for Patterns | 73 |
| 5 | Connect the Dots | 95 |
| 6 | Encourage Useful Failures | 119 |
| 7 | Teach How to Talk and Listen | 139 |
| 8 | Watch the Game Film | 161 |
| 9 | The Mindset of a Problem-Finder | 185 |
| | | |
| | Index | 195 |

Find Items On Similar Subjects

Why Great Leaders Don't Take Yes for an Answer
: Managing for Conflict and Consensus