Leadership
James MacGregor Burns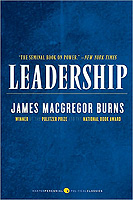 Format:
Paperback, 544pp.
ISBN:
9780061965579
Publisher:
HarperCollins
Pub. Date:
March 30, 2010
Average Customer Review:


For Bulk Orders Call: 626-441-2024

Description and Reviews
From
The Publisher:
Transformational leadership occurs when one or more persons engage with others in such a way that leaders and followers raise one another to higher levels of motivation and morality. "Leadership" is Pulitzer Prize-winner James M. Burns' pioneering study of leadership, first published in 1978 and still considered the seminal work in the field of leadership studies. In it Burns introduced the influential theory of 'transformational leadership', which states that the best leaders are those who inspire others to come together toward the achievement of higher aims, a theory that has been the basis of more than 400 doctoral dissertations.
Beyond his past major contributions to our understanding of the American political system, in this new book James MacGregor Burns demonstrates that he is not only one of America's outstanding political scientists but a major social philosopher as well. This volume, combining vivid biography, dramatic history, and political theory, woven together in an engrossing fabric, impresses one with its probing insights into the complexities, inconsistencies and the interrelationships among the various parts of the American social, political and economic system. Burns shares his observations and a comprehensive analysis of the dynamic gestalt that is the American political system and nonsystem, and compares it throughout history with the political systems and the revolutions of other nations.

Reviews
"To some historians Professor Burns is a fine political scientist. To some political scientists he is a fine historian. In fact, he is the best of both disciplines....
"Many other writers throughout history have analyzed leadership. What is impressive about this new study is the range of Burns' reading about both Western and non-Western civilizations, his freedom from cultural bias, the insights he derives from his own observation of and participation in American politics, and his willingness to grow intellectually....
"An impressive book. Although Burns is sophisticated about the frailties of people, Leadership is also an optimistic book. He ends his study with these words: 'That people can be lifted into their better selves is the secret of transforming leadership and the moral and practical theme of this work."
—Walter Johnson, The Washington Post
"This is an important book, a book that combines an analysis of the past and a penetrating observation of the present with implications for the future stability of American democracy."
—Kenneth B. Clark, City News

About the Author
James MacGregor Burns
is a Pulitzer Prize-winning Presidential biographer, a pioneer in the study of leadership, and a senior scholar at the James MacGregor Burns Academy of Leadership at the University of Maryland. Author of more than a dozen books, Burns has devoted his professional life to the study of leadership in American political life. Burns received his doctorate in political science from Harvard, attended the London School of Economics, and taught at Williams College. Burns was a Democratic nominee for the 1st Congressional District of Massachusetts in 1958 and also served as a delegate to four Democratic National Conventions.
While in the military, Burns served as combat historian in the Pacific Theater from 1943-1946; he was awarded the Bronze Star and four Battle Stars. Burns is a former president of the American Political Science Association, former president of the International Society of Political Psychology, and former chair of the Berkshire Country Commission Against Discrimination. He was also the co-chair, with Georgia Sorenson, of the Salzburg Leadership Seminar in Salzburg, Austria, in 1997.

Find Items On Similar Subjects

Transforming Leadership
: The Pursuit of Happiness

On Leadership

Leaders
: The Strategies for Taking Charge

Douglas McGregor on Management : Revisiting the Human Side of Enterprise