Transforming Leadership
: A New Pursuit of Happiness
James MacGregor Burns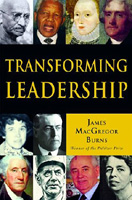 Format:
Paperback, 336pp.
ISBN:
9780802141187
Publisher:
Grove Press
Pub. Date:
April 2004
Average Customer Review:

For Bulk Orders Call: 626-441-2024

Description and Reviews
From
The Publisher:
In 1978, James MacGregor Burns published Leadership, his seminal examination of how leaders shape the course of history by transforming followers into creative new leaders. The book quickly became the cornerstone of the emerging field of leadership studies, which has spawned over nine hundred academic programs as well as leadership programs in business and government. Now, twenty-five years later, Burns expands the subject, offering a new vision—Transforming Leadership—focusing on the ways that leaders emerge from being ordinary "transactional" brokers and deal makers to become true agents of principled social change who empower their followers to achieve freedom and happiness.
As a historian, Burns illuminates the evolution of leadership structures, from the chieftainships of tribal African societies, through Europe's absolute monarchies, to the blossoming of the Enlightenment vision of liberty that came to full flower with the Declaration of Independence's "Pursuit of Happiness." Along the way he looks at key moments in leadership—including both great triumphs and grand failures—in men and women, from African leaders to Elizabeth I, James Madison, Napoleon, Mao, Gandhi, and many others. The book culminates in a bold and innovative plan to address the greatest global leadership challenge of the twenty-first century: the seemingly intractable problem of global poverty.
Engagingly written, original, and provocative, Transforming Leadership is a powerful book that will fire controversy and conversation in classrooms and boardrooms throughout the country.

Reviews
Twenty-five years after the publication of Leadership, Burns expands upon his theories about how leaders cultivate their successors to explore how they create environments conducive to social and personal development. He distinguishes between "transactional" leaders, who thrive on cutting deals, and "transforming" leaders, whose sweeping changes totally revamp political institutions. Although the book relies on a variety of historical examples, it devotes particular attention to Franklin Roosevelt, about whom Burns has written extensively in the past (The Lion and the Fox; The Soldier of Freedom). Burns's underlying theory imagines leadership as part of a broader social process in which leaders and followers are closely interrelated. Starting with psychologist Abraham Maslow's theories of the hierarchy of human needs, the book suggests leaders attain their power through their responsiveness to others' desires for security, self-esteem and personal development, putting themselves in a position to "create and expand the opportunities that empower people to pursue happiness for themselves." As such, leadership is an inherently positive process, distinguishable from tyranny by the latter's inability to promote liberty and equality. Amusing asides, in which Burns describes how he attempted to apply his understanding of leadership principles to raising his children, enliven the scholarly consideration of leadership's evolution over the centuries. These accessible anecdotes, as well as Burns's explications of historical examples, will ensure the book's influence extends beyond its most obvious implications for political science.
—Publishers Weekly Copyright 2003 Reed Business Information, Inc.

About the Author
James MacGregor Burns
is senior scholar at the Jepson School of Leadership Studies at the University of Richmond and Woodrow Wilson Professor of Political Science Emeritus at Williams College. He is the author of numerous books, including Transforming Leadership, The American Experiment, The Deadlock of Democracy, Roosevelt: The Lion and the Fox, Roosevelt: The Soldier of Freedom, and The Three Roosevelts (with coauthor Susan Dunn).

Table of Contents
PROLOGUE: Empowering Happiness
PART ONE: CHANGE
1
The Mysteries of Leadership
Cleopatra's Nose
Slaves of History
What Leadership Analysis Can Do
2
Searching for the X Factor
The Quest for Causality
What Is Transforming Leadership?
The Power of Vision
PART TWO: LEADERS
3
Kings and Queens, Knights and Pawns
Kings of Africa
Elizabeth I: Ruler or Ruled?
Reining in the Knights
The Plight of the Pawns
4
Leaders as Planners
The Winds and Waves of War
Dreamers with Shovels
The Power of Steam Shovels
The Transformation of Harvard University
PART THREE: LEADERSHIP
5
The Transformation of American Leadership
Collective Leadership on Trial
"The Most Remarkable Work"
One Man's Leadership for Rights
"A Dependence on the People"
Parties—the People's Constitution
6
France: Trials of Leadership
Crown Rule and Crowd Leadership
The Rule of Terror
Napoleonic Rulership
The Gaullist Brand of Leadership
7
Leadership as Conflict
His Majesty's Opposition
Irrepressible Conflict?
The Russian Oppositionists
PART FOUR: PEOPLE
8
The Anatomy of Motivation
Sheer Want
Real Need
Empowering Motives
9
Creative Leadership
Liberating Ideas
The Springs of Creativity
Golden Ages
The Transforming Vision
10
The Leader-Follower Paradox
Followers as Leaders
Leaders as Followers
From Engagement to Empowerment
11
Conflict: The Arming of Leadership
The Conflict over Conflict
The Leadership of Conflict
The Power of Leadership
PART FIVE: TRANSFORMATION
12
The Power of Values
What Values for Leaders?
Transforming Values
Empowering Values
13
The People, Yes?
The X Factor
"Life, Liberty, and . . ."
". . . the Pursuit of Happiness"
EPILOGUE: Global Poverty: Putting Leadership to Work
Notes
Acknowledgments
Index

Find Items On Similar Subjects

Leadership
by Burns