Leaders
: The Strategies for Taking Charge
Warren G. Bennis
and Burt Nanus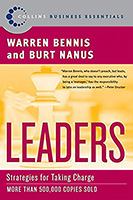 Format:
Paperback, 235pp.
ISBN:
9780060559540
Publisher:
Harper Business
Pub. Date:
2nd edition May 22, 2007
Average Customer Review:

For Bulk Orders Call: 626-441-2024

Description and Reviews
From
The Publisher:
In this illuminating study of corporate America's most critical issue -- leadership -- world-renowned leadership guru Warren Bennis and his co-author Burt Nanus reveal the four key principles every manager should know: Attention Through Vision, Meaning Through Communication, Trust Through Positioning, and The Deployment of Self.
In this age of "process", with downsizing and restructuring affecting many workplaces, companies have fallen trap to lack of communication and distrust, and vision and leadership are needed more than ever before. The wisdom and insight in Leaders addresses this need. It is an indispensable source of guidance all readers will appreciate, whether they're running a small department or in charge of an entire corporation.




Reviews

The authors included a number of observations that are thought-provoking for Christian readers. Here is a sample: . . . The higher the leadership post, 'the more interpersonal and human the undertaking.' The authors discovered that the top executives they interviewed spent roughly 90 percent of their time with people and virtually the same percentage of their time concerned with 'the messiness of people problems.' Leadership, that is, has to do with enabling others to fulfill their full humanness better.

—Christianity Today
"...has a great deal to say to any executive who, by being a 'manager,' has the responsibility to take on leadership as well."
—Peter Drucker

About the Author
Warren Bennis
is Distinguished Professor of Business Administration and Founding Chairman of The Leadership Institute at the University of Southern California. Bennis has served on the faculties of MIT's Sloan School of Management, Harvard Business School, and Boston University. He served for seven years as president of the University of Cincinnati, where he coined the metaphor for the title of this book. He has been observing and writing about leadership for more than four decades and is the best-selling author of over 25 books, including
Leaders, On Becoming a Leader
, and
An Invented Life
, which was nominated for a Pulitzer Prize.

Table of Contents
| | | |
| --- | --- | --- |
| | | |
| | Foreword to the Second Edition | ix |
| | Acknowledgments | xv |
| | | |
| | MISTAKING CHARGE | 1 |
| | A New Theory of Leadership | 3 |
| | The Context of Leadership | 6 |
| | Paradigm Shifts | 12 |
| | LEADING OTHERS, MANAGING YOURSELF | 18 |
| | The Four Strategies | 24 |
| | Empowerment: The Dependent Variable | 73 |
| | Plan for Implementation | 78 |
| | STRATEGY I: ATTENTION THROUGH VISION | 80 |
| | Vision and Organizations | 82 |
| | Paying Attention: The Leader's Search for Vision | 88 |
| | Synthesizing Vision: The Leader's Choice for Direction | 94 |
| | Focusing Attention: The Leader's Search for Commitment | 99 |
| | STRATEGY II: MEANING THROUGH COMMUNICATION | 102 |
| | Three Styles of Social Architecture | 110 |
| | Tools of the Social Architect | 129 |
| | Changing the Social Architecture | 136 |
| | STRATEGY III: TRUST THROUGH POSITIONING | 141 |
| | Organizations and Their Environments | 144 |
| | QUEST for Position | 155 |
| | Lessons for Leadership | 171 |
| | STRATEGY W: THE DEPLOYMENT OF SELF | 175 |
| | The Learning Organization | 178 |
| | Innovative Learning | 182 |
| | Leading the Learning Organization | 190 |
| | Organizing for Innovative Learning | 195 |
| | TAKING CHARGE: LEADERSHIP AND EMPOWERMENT | 200 |
| | Management Education | 204 |
| | Dispelling Myths | 206 |
| | Toward the New Millennium | 211 |
| | A Final Note | 218 |
| | | |
| | Notes | 221 |
| | Index | 227 |

Find Items On Similar Subjects

All Items by Warren Bennis

Managing the Dream
: Reflections on Leadership and Change