The Jack Welch Lexicon of Leadership
: Over 250 Terms, Concepts, Strategies & Initiatives of the Legendary Leader
Jeffrey A. Krames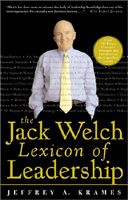 Format:
Hardcover, 224pp.
ISBN:
9780071381406
Publisher:
McGraw-Hill Professional Publishing
Pub. Date:
August 2001
Average Customer Review:

For Bulk Orders Call: 626-441-2024

Description and Reviews
From
The Publisher:
The Words, the Ideas, and the Initiatives of History's Most Acclaimed CEO.
During the last two decades of the twentieth century, Jack Welch transformed GE from an aging industrial bureaucracy into a diversified global juggernaut. In the process, he added more to the language of modern leadership than any other CEO of his era.
The Jack Welch Lexicon of Leadership organizes more than 250 of Welch's most popular concepts and tools into an accessible­­and ultimately indispensable­­look into the mind and methods of Jack Welch. Never before have all the ideas and strategies of the world's most effective CEO been assembled in one comprehensive volume. In The Jack Welch Lexicon of Leadership you will learn more about:
Boundarylessness ­­Guidelines show how you can use Welch's signature concept to create an organization free of turf battles, walls, and other trust-busters and confidence-killers GE's Social Architecture ­­Learn how Welch "self-actualized" GE, valuing intellect over hierarchy as he encouraged employees to share ideas and information Six Sigma­­Discover how Welch used his most sweeping GE initiative to launch a quality revolution that still reverberates around the globe
Jack Welch lived by the belief that one good idea­­no matter who has it­­can change an enterprise forever. Let The Jack Welch Lexicon of Leadership take you inside Welch's most potent ideas and actions and give you the knowledge to understand and apply them in your own organization.
Jack Welch is the most admired, copied, and studied CEO of the 20th century. His visionary initiatives and concepts­­and adaptive management strategies­­earned him the title of the most effective CEO in history. This alphabetically arranged, encyclopedic reference, The Jack Welch Lexicon of Leadership, provides an in-depth look at the methods that Welch used to turn GE into the world's most valuable corporation.
More than just a simple reference, however, this one-of-a-kind book traces the evolution of Welch's key ideas and innovations and provides analysis and perspective on Welch's historic­­and immensely successful­­career. Comprehensive and compelling in its no-nonsense examination of all things Welch, The Jack Welch Lexicon of Leadership:
Provides a guided tour of the language and strategies of Jack Welch­­Each of Welch's key management ideas­­and their significance in GE's rebirth­­is given in-depth treatment and evaluation
Highlights breakthrough concepts for easy access and cross-reference­­To help readers in their exploration of Welch, key concepts and ideas are designated by the "Six Sigma" icon 6 s
Applies Welch's prescient wisdom to today's demanding global environment­­Examples reveal how Welch's insights can be used to address new problems in any organization, regardless of its size
Chronicles the evolution of Welch's leadership thinking­­Wherever possible, dates and chronology help trace Welch's evolution as a leader­­and his strategies which transformed grass-roots ideas into companywide innovations
By adding speed, simplifying the complex, and cutting straight to the heart of the matter, Jack Welch was able to find workable solutions for virtually every challenge. The Jack Welch Lexicon of Leadership follows Welch's example. It defines and organizes the terms and programs that Welch used to rewrite the language of leadership, then creates a roadmap you can use to create Welch magic of your own­­regardless of your organization's industry or competitive position.

Reviews
"I can't imagine a CEO who wouldn't benefit from reading this book which highlights the key ideas and actions of one of this century's most remarkable business leaders, Jack Welch."
—Philip Kotler S.C. Johnson & Son Distinguished Professor of International Marketing Kellogg Graduate School of Management Northwestern University

About the Author
Jeffrey A. Krames
is the editorial director of Portfolio, the business book imprint of The Penguin Group. The editor of four previous books on Jack Welch, including the national bestseller Jack Welch and the GE Way, Krames has written for
The New York Times, The Wall Street Journal, Barron's
, and other publications. He has appeared on CNN and PBS and been quoted in
Time, Newsweek, BusinessWeek
, and other periodicals.

Find Items On Similar Subjects

Inside Drucker's Brain

Winning

Get Better or Get Beaten

Books by or about Jack Welch