Get Better or Get Beaten
Robert Slater with Jeffrey A. Krames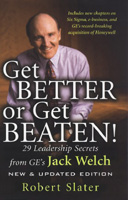 Format:
Hardcover, 194pp.
ISBN:
9780071373463
Publisher:
McGraw-Hill Professional Publishing
Pub. Date:
February 2001 / 2nd edition
Average Customer Review:

For Bulk Orders Call: 626-441-2024

Description and Reviews
From
The Publisher:
Over a dozen new chapters­­on everything from Workout to Six Sigma to e-Business
How to Think, Talk, and Lead Like Jack Welch, History's Most Celebrated­­and Successful­­CEO
"If leadership is an art, then surely Welch has proved himself a master painter." —
BusinessWeek
"Wall Street and Main Street have been spoiled by Mr. Welch and his extraordinary performance." —
The Wall Street Journal
"Perhaps the most admired CEO of his generation." —Fortune
Since it first hit business bestseller lists, Get Better or Get Beaten has shown over 100,000 executives how to understand the secrets­­and emulate the successes­­of GE's legendary CEO Jack Welch. Now completely revised and updated with rules for managers in today's transformed economy, this fast-paced classic provides proven leadership imperatives for every situation, regardless of industry.
From Secret #1 ("Harness the power of change") to Secret #29 ("Use e-Business to put the final nail in bureaucracy"), Get Better or Get Beaten is today's most straightforward, easy-to-follow blueprint for real-world success. Read it, learn from it, and use it to follow in the footsteps of corporate history's most honored CEO­­GE's Jack Welch.
Jack Welch built GE into the most successful American corporation of the late 20th century. He accomplished this by focusing on quality, insisting on innovation, and forging a series of innovative business strategies that transformed GE from an overly bureaucratic, slow moving, and self-satisfied dinosaur into a lean, agile competitor.
Like Jack Welch himself, Get Better or Get Beaten, 2nd Edition, continues to carve its own path and call its own shots. Updated to reflect the realities of today's 24/7/365 global e-conomy, this classic management manifesto gets in your face and tells you what you need to know. For virtually every business situation, it answers one overriding question­­"What would Welch do?"­­with clarity, purpose, and a singular focus on achieving bottom-line results.
Small enough to fit in your coat pocket, yet bursting with Welch's leadership secrets on every page, it paints a compelling picture of how to teach employees­­and yourself­­to accept nothing but the best. Look inside to discover:
Strategies Welch used to pull off the largest acquisition in GE's history­­the stunning 48-billion purchase of Honeywell
How Welch is using e-communication to energize and revitalize every corner of GE­­from the mailroom to the boardroom
The inside story on Six Sigma­­Welch's sweeping quality initiative that is the foundation of GE's success
Jack Welch is a no-nonsense leader and has acknowledged that, when preparing for a speech, he has frequently peeked into Get Better or Get Beaten. Hard-hitting and honest, it is today's most entertaining and enlightening book on climbing to the top of today's corporate ladder­­and

About the Authors
Robert Slater
has over 25 years experience with
Time, Newsweek
and UPI. One of today's top business biographers, Slater has written a number of bestselling books, including
Jack Welch and the GE Way
and
The GE Way Fieldbook
.
Jeffrey A. Krames
is publisher and editor-in-chief of McGraw-Hill's trade division. The editor of four previous books on Jack Welch, including the national bestseller Jack Welch and the GE Way, Krames has written for
The New York Times, The Wall Street Journal, Barron's
, and other publications. He has appeared on CNN and PBS and been quoted in
Time, Newsweek, BusinessWeek
, and other periodicals.

Find Items On Similar Subjects

29 Leadership Secrets From Jack Welch

The Jack Welch Lexicon of Leadership