The Trusted Leader
: Bringing Out the Best in Your People and Your Company
Robert M. Galford and Anne Seibold Drapeau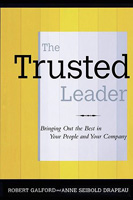 Format:
Paperback, 288pp.
ISBN:
9780743235402
Publisher:
Free Press
Pub. Date:
April 2, 2011
Average Customer Review:

For Bulk Orders Call: 626-441-2024

Description and Reviews
From
The Publisher:
As today's headlines remind us, trust is the hot-button issue in business today, especially for investors, managers, workers, and consumers. More than ever before, the success of an organization depends on leadership that fosters strong connections across teams and among bosses, colleagues, and subordinates. Companies are in urgent need of trusted leaders, but how can managers meet that need? "Be trustworthy" is the short, logical answer, of course. But being trustworthy and building trust in an organization are not one and the same thing. The former is an inherent part of a person; the latter requires developed talent and considerable skill.
Based on highly specific research and experience that covers a wide spectrum of managers and organizations,
The Trusted Leader
identifies the three critical types of trust that leaders need to master: strategic trust, organizational trust, and personal trust. It introduces a practical and effective formula for building organizational confidence, and provides a unique analysis of the obstacles to trust and the sources of resistance to the building of trust inside organizations. Through a series of interactive exercises, executives will learn how to determine where trust is missing and how it can be supplemented in people, departments, and even whole companies. Perhaps most timely are the book's series of diagnostic tools and skills that help executives rebuild trust that has been broken or betrayed.
As business insiders and authors Robert Galford and Anne Seibold Drapeau show, trust inside a company provides focus, fuels passion, fosters innovation, and helps employers to hire and retain the best employees. Trust inside, the authors argue, also builds trust outside by gaining credibility with today's skeptical consumer.
Trust is all too frequently overlooked in other leadership books, and is even more important today as companies face uncertain customer demands and the pressures to compete successfully in a whiplash market. Crises, restructurings, mergers, downturns, and executive departures are often trust-destroyers.
The Trusted Leader
examines those defining moments, and helps leaders turn such situations into trust-building experiences, creating a culture and legacy of trust throughout the organization at large.
Rich in true stories, examples, and practical advice,
The Trusted Leader
guides leaders on how to climb the ladder of trust and how to secure their legacy as trusted leaders. For managers of all levels,
The Trusted Leader
is the only comprehensive guide for building trust inside an organization -- the key to every company's long-term survival and success.
Are you a trusted leader?
Visit the
Trusted Leader
website to take an interactive
self-assessment test
with instant feedback and contribute your stories of trust.

Reviews
"Since the bottom line is directly affected by people and how they feel about their work, The Trusted Leader shows us how building trust will keep the organization strong in the good times and the bad. The authors show us, through examples and lists, how to keep everyone working productively in a trust-based, positive atmosphere."
—Richard Robinson, Chairman, CEO & President, Scholastic Inc.
"Rob Galford and Anne Seibold Drapeau have illuminated an overlooked aspect of the leadership equation. The Trusted Leader is practical and insightful. Extremely relevant in these days of executive excess."
—Richard G. Hamermesh, Professor, Harvard Business School
"Most of the many books on leadership are either vapid or worse, promising a silver bullet that just doesn't exist. Galford and Drapeau focus on a simple, empowering truth -- employees' and colleagues' trust in managers yields success. This highly useful guide to leading by building and mobilizing trust is at once pragmatic and inspiring."
—Carl Stern, CEO, Boston Consulting Group
"In this excellent and timely book, Galford and Drapeau show us how leaders consciously build and preserve the trust of their colleagues subordinates. This book ought to be in the hands of every manager who is serious about driving the longer term success of their organization."
—Jon Younger, Ph.D., Senior Vice President, Leadership Development National City Corporation
"None of us or our organizations will be as successful as we'd like to be unless we heed The Trusted Leader's advice to incorporate trust consciously and thoughtfully into our business practices and management approaches."
—Michael Goss, Managing Director and Chief Administrative Officer Bain Capital, LLC
"This is precisely the right book at precisely the right time. Trust in American leaders hasn't been at such a low ebb since the Vietnam/Watergate era. Rob and Ann give clear direction on how trust will be rebuilt – on strategic, organizational, and personal levels. I expect their advice to become the touchstone for a whole new generation of leaders who will place trust at the center of their operational and personal values."
—George Colony, CEO of Forrester Research
"The Trusted Leader is extraordinarily well-written, engaging, and insightful about an ordinarily inscrutable topic. Building trust is the critical success factor of management, yet it is often nonexistent in today's world. This book is a must read for every MBA and anyone aspiring to move up the corporate ladder or holding a position of authority. Read it and succeed as a leader and a person."
—Rich D'Aveni, Professor, Amos Tuck Graduate School of Business at Dartmouth, author of Hypercompetition

About the Author
Robert Galford
, managing partner of the Center for Executive Development in Boston, has taught in executive education programs at Columbia, Kellogg, and most recently, Harvard. He is the co-author of The Trusted Advisor (with David H. Maister and Charles H. Green).
Anne Seibold Drapeau
is chief people officer of Boston-based Digitas and has held management positions at Pepsi, J.P. Morgan, and FTD.

Table of Contents
| | | |
| --- | --- | --- |
| | Introduction | xi |
| | PART ONE: An Overview of Trusted Leadership | |
| 1 | What Is Trusted Leadership? | 3 |
| 2 | The Trusted Leader Self-Assessment | 21 |
| 3 | The Characteristics and Competencies of the Trusted Leader | 29 |
| 4 | The Enemies of the Trusted Leader | 43 |
| | PART TWO: Identifying and Applying the Tools of Trusted Leaders | |
| 5 | The Tools of Building Personal Trust | 73 |
| 6 | The Tools of Building Organizational Trust | 89 |
| | PART THREE: How Trusted Leaders Work | |
| 7 | From the Top | 117 |
| 8 | Inside Teams, Departments, Offices | 129 |
| 9 | Across Teams, Departments, Offices | 145 |
| | PART FOUR: Defining Moments | |
| 10 | In Times of Change | 165 |
| 11 | When People Leave | 181 |
| 12 | In Times of Crisis | 195 |
| | PART FIVE: Building Trust in Perspective | |
| 13 | Trusted Lost, Trusted Rebuilt | 209 |
| 14 | When You Leave: The Legacy of Trust | 229 |
| | Afterword: The Trusted Leader Continues | 251 |
| | Notes and References | 253 |
| | About the Authors | 257 |
| | Index | 259 |

Find Items On Similar Subjects

Your Leadership Legacy
: Why Looking Toward the Future Will Make You a Better Leader Today

Building Trust in Business, Politics, Relationships, and Life

The Leadership Triad
: Knowledge, Trust and Power