Nobody in Charge
: Essays on the Future of Leadership
Harlan Cleveland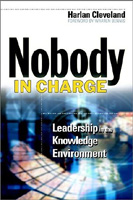 Format:
Hardcover, 256pp.
ISBN:
9780787961534
Publisher:
John Wiley & Sons
Pub. Date:
April 2002
Average Customer Review:

For Bulk Orders Call: 626-441-2024

Description and Reviews
From
The Publisher:
Harlan Cleveland, one of the world's top thinkers about leadership, developed his way of thinking as a successful executive leader--in government under four presidents, in three universities, and in private enterprise. In this book, drawn from writings around the edges of a leader's life during half a century, he distills his insights and wisdom on the future of leadership-"the get-it-all-together profession."
The fourteen essays in this collection have an underlying theme: with everything getting more complicated, nobody can possibly know enough to be in general charge of anything really interesting or important. Cleveland argues that this means everybody has a chance to be partly in charge; but since most people won't reach for the brass ring, those who do will be leaders, mostly self-selected.
Nobody in Charge suggests how and why the worldwide spread of knowledge, speeded and enhanced by information technology, is fundamentally changing what it takes to bring people together to make something different happen-in business and government and education and in international affairs. Sprinkled with stories from his own experience and observation, Cleveland describes the attitudes, qualities, and learnings that will work best for people who point the way, create networks, build organizations, and inspire others to act. He also examines the ethics of public leadership and the education of citizens-in societies where a rapidly growing proportion of citizens will opt for leadership.

Reviews
"The latest book from one of the wisest men of our time!"
—John W. Gardner, founder of Common Cause and of The Independent Sector
"Most books on leadership are written by people who themselves haven't led anything. This book is written by one of the most effective executives who, from a very early age, has for a half-century provided outstanding leadership in American government, higher education, and business."
—Peter F. Drucker, business philospher
"A rare, readable blend of exceptional experience, wisdom, and wit ¾ for those perplexed about the present or concerned about the future, especially those with responsibility for others."
—Dee Hock, founder, Visa International
"We have entered a new and different world-richly interconnected and radically multicentric-in which the traditional holders of power have to move over and make room for new stakeholders, new players, and new leaders of many kinds. Nobody in Charge, drawing on the learnings of a wise and widely experienced public executive, offers some priceless insights into how things have changed, where they are now, and where we may be going next in this bewildering terrain."
—Walter Truett Anderson, president, the World Academy of Art and Science

About the Author
Harlan Cleveland
has founded and led a variety of institutions and held many leadership positions over a long and illustrious career. After World War II, he managed postwar relief and rehabilitation for the U.N., first in Italy then in China, and was thereafter a top official in the Marshall Plan. He was executive editor, then publisher, of
The Reporter
magazine in New York, and dean of Syracuse University's Maxwell School of Citizenship. President John F. Kennedy appointed him Assistant Secretary of State for U.N. and other international organizations; President Lyndon B. Johnson sent him to Europe as U.S. Ambassador to NATO. He was then, successively, president of the University of Hawaii, director of International Affairs at the Aspen Institute, and founding dean of the University of Minnesota's Hubert H. Humphrey Institute of Public Affairs. He is currently a board member of the American Refugee Committee, the Joyce Mertz-Gilmore Foundation, and the World Future Society, and president emeritus of the World Academy of Art and Science.

Table of Contents
| | | |
| --- | --- | --- |
| | Foreword The Man on the Flying Trapeze by Warren Bennis | |
| | Preface How I Got Here | |
| | Part One: The Macrotransition We Are In | |
| 1 | The Get-It-All-Together Profession | |
| 2 | Coming Soon: The Nobody-in-Charge Society | |
| 3 | The Spread of Knowledge | |
| 4 | The Age of People-Power | |
| 5 | Dinosaurs and Personal Freedom | |
| 6 | "Safe for Diversity" | |
| 7 | The Social Fallout of Science | |
| 8 | Intuition and Chaos in the Real World | |
| | Part Two: On Being a Leader | |
| 9 | The Leader as Futurist | |
| 10 | The Deans Dilemma: Leadership of Equals | |
| 11 | A Style for Complexity | |
| 12 | "The Very Definition of Integrity" | |
| 13 | The Situation-as-a-Whole Person | |
| 14 | Education for Citizen Leadership | |
| | Afterword: Aphorisms from Experience | |
| | Afterword: The Whole Chessboard | |
| | Index | |

Find Items On Similar Subjects

The End of Management and the Rise of Organizational Democracy

Top Down
: Why Hierarchies Are Here to Stay and How to Manage Them More Effectively