Top Down
: Why Hierarchies Are Here to Stay and How to Manage Them More Effectively
Harold J. Leavitt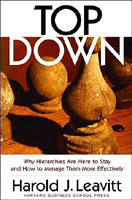 Format:
Hardcover, 189pp.
ISBN:
9781591394983
Publisher:
Harvard Business School Press
Pub. Date:
November 2004
Average Customer Review:

For Bulk Orders Call: 626-441-2024

Description and Reviews
From
The Publisher:
Authoritarian Hierarchies Are Inevitable--So Let's Learn to Live with Them
Pundits have been forecasting the demise of the hierarchical corporation for decades. We denigrate those authoritarian structures as controlling, territorial, bureaucratic, and slow-and we celebrate "alternatives" that are flatter, more democratic, and networked.
But renowned organizational behavior expert Harold J. Leavitt argues that such alternative structures have not proven viable-or even desirable-and that despite its human failings, hierarchy remains the foundational shape of every large human organization. Why? Because it works. Top Down neither defends nor attacks the much-maligned hierarchy. Rather, this counterintuitive book convincingly shows that even the "flattest" of today's organizations are really just hierarchies in disguise-and, to improve the ways hierarchies function, we must first acknowledge their inevitability.
Exploring both the benefits and shortcomings of top-down structures, Leavitt shows how leaders can reshape hierarchies to incorporate the human values and motivations that enable employees to thrive. He then offers middle managers suggestions about how best to negotiate the way through those authoritarian mazes, while maintaining their personal integrity and even finding satisfaction in their work.
Top Down
is a refreshing "get real" examination of the true state of today's workplace-and an important step toward creating organizations that are efficient and productive, but also egalitarian and humane.

Reviews
Hal Leavitt has written a book to be savored. On one hand, it is a magnificent summa of his half century of continuously path-breaking work. On the other, it is a bold leap into the future—debunking a great deal of current (wishful) organizational thinking, then offering a novel and realistic roadmap for organizational and leadership effectiveness for the new century.
—Tom Peters, author of Re-Imagine!
This is a masterful and important book, pulsing with unusual insights and originality. Leavitt, always an ally of reality, helps us to understand the inevitability of "hierarchy" and how those who work and live in them—virtually all of us—can make them just a tad more humane and livable.
—Warren Bennis, Distinguished Professor of Management, USC, and coauthor of Geeks and Geezers
Managers will profit greatly from Leavitt's latest, which analyzes our love-hate relationship with hierarchy and authority, and the constant tension between humanizing and systematizing forces within organizations. What a privilege it is to share these important ideas with such a wise and witty observer of the contemporary scene!
—Mihaly Csikszentmihalyi, Director, Quality of Life Research Center
Guess what? Hierarchies haven't gone away and, what's more, they shouldn't. In
Top Down
, Leavitt convincingly makes for both their ubiquity and utility. But, he does much more: he provides useful insights into how managers and leaders can make hierarchies work better for the benefit of all of us. Hooray!
—Jerry I. Porras, Coauthor of Built to Last


Reader's Index
Send us your favorite quotes or passages from this book
.
• "It seemed to me that too many of us were becoming victims of our own propaganda. We were beginning to believe what we wanted to believe, that those cruel, inhumane, inefficient, authoritarian hierarchical organizations were really passé." Pg.
ix
• "We cling to hierarchies because our place in a hierarchy is, rightly or wrongly, a major indicator of our social worth." Pg. 35
• "So we don't just follow our leaders. We anxious and dependent followers often set them up via a process that can generate at least two kinds of toxic monsters: leaders who leap at the chance to play godlike roles, and leaders who eventually—because their followers keep kowtowing before them—come to believe that they really have the powers their anxious and needy followers want to ascribe to them. Don't get caught up in that dangerous game." Pg. 130

About the Author
Harold J. Leavitt
is Kilpatrick Professor of Organizational Behavior Emeritus, the Graduate School of Business, Stanford University.

Table of Contents
| | | |
| --- | --- | --- |
| | Preface | ix |
| | Introduction | 1 |
| Part 1 | The Inevitable Hierarchy | |
| 1 | Why we don't like hierarchies | 15 |
| 2 | Why hierarchies persist | 29 |
| Part 2 | Hierarchies and Organizational Change | |
| 3 | Humanizing hierarchies versus systemizing them | 53 |
| 4 | Three changes that shook the hierarchy | 69 |
| 5 | How big hierarchies cope with change | 83 |
| Part 3 | Hierarchies and the Manager | |
| 6 | The manager's authority | 101 |
| 7 | Leadership, authority, and the hierarchy | 125 |
| 8 | Three lessons for manager/leaders | 143 |
| 9 | Hierarchies, managers, and morality | 161 |
| | Notes | 177 |
| | Index | 183 |
| | About the Author | 189 |

Find Items On Similar Subjects

The End of Management and the Rise of Organizational Democracy

Nobody in Charge
: Essays on the Future of Leadership