The End of Management
and the Rise of Organizational Democracy
Kenneth Cloke and Joan Goldsmith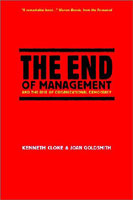 Format:
Paperback, 300pp.
ISBN:
9780787959128
Publisher:
John Wiley & Sons
Pub. Date:
January 15, 2002
Average Customer Review:

For Bulk Orders Call: 626-441-2024

Description and Reviews
From
The Publisher:
There is a search in process for a new context and paradigm for the organization of the future-an organization that must be capable of producing high-quality, competitive products that satisfy customers without destroying the planet or degrading human life. The End of Management and the Rise of Organizational Democracy calls for a radical set of organizational development initiatives that will combat the destructive forces of globalization, put an end to authoritarian, paternalistic management, and move organizations toward a new "organizational democracy." Kenneth Cloke and Joan Goldsmith detail the practical opportunities, alternatives, and models for these new organizations and challenge leaders to transform their workplace environment into one shaped by a context of values, ethics, and integrity. They reveal how a combination of collaboration, self-management, and organizational democracy can break down long-standing boundaries and foster the far-reaching, sustainable changes critical to success in the twenty-first century.
The world is experiencing unprecedented ecological, economic, social, and political challenges. Consequently, today's organizations are searching for alternative leaders, structures, systems, and ways of operating. There is growing conflict within corporations about whether to seize short-term advantage and maximize shareholder profits, or build long-term, sustainable growth for both employees and society as a whole.
The End of Management and the Rise of Organizational Democracy presents a radical new view of the organization of the future and in the process redefines leadership for the twenty-first century. In this groundbreaking book, Kenneth Cloke and Joan Goldsmith make the case for putting an end to traditional management and reveal the key elements necessary to create the collaborative, democratic, self-managing organizations that will thrive in the future. Throughout this compelling book, the authors show how corporations, government agencies, schools, and nonprofits can dramatically improve by empowering those who work on the inside to manage themselves and take responsibility for their own transformation. The authors clearly show how collaboration, self-management, and organizational democracy fundamentally alter not only the way we work but also the nature of work itself. Organizations will create policies that are flexible and value-driven, procedures that are instantly customizable and responsive to customer needs, and use conflicts as opportunities for growth and learning.
Cloke and Goldsmith offer practical, specific suggestions for fashioning a value-based organization, provide ideas for creating innovative, self-managing, high-performance teams, and identify the self-correcting systems required to keep democratic organizations on course. Their initiatives include creating a "values audit" to develop a shared set of values, democratically electing CEOs, replacing hierarchies with webs of association, developing "linking leadership," designing complex self-correcting systems, and more.

Reviews
"A challenging and provocative treatise on how to humanize the workplace. At a time when we are all searching for leadership and striving to find a road map which will help us open our minds, our hearts, and our courage in all areas of our lives, along comes this book to show us the way."
—Majorie Randolph
"A book that is bristling with wisdom and practical advice. There is not a stale or tired thought on any page. In short, the authors have produced a very important book, one that promises to change the entire foundation of what we have wrongly taken as management."
—Ian I. Mitroff, Harold Quinton Distinguished Professor of Business Policy, Marshall School of Business, University of Southern California
"The potential today for beneficial business and process change is enormous. But such changes will only happen if the practice of management changes. This book provides a road map for the leadership journey ahead."
—Jim Champy, Chairman, Perot Systems Consulting
"Goldsmith and Cloke have been inside enough organizations to know how dysfunctional most of them are. Here's a prescription for radical change--creating organizations that work better and that serve people better than anything we have now."
—John Case, author of Open-Book Management
"Cloke and Goldsmith have shown the way in this remarkable book. They are our advance scouts, and for that I extend a deep bow of respect for their courage and wisdom."
—Warren Bennis, University Professor Distinguished Professor of Business Administration Founding Chairman, Leadership Institute Professor, MOR & Finance and Business Economics Department of Management and Organization

About the Authors
Kenneth Cloke
is director of the Center for Dispute Resolution and a mediator, arbitrator, consultant, and trainer.
Joan Goldsmith
is an organizational consultant and educator specializing in leadership development and organizational change. Cloke and Goldsmith draw on more than thirty years of practical experience in organizational consulting with hundreds of organizations in the United States and internationally, from Fortune 500 companies to government agencies, schools, and nonprofits. They are coauthors of four previous books, including
Resolving Conflicts at Work
(Jossey-Bass, 2000).

Table of Contents
| | | |
| --- | --- | --- |
| | Foreword by Warren Bennis | |
| | Introduction | |
| | Part One: Making a Case for the End of Management | |
| 1 | The Revolution of Self-Management and Organizational Democracy | |
| 2 | A Brief History of Management | |
| 3 | The Emerging Theory of Self-Management | |
| 4 | Management Reduces Communication, Morale, and Motivation | |
| 5 | Management Constricts Quality and Customer Service | |
| 6 | The Double Bind of Managerial Change | |
| 7 | Breaking the Hold of Hierarchy, Bureaucracy, and Autocracy | |
| 8 | Where Do We Go from Here? | |
| | Part Two: A Practical Guide to Organizational Democracy | |
| 9 | Shape a Context of Values, Ethics, and Integrity | |
| 10 | Form Living, Evolving Webs of Association | |
| 11 | Develop Ubiquitous, Linking Leadership | |
| 12 | Build Innovative Self-Managing Teams | |
| 13 | Implement Streamlined, Open, Collaborative Processes | |
| 14 | Create Complex Self-Correcting Systems | |
| 15 | Integrate Strategically, and Change the Way We Change | |
| 16 | The Consequences of Organizational Democracy | |
| | Acknowledgments | |
| | The Authors | |
| | Index | |

Find Items On Similar Subjects

Nobody in Charge
: Essays on the Future of Leadership

Top Down
: Why Hierarchies Are Here to Stay and How to Manage Them More Effectively